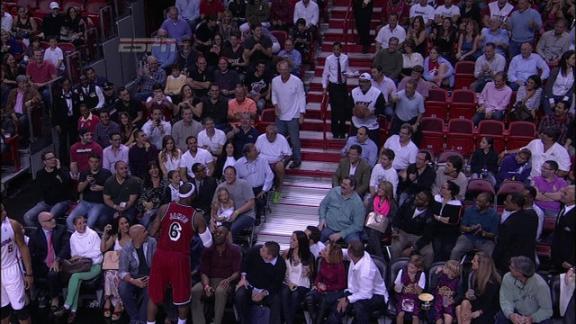 ESPN.com
Updated Feb 8, 2013
LeBron James scored 30 points in another efficient performance, Dwyane Wade scored 20 and the Miami Heat dominated the middle two quarters on the way to an easy 111-89 win over the Los Angeles Clippers on Friday night.
Share
Tweet
ESPN.com purpleandgoldblog.com

Feb 8, 2013

Kobe Bryant shrugged off a scoreless first half to finish with 20 points, eight assists and seven rebounds and the Los Angeles Lakers overcome a 20-point second-half deficit to beat the Charlotte Bobcats 100-93 Friday night.

Share Tweet

nytimes.com

Feb 8, 2013

After visiting the Timberwolves on Friday, the Knicks are scheduled to play the Clippers on Sunday at Madison Square Garden. But weather and travel problems could intervene.

Share Tweet

ESPN.com

Feb 8, 2013

Miami Heat center Chris Bosh and guard Ray Allen missed Friday night's game against the Los Angeles Clippers with the flu.

Share Tweet

Preview: Lakers vs. Bobcats

purpleandgoldblog.com

Feb 8, 2013

Last night's humiliating loss to the Celtics was simply one of those nights when the Lakers (23-27) played terrible and Boston couldn't do anything wrong even if they tried. And just like clockwork, Kobe Bryant and Dwight Howard were blamed for the loss…

Share Tweet

The Los Angeles Clippers are getting healthier. The Miami Heat are fighting the flu.

Share Tweet

'Metallica Night' with San Francisco Giants could inspire more baseball/music mash-ups

yahoo.com

Feb 8, 2013

The San Francisco Giants announced on Thursday they would host a "Metallica Night" on May 3, as part of a game with the rival Los Angeles Dodgers. As if a Giants-Dodgers game needed another reason for fans to scream "Nothing Else Matters.…

Share Tweet

Section 15: Love for the Lakers

nytimes.com

Feb 8, 2013

The Lakers' visit to Barclays Center gave young Eric Sawnders-McGuire a chance to see his favorite player, Kobe Bryant.

Share Tweet

yahoo.com

Feb 8, 2013

It's all great news for the Boston Celtics these days! To start, the team has won six in a row and has just about established that they'll make this year's playoff bracket. The team humiliated the very much humiliating Los Angeles Lakers in front of

Share Tweet

With the clock winding down to the eight-minute mark of the second quarter and the Boston Celtics already holding an eight-point lead over the Los Angeles Lakers, Kevin Garnett cut across the paint to the right mid-post, received an entry pass from Lean…

Share Tweet

Bizarro World Laker Bros Have The Sadface

deadspin.com

Feb 8, 2013

The Celtics flew past the Lakers in last night's early national broadcast to the tune of a 116-95 score. It was an offensive explosion unseen from Boston until now, and it left some New England Lakers fans grasping for hope (or perhaps their sunglasses)…

Share Tweet

Boston Beats Down The Lakers; Denver's Torrid Shooting Torches Chicago

dimemag.com

Feb 8, 2013

When will the Lakers' "new" season start exactly? And did Boston's begin once Rajon Rondo was lost for the year? These are things we think about after Thursday's second-half power surge by Boston shut off the lights on the Lakers, 116-95, now fo

Share Tweet

Big Ticket's Show: Garnett isn't Russell, and Howard isn't Chamberla…

CNNSI.com

Feb 8, 2013

Garnett isn't Russell, and Howard isn't Chamberlain. And yet, in the Celtics' 116-95 beating of the Lakers, the 2 echoed past showdowns of the NBA's best rivalry, says Ian Thomsen.

Share Tweet

Heat Burn Clippers, 111-89

Feb 8

LeBron James leads Heat to huge win against Clippers.

Lakers Rally To Top Bobcats, 100-93

Feb 8

Lakers overcome 20-point deficit to beat Bobcats.

Impact Of King Felix's Contract

Feb 8

Buster Olney discusses the impact Felix Hernandez's contract will have on Justin Verlander, Clayton Kershaw and David Price.

Is Kobe To Blame For Lakers' Loss?

Feb 8

Stephen A. Smith and Skip Bayless debate who was responsible for the Lakers' loss to the Celtics on Thursday night.