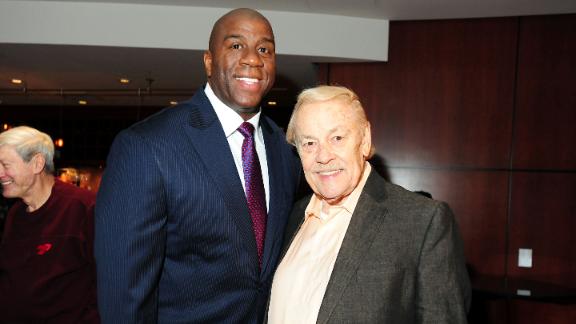 Deadline Dilemmas: Can the current Clippers win a title? Should the …

Can the current Clippers win a title? Should the Jazz alleviate their frontcourt jam? Will Atlanta deal Josh Smith? Ben Golliver answers the trade deadline's most pressing questions.

Share Tweet

NEW YORK (AP) -- San Francisco catcher Buster Posey received the steepest increase among players in salary arbitration this year.

Share Tweet

Phil Jackson, in a revealing interview, laments the way Los Angeles has 'eliminated [Dwight Howard's] assets'

yahoo.com

Feb 19, 2013

For someone who only recently decided to buy the NBA's League Pass package (it's weird to think that your routinely broke author had League Pass 13 years before Phil Jackson did), former Los Angeles Lakers coach Phil Jackson seems awfully tuned in to

Share Tweet

The 3 Things Portland Needs To Do To Make The NBA Playoffs

dimemag.com

Feb 19, 2013

Portland was one of the season's earliest surprises by knocking off the Lakers in the first game of the season, back when Portland was expected to do little and Los Angeles was projected to be a beast. Those polarizing projections led to a reality thatâ

Share Tweet

Reimold looks to shed 'injury-prone' label

MLB.com

Feb 19, 2013

He had hit long home runs, the kind that you hear off the bat before rocketing undoubtedly onto the other side of outfield walls, but this wasn't one of them. Nolan Reimold wasn't sure where the 1-1, 90-mph sinker he got a hold of from Angels righty Jer…

Share Tweet

Message to players: Ripping fans rarely pays off

MLB.com

Feb 19, 2013

Nobody ever told Los Angeles Angels outfielder Josh Hamilton one of the cardinal rules of sports, or maybe he just forgot.

Share Tweet

Phil Jackson hasn't said much publicly since he was passed over for the Lakers' coaching job in favor of Mike D'Antoni. And he did not use a 60-minute conversation over breakfast last week to launch fusillades against the Lakers. But he did have some co…

Share Tweet

The Lakers Lose A Legend; Josh Smith's All Dressed Up With Nowhere To Go

dimemag.com

Feb 19, 2013

The big news of Monday, the one day in the middle of the season where anyone can catch their breath, was that possibly the NBA's best owner of all time passed away. It's not often we eulogize an owner but Jerry Buss had a record that would make anyone

Share Tweet

LA Daily Download

Feb 19

Michele Steele wraps up the day in L.A. sports, including the death of Lakers owner Jerry Buss and the Ducks' win over Columbus.

Will Lakers Trade Howard?

Feb 19

Chris Broussard, Tom Penn and Flip Saunders discuss whether the Lakers will trade Dwight Howard.