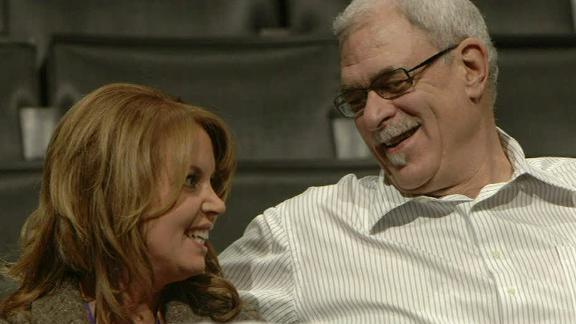 ESPN.com
yahoo.com
deadspin.com
Updated Jan 3, 2013
Phil Jackson may not have signed on for another run as coach of the Los Angeles Lakers, but he's about to join the Laker family nonetheless.
Share
Tweet
ESPN.com nba.com deadspin.com

Jan 3, 2013

An autopsy has been conducted on the body of Scott Ashley Sterling, son of Los Angeles Clippers owner Donald Sterling.

Share Tweet

When the Los Angeles Lakers play the Los Angeles Clippers on Friday, all 16 championship banners hanging from the Staples Center rafters will belong to the team in the purple and gold.

Share Tweet

Bledsoe Cools, but Clippers Stay Hot for Now

nytimes.com

Jan 3, 2013

Eric Bledsoe's shooting percentage and assists are down, and his turnovers are up, after a hot start in which he was seen as an early contender for most improved player.

Share Tweet

yahoo.com

Jan 3, 2013

It's a point I've made after both the first and second round of ballot results in the fan voting for the 2013 NBA All-Star Game - the lack of recognition that Stephen Curry and David Lee are getting for their sensational early-season play with the Golde

Share Tweet

yahoo.com

Jan 3, 2013

It had been a frustrating Wednesday night for Kevin Durant. He'd watched his Oklahoma City Thunder - once again perched atop the Western Conference and boasting the NBA's best record, after the Denver Nuggets snapped the Los Angeles Clippers' 17-game wi

Share Tweet

The Cousins Problem

Jan 3

The Sacramento Kings must figure out the future of their relationship with the volatile forward-center, who has had a controversy-ridden season.

The Forum: Comparing Lakers And Clippers

Jan 3

Mark Willard and Arash Markazi discuss the biggest difference between this season's Lakers and Clippers.

Buster Blog: Astros Move West

Jan 3

Buster Olney blogs about how the Astros' move to the AL West could be a very good thing for the other teams in that division.

LA Hot Button: Lakers or Clippers as Champs?

Jan 3

ESPNLA Now host Mark Willard answers the Hot Button question: Who will have a better chance of winning a championship, the LA Lakers or LA Clippers?