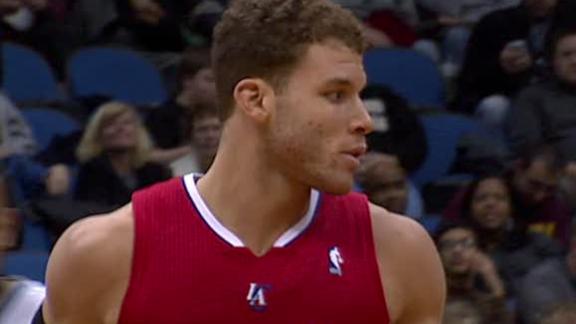 ESPN.com
Updated Jan 17, 2013
Jamal Crawford scored 22 points, Blake Griffin added 20 and the Los Angeles Clippers hardly broke a sweat in cruising to a 90-77 victory over the free-falling Minnesota Timberwolves on Thursday night.
Share
Tweet
ESPN.com purpleandgoldblog.com

Jan 17, 2013

The champs get it done with "less," but the Lakers need more from everyone, writes J.A. Adande.

Share Tweet

Preview: Heat vs. Lakers

purpleandgoldblog.com

Jan 17, 2013

Thanks to Kobe Bryant's renewed commitment on defense, the Lakers (17-21) have been playing their best defense as a team the last 2 games, which coincedentally turned into 2 straight wins. A sign of good things to come for the Lakers? It better. Despite…

Share Tweet

yahoo.com deadspin.com

Jan 17, 2013

Los Angeles Lakers icon Kobe Bryant has been a part of the NBA for 17 seasons. During that time, he's seen several different eras, from the end of Michael Jordan's dominance to the recent ascendance of LeBron James and Kevin Durant. The only constant, r…

Share Tweet

dimemag.com yahoo.com

Jan 17, 2013

During the second season of the Lakers' three-peat with the Holy Trinity of Shaq, Phil and Kobe, there was a story in an ESPN feature detailing how Kobe Bryant welcomed J.R. Rider to L.A. Story goes that KB, to reaffirm his status as the ultimate alpha

Share Tweet

Brian Scalabrine lied about concussion symptoms to Celtics doctors to get cleared for the playoffs

yahoo.com

Jan 17, 2013

Pau Gasol will return to the Los Angeles Lakers' lineup for the team's nationally televised Thursday game against the defending NBA champion Miami Heat after missing five games with a concussion brought on by an inadvertent elbow from Denver Nuggets cen…

Share Tweet

Does Oklahoma City have enough star power to fend off the Clippers, Spurs and Grizzlies on their way to unseating the defending champion Heat? The question was raised when the Thunder traded James Harden to Houston in October. The answer may yet be prov…

Share Tweet

Family First: In the Rivers' first father-son meeting, Austin g…

In the Rivers' first father-son meeting, Austin got the best of Doc in the Hornets' 90-78 win. But the emotional night, years in the making, was about much more, says Ian Thomsen.

Share Tweet

BOSTON -- Austin Rivers had been struggling. He was a 20-year-old rookie who had not made a shot in five games. Over the past three weeks he had missed 23 of his 26 attempts at the basket. "I'm just going to lose myself in the game," he promis…

Share Tweet

Clippers Cruise Past Wolves, 90-77

Jan 17

Wolves lose fifth straight.

Bomani Jones on Hero Worship

Jan 17

LeBron faces Kobe tonight as Lance Armstrong faces Oprah. Bomani Jones, on why we love to build athletes up before tearing them down.

Challenging Season For Kobe, Lakers

Jan 17

Stephen A. Smith discusses how important Thursday's matchup with the Heat is for the Lakers.

Dunk Of The Night

Jan 17

Blake Griffin drives baseline and finishes with the one-handed slam.