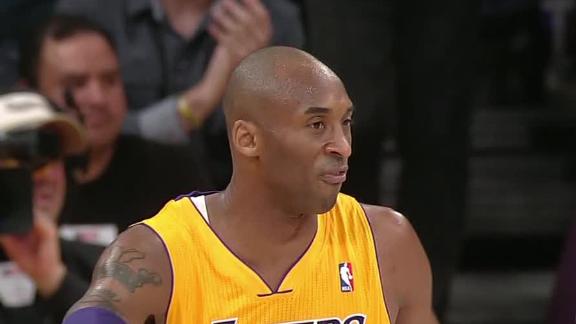 MLB.com

Jan 26, 2013

Driving to Dodger Stadium on Saturday for the team's first FanFest of the year, Dodgers outfielder Andre Ethier wasn't sure what to expect. What he found were droves of fans lined up for nearly a mile, waiting to get into the event.

Share Tweet

Expensive Cable Sports Are Always Expensiver Than Ever

deadspin.com

Jan 26, 2013

Today the New York Times' Brian Stelter crunches the (preposterous) numbers and finds runaway sports-programming costs weighing down the cable bill of everyone in America, whether or not they give Shit One about sports. The phrase "impending $7 bil…

Share Tweet

CNNSI.com

Jan 26, 2013

ST. LOUIS (AP) -- Stan Musial was remembered as a Hall of Famer on and off the field during a 2-hour funeral Mass.

Share Tweet

Despite all the struggles in LA the messy Lakers are sticking with Mike D'Antoni and Dwight Howard

nydailynews.com

Jan 26, 2013

Mike D'Antoni isn't going to get bought out or fired anytime soon, even if he's proven to be the wrong coach for the Lakers. Dwight Howard isn't getting dealt by the Feb. 21 trading deadline, even if he can leave L.A. this summer when he becomes a

Share Tweet

Howard's double-double helps Lakers end 4-game skid

CNNSI.com

Jan 26, 2013

Howard's double-double helps Lakers end 4-game skid

Share Tweet

ESPN.com

Jan 26, 2013

Metta World Peace hit five 3-pointers on his way to scoring 17 points and the Los Angeles Lakers pulled away in the fourth quarter to beat the Utah Jazz 102-84 on Friday night, snapping a four-game skid.

Share Tweet

Pitchers Could Cash In Big On Open Market

Jan 26

Jim Bowden discusses the market for upcoming free-agent pitchers such as Justin Verlander and Clayton Kershaw.

Report: D'Antoni Given Vote Of Confidence

Jan 26

Stephen A. Smith reacts to the report that Mike D'Antoni has been given a vote of confidence from Mitch Kupchak and Jim Buss.

Clippers Suffer Fourth Straight Loss

Jan 26

Nicolas Batum's triple-double leads Blazers past Paul-less Clippers for the 101-100 win.