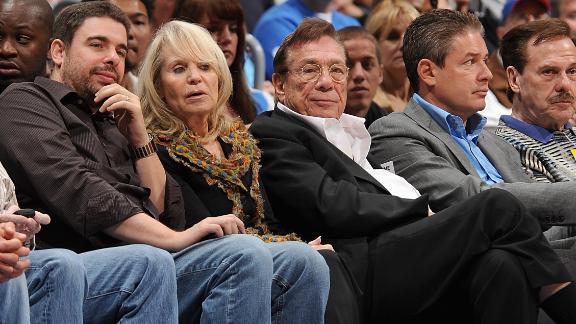 ESPN.com
Updated Jul 24, 2014
Los Angeles Clippers point guard Chris Paul told ESPN.com that it's "unacceptable" if Donald Sterling is still the owner of the team when the season begins.
Share
Tweet
dimemag.com nba.com

Jul 24, 2014

Just hours after adding Washington Wizards point guard John Wall to its pool of candidates for the 2014 FIBA World Cup, Team USA lost an All-Star, too. Los Angeles Clippers forward Blake Griffin announced earlier today that he will not participate for t…

Share Tweet

ESPN.com

Jul 24, 2014

The Lakers introduced Jeremy Lin at a news conference Thursday.

Share Tweet

Seeking justice for his aunt Tanganyika Williams' murder in Sacramento earlier this month, Clippers forward Matt Barnes is hoping his vast social media following will help track down the alleged killer. Barnes twice shared pictures of suspect Michael Le…

Share Tweet

The LA Kings have been on a roll of late, with two Stanley Cups in the last three seasons (and two in the last two full seasons, if you want to make it seem even better while simultaneously disrespecting the Chicago Blackhawks). But that roll stops now.…

Share Tweet

That's one: Street gets first save for Angels

MLB.com

Jul 24, 2014

Huston Street doesn't have a nameplate above his locker yet, but he does have his first save as an Angel.

Share Tweet

Angels have morphed into a monster team

MLB.com

Jul 24, 2014

The 60-40 Angels are a reminder that winning doesn't happen overnight, even when the blueprint is smart and the execution flawless. They're also a reminder that the best general managers find players here, there and everywhere.

Share Tweet

ESPN.com nytimes.com

Jul 24, 2014

Kole Calhoun drew a bases-loaded walk from reliever Brian Matusz in the eighth inning after a tying RBI double by Erick Aybar, and the Los Angeles Angels pulled out a 3-2 victory over the Baltimore Orioles on Wednesday night.

Share Tweet

The fate of the Los Angeles Clippers depends on the result of Donald Sterling's various legal maneuvers, but there's no doubt that prospective owner Steve Ballmer's bid of $2 billion is very real. The former Microsoft CEO, who at one point looked set to…

Share Tweet

In Focus With Vin Scully

Jul 24

The legendary Dodgers Broadcaster explains how he decides if he will return each season.

Tigers Claw Past Angels

Jul 24

SportsCenter Highlight of the Night: Max Scherzer struck out 11 to pick up his 12th victory of the season in the Tigers' 6-4 win over the Angels.

Cribs: Jeremy Lin Edition

Jul 24

"SportsCenter" in Los Angeles created a room for Jeremy Lin, who was recently traded to the Lakers.

Dodgers Beat Report: Big Weekend Ahead

Jul 24

Cary Chow and Mark Saxon take a look at the Dodgers-Giants series, what the Dodgers' needs are come the trade deadline, and whether the team will make a move for David Price.