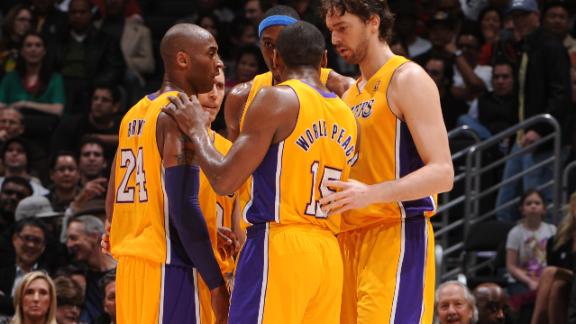 Angels look to replace Torii's leadership by committee

MLB.com

Mar 22, 2013

Torii Hunter was a special type of player who could lead both on and off the field, and the Angels don't necessarily have one particular player who can do what he did for the team. They'll look to a number of players, including Josh Hamilton and Albert …

Share Tweet

Though it took longer than manager Dusty Baker hoped it would, the Cincinnati Reds have finally reached a decision on the status of Aroldis Chapman. As announced by general manager Walt Jocketty prior to Friday's Cactus League game against the Los Angel…

Share Tweet

Angels set up clubhouse pool on whether Josh Hamilton will be booed or cheered in Texas return

yahoo.com

Mar 22, 2013

The one thing you really have to love about baseball players is the way they can turn pretty much anything into a friendly wager or competition. For a classic example, look no further than the clubhouse pool the Los Angeles Angels are running ahead of t…

Share Tweet

Los Angeles Dodgers shortstop Hanley Ramirez underwent surgery to repair a torn ligament in his right thumb and is expected to miss about eight weeks.

Share Tweet

Coach, Griffin expect Clips' defense to improve

ESPN.com

Mar 22, 2013

Los Angeles Clippers coach Vinny Del Negro believes his team's defense will get better over the final 13 games of the season, although his reasoning is based largely on how poor their defense has been of late.

Share Tweet

Martin delivers walk-off double for Rangers

MLB.com

Mar 22, 2013

On a night when both starting pitchers got hit hard, Leonys Martin hit a three-run double with one out in the bottom of the ninth to give the Rangers a 10-9 victory over the Angels.

Share Tweet

Grantland Network: The Basketball Jones

grantland.com

Mar 22, 2013

On today's show, The Basketball Jones discuss the Heat's impressive 24-game winning streak, their odds at tying or surpassing the 1971-72 Lakers' reco...

Share Tweet

BBTN Diamond Debate: Troy Tulowitzki vs. Josh Hamilton

Mar 22

Matthew Berry and Curt Schilling debate who will have a better bounce-back season: Troy Tulowitzki or Josh Hamilton.

Wizards Stun Lakers 103-100

Mar 22

Lakers lose in Kobe Bryant's return.

Dunk Of The Night: Kobe Bryant

Mar 22

Kobe Bryant sails by Trevor Ariza for the baseline jam.

Dwight Howard Works At An Airport

Mar 22

Dwight Howard spent the off day working at the Los Angeles Airport Delta counter.