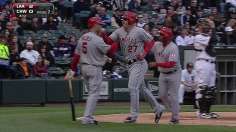 Zack Greinke could be on the mound for the Dodgers on Wednesday in the finale of a three-game series against the Nationals, provided team doctors give him the green light.

Share Tweet

LA Dodgers manager Don Mattingly in hot water, could see Mike Scioscia heading across town

nydailynews.com

May 11, 2013

It's looking like Don Mattingly might need to start acquainting himself with Mel Ott. Like Mattingly, Ott, the Hall-of-Fame outfielder and author of 511 home runs, played his entire career in New York and was immensely popular with everyone - so popul

Share Tweet

Banged-up Angels capitalize on error, claim road win

The offense staked emergency starter Barry Enright to an early four-run cushion, but Enright struggled and the Angels needed a two-run seventh-inning rally to pull out a 7-5 victory over the White Sox on Friday night in Chicago.

Share Tweet

Sports Columnists

Golden State Warriors' Stephen Curry game-time decision for Game 4

May 11

Golden State Warriors point guard Stephen Curry received treatment on his sprained left ankle Saturday and is considered a game-time decision for Game 4 of the Western Conference semifinals.