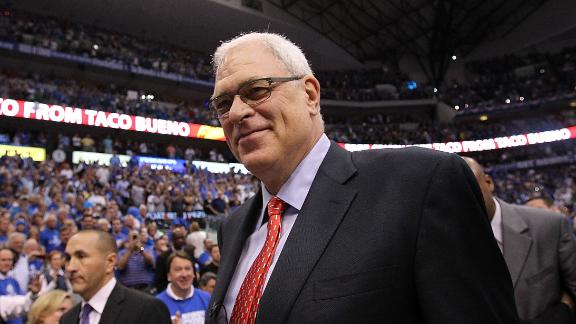 Phil Jackson was prepared to return to the Los Angeles Lakers on Monday morning if negotiations between his agent and the team went well, a league source told ESPNLosAngeles.com late Sunday night
Share
Tweet
Steve Blake will miss the Los Angeles Lakers' game against San Antonio on Tuesday with a minor abdominal strain, leaving the club without its top two point guards.

Share Tweet

ESPN.com CNNSI.com nba.com yahoo.com deadspin.com nydailynews.com dimemag.com grantland.com

Nov 12, 2012

Fans may not like it at first, but Mike D'Antoni is the coach Los Angeles Lakers need

Share Tweet

Angels outfielder Mike Trout and Nationals outfielder Bryce Harper were awarded Rookie of the Year awards Monday.

Share Tweet

Despite high price, Phil Jackson's history of success was worth it for L.A. Lakers

Share Tweet

Dollars And Sense: The Dodgers, flush with money from a new ownershi…

CNNSI.com

Nov 12, 2012

The Dodgers, flush with money from a new ownership group, are not done yet spending big to acquire talent. That doesn't mean this is a smart approach, writes Jay Jaffe.

Share Tweet

Dodgers make additions to international scouting

MLB.com

Nov 12, 2012

Two weeks after hiring former Seattle executive Bob Engle as vice president of international scouting, the Dodgers on Monday announced the hiring of six international scouts from the Mariners: Pedro Avila, Gene Grimaldi, Patrick Guerrero, Pat Kelly, Jam…

Share Tweet

CNNSI.com

Nov 12, 2012

Baseball kicks off its award week today -- the list of finalists and announcement times can be found on the BBWAA's website -- and it features many of the game's boldest-face names in Miguel Cabrera, Buster Posey, Justin Verlander, Mike Trout and Bryce …

Share Tweet

Mike Trout On Winning Rookie Of The Year

Nov 12

Mike Trout joins SportsCenter to talk about winning the AL Rookie of the Year.

TrueHoop TV: D'Antoni Hire

Nov 12

TrueHoop's Henry Abbott with ESPN Insider Amin Elhassan on whether D'Antoni's system will work in L.A., if Dwight Howard is more likely to stay a Laker and more.

Van Gundy Surprised By D'Antoni Hiring

Nov 12

Jeff Van Gundy thinks Mike D'Antoni will be a good fit for the Lakers when they get healthy.

Stephen A. Smith Shocked By D'Antoni Hiring

Nov 12

Stephen A. Smith breaks down Mike D'Antoni's system and why he doubts it will work in Los Angeles.