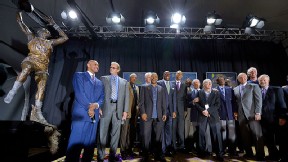 Kareem Abdul-Jabbar's skyhook has been captured in bronze for future generations of basketball fans.
Share
Tweet
Mike Trout settled for runner-up when the BBWAA announced its choice for American League MVP, but the Angels' rookie sensation received the Junior Circuit's top honor when the Negro Leagues Baseball Museum announced its annual Legacy Awards on Friday.

Share Tweet

CNNSI.com

Nov 16, 2012

DETROIT (AP) -- Torii Hunter has reached the postseason six times in his career, but he's never played in a World Series.

Share Tweet

Rob Mahoney: Poor bench play undermining Lakers, other teams around the NBA

CNNSI.com

Nov 16, 2012

Super teams are all the rage, but depth still matters a great deal, as even contenders must lean on their bench. Rob Mahoney examines the worst second units, starting with the Lakers.

Share Tweet

ESPN.com

Nov 16, 2012

Ryu Hyun-Jin grew up in South Korea dreaming of playing in his country's professional baseball league. Once he achieved that, he developed a new goal -- to pitch in the United States for a major league team.

Share Tweet

The Jalen Rose Report: Jalen Rose and David Jacoby (Plus Video!)

grantland.com

Nov 16, 2012

Jalen Rose and David Jacoby talk about the Lakers' hiring of Mike D'Antoni, NBA players' mile-high gambling etiquette, and how athletes manipulate the...

Share Tweet

CourtVision: The Slowtime Lakers

grantland.com

Nov 16, 2012

Mike D'Antoni's best teams were in Phoenix during the mid '00s. Those great Suns teams were led by Steve Nash and Amar'e Stoudemire, and their play wa...

Share Tweet

TrueHoop TV: Weekend Dime

Nov 16

Marc Stein on whether the Knicks and Grizzlies are true contenders, the wonder that is Jason Kidd, and if Mike D'Antoni is a good fit in L.A.

Are You Buying D'Antoni As Lakers Head Coach?

Nov 16

Stephen A. Smith and Skip Bayless discuss the Lakers hiring Mike D'Antoni as their head coach.

Team Most Likely To Sign Zack Greinke

Nov 16

Tim Kurkjian discusses the team that is the most likely to sign free-agent pitcher Zack Greinke.

Lakers Roll Suns, 114-102

Nov 16

Kobe Bryant leads Lakers with 31 points.