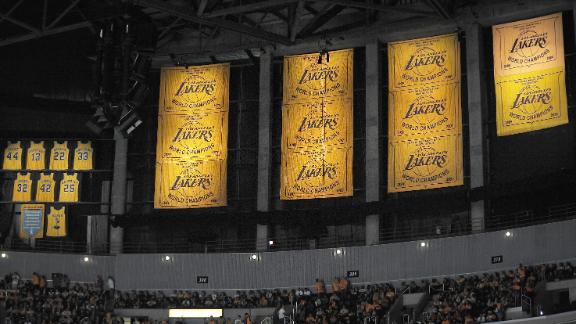 ESPN.com
Updated Oct 21, 2013
Los Angeles Clippers coach Doc Rivers said the team meant no disrespect to its in-arena rivals by deciding to cover up the Lakers' championship banners and retired jerseys with seven giant banners of Clippers players during Clippers games.
Share
Tweet
Los Angeles Dodgers center fielder Matt Kemp underwent surgery on his left ankle Monday, the team announced.

Share Tweet

Sue Falsone, who became the first female head athletic trainer in professional sports when the Los Angeles Dodgers promoted her in 2011, confirmed via Twitter that she has resigned.

Share Tweet

When Mike D'Antoni took over as the Los Angeles Lakers' head coach, he vowed to return the team to its "Showtime" roots with a high-scoring brand of basketball.

Share Tweet

Clippers waive forward Brandon Davies

nba.com

Oct 21, 2013

The Clippers have waived forward Brandon Davies, leaving their roster at 15.

Share Tweet

Dodgers manager Don Mattingly announced Monday that his 2014 contract option vested with a first-round playoff victory over the Atlanta Braves, but that he remains unsure of whether he'll be back with the team next season.

Share Tweet

Your browser does not support iframes. The Los Angeles Dodgers have agreed to terms with free agent infielder Alexander Guerrero of Cuba, reports Jesse Sanchez of MLB.com. The four-year contract has a base value of $28 million and could be worth as much…

Share Tweet

Tweets of Fire

Oct 21

When #NBArank called Kobe Bryant the 25th best player in the NBA, Twitter called Amin Elhassan a whole bunch of nasty things.

The Forum: Clippers Covering Up Lakers' Banners

Oct 21

Mark Willard and Arash Markazi debate whether the Clippers are disrepecting the Lakers by covering their championship banners.

Will Lakers Make Any Trades This Season?

Oct 21

Mark Willard and Arash Markazi look at the possibility the Lakers trade Pau Gasol.

Dodgers Sign Cuban Alexander Guerrero

Oct 21

ESPNLosAngeles.com's Ramona Shelburne breaks down the Dodgers agreeing to a four-year, $28 million deal with Cuban infielder Alexander Guerrero.