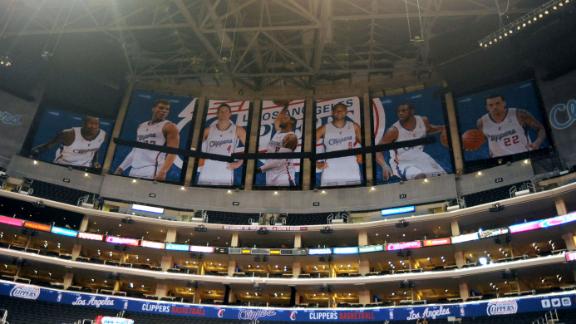 ESPN.com
Updated Oct 23, 2013
The Los Angeles Lakers can blame one of the longest-tenured Boston Celtics employees as the reason their championship banners and retired jerseys are now covered up during Los Angeles Clippers games.
Share
Tweet
The Los Angeles Dodgers intend to begin dialogue with manager Don Mattingly on a new contract in the next few days, according to sources with knowledge of the situation.

Share Tweet

ESPN.com

Oct 23, 2013

Clippers guard J.J. Redick made his preseason debut Wednesday night against the Utah Jazz, playing 20 minutes and scoring 14 points in the Clippers' 103-99 win.

Share Tweet

Metta World Peace is in a movie with Screech, Eve, and Marc Maron, and it looks great (Video)

yahoo.com

Oct 23, 2013

Since undergoing a sort of image rehab as a member of the Los Angeles Lakers, New York Knicks forward Metta World Peace has never shied away from the media spotlight. In addition to doing ads for very confusing cell phone watches, MWP has tried his hand…

Share Tweet

Dodgers acquire Minor League outfielder from Red Sox

MLB.com

Oct 23, 2013

The Dodgers traded outfielder Alex Castellanos to the Red Sox on Wednesday for Minor League outfielder Jeremy Hazelbaker and cash, the club announced.

Share Tweet

With the start of the 2013-14 NBA season rapidly approaching, we thought it only fair to share what makes each team so exciting. Ontologically speaking, all 30 teams deserve our eyeballs this season. Even disastrous lineups still present oodles of plays…

Share Tweet

Gerald Green With The Two-Hand Flush On The Fast Break

The Phoenix Suns are considered by many to be one of the worst teams in the league this season. They traded Jared Dudley to the Clippers for point guard Eric Bledsoe despite having Goran Dragic under contract. But they beat the Thunder in preseason acti…

Share Tweet

CNNSI.com

Oct 23, 2013

A World Series rich in tradition and untouched by interleague play, this matchup has a classic feel.

Share Tweet

Earlier today Gilbert Arenas met buddy — and former partner-in-crime with the late aught Wizards — Nick Young. Except, instead of catching a movie or eating ice cream (note: they might have done those things, too), Arenas decided to scream at the swaggy…

Share Tweet

Agent: Mattingly Intends To Honor Contract

Oct 23

ESPNLosAngeles.com's Ramona Shelburne breaks down Don Mattingly intending to honor the final year of his contract as the manager of the Dodgers.

Mint Condition: Topps Signs Jose Abreu

Oct 23

Topps VP of product development Clay Luraschi details his company's autograph deal with new White Sox slugger Jose Abreu and how he expects Abreus market to compare with Yasiel Puig and Yoenis Cespedes.

Mint Condition: 2013-14 NBA Preview

Oct 23

Kareem Abdul-Jabbar gives his take on the changes in the sports memorabilia industry, and Panini VP of marketing Jason Howarth details the trading card markets for Kobe Bryant and Dwight Howard as well as rookies that collectors should watch out for.