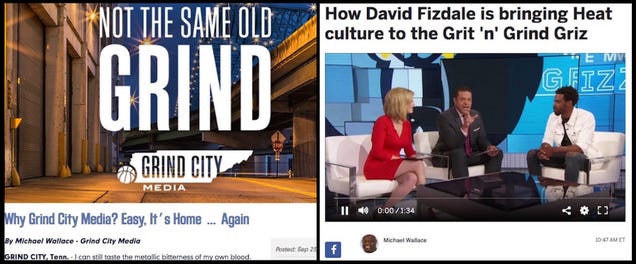 nba.com
deadspin.com
ESPN.com
Updated Sep 28 (2 days ago)
Grizzlies forward Zach Randolph has known his new coach since he was 19 and brand new in the NBA. Veteran guard and defensive whiz Tony Allen is excited at the prospect of being included in some offensive sets. JaMychal Green is happy the new boss asked…
Share
Tweet
Missing Marc Gasol Made Us Realize Just How Wonderful A Player He Really Is

dimemag.com

Sep 21

Getty Image The Memphis Grizzlies narrowly avoided disaster this summer when they were able to lure Mike Conley back with the richest contract in NBA history. It helped that just a year prior, free agent big man Marc Gasol wasted no time re-signing with…

Share Tweet

Marc Gasol Used Jack Nicholson In 'The Shining' To Announce His Return To The NBA Hardwood

dimemag.com

Sep 19

USA TODAY Sports Back in February, just days before the NBA's All-Star Break, the Memphis Grizzlies' Marc Gasol went down with a broken foot that would sideline him for the rest of the season. On Monday, the team announced that their all-world center wa…

Share Tweet

The NBA Is Just The Latest Organization To Profit From Martin Luther King Jr.'s Body

deadspin.com

Sep 17

On Wednesday, the Memphis Grizzlies unveiled their MLK50 Pride uniform, which they will debut against the Chicago Bulls on Jan. 15, 2017, the night before Martin Luther King Jr. Day, and wear on select days throughout Black History Month. The uniform in…

Share Tweet

yahoo.com dimemag.com

Sep 16

The Memphis Grizzlies unveiled new alternate uniforms on Wednesday, a new "Pride" kit that, in keeping with recent league guidelines, features short-sleeved jerseys. While the silhouette might seem similar to many of the variant looks we've seen introdu…

Share Tweet

yahoo.com

Sep 12

Marc Gasol high fives teammate Mike Conley during Game 1 of the 2015 Western Conference quarterfinals against the Portland Trail Blazers. (Frederick Breedon/Getty Images) The NBA offseason has brought many changes to rosters, coaching staffs, and the li…

Share Tweet

Chandler Parsons Is Such A Big Adele Fan He Showed Up To Her Concert A Week Early

dimemag.com

Aug 24

It's been a big summer for Chandler Parsons. He signed a hefty contract with the Memphis Grizzlies, which means he gets to hang out with Justin Timberlake now, one assumes. All he wanted to do was cap the Summer of Chandler by going to see Adele at the …

Share Tweet

yahoo.com

Aug 15

From left: Perry the Platypus, Phineas, actress Doris Roberts and Ferb. Not pictured, sadly: Memphis Grizzlies guard Tony Wroten. (Jason Merritt/Getty Images) Move over, Kevin Durant and 2Pac: there's a new amazing NBA leg tattoo to celebrate. Behold th…

Share Tweet

yahoo.com deadspin.com

Aug 10

Rick Trotter sings the National Anthem during a 2016 Memphis Grizzlies game. (Image via NBA.com) The Memphis Grizzlies announced Tuesday that they have parted ways with longtime public address announcer Rick Trotter, after a police investigation into th…

Share Tweet

Grizzlies sign Wroten, three others

nba.com

Aug 8

The Memphis Grizzlies have signed guard Tony Wroten, forward Troy Williams and guard/forwards Wayne Selden Jr. and D.J. Stephens.

Share Tweet

Team USA's Path To Gold Just Got Easier With Marc Gasol Officially Out For Spain

dimemag.com

Jul 19

Getty Image It seemed unlikely that Marc Gasol would participate in the Rio Olympics this summer after breaking his foot back in February, and the decision for the Grizzlies center to sit out as he continues his recovery process has now been made offici…

Share Tweet

yahoo.com

Jul 15

Mike Conley signed a five-year, $153 million contract to remain with the Grizzlies. (Joe Murphy/NBAE/Getty Images) It's hard to imagine someone feeling anything other than elation after landing the biggest contract in NBA history. To hear Mike Conley te…

Share Tweet

Grizzlies sign F Ennis to multiyear deal

nba.com

Jul 13

The Memphis Grizzlies have signed forward James Ennis to a multiyear contract.

Share Tweet

Recap: Grizzlies 85, Bucks 81

nba.com

Jul 11

D.J. Stephens scored a game-high 21 points to lead the Memphis Grizzlies to a 85-81 victory against the Milwaukee Bucks in Las Vegas Summer League on Monday at Cox Pavilion.

Share Tweet

Grizzlies rookie Davis has plantar fasciitis in left foot

nba.com

Jul 6

Memphis Grizzlies rookie center Deyonta Davis has plantar fasciitis in his left foot and is expected to miss the team's first three summer league games in Las Vegas.

Share Tweet

Grizzlies add Smart, Mazarei to coaching staff

nba.com

Jul 5

The Memphis Grizzlies have hired Keith Smart and Adam Mazarei as assistants on new coach David Fizdale's staff.

Share Tweet

Mike Conley Implores You To #BelieveInMemphis With This Touching Piece In The Players' Tribune

dimemag.com

Jul 3

USA TODAY Sports Mike Conley, for now, is the highest-paid player in the history of the NBA. Denying overtures from the Dallas Mavericks and other teams in free agency, Conley has returned to the Memphis Grizzlies on a five-year deal worth about $153 mi…

Share Tweet

Grizzlies Owner Robert Pera Sums Up Free Agency Hysteria With One Simple GIF

dimemag.com

Jul 2

USA TODAY Sports NBA Silly Season is upon us, and this year things seem to be even sillier than usual. There was a ridiculous amount of money (unofficially) handed out during Day One of the league's free agency window, and some unexpected players were m…

Share Tweet

Damian Lillard Schooled A Twitter User For Criticizing Mike Conley's Contract

USA TODAY Sports The Memphis Grizzlies had a pretty good start to free agency. First, they edged out the Portland Trail Blazers (and several other teams) to sign Chandler Parsons to a max deal worth about $94 million over four years. Later, they did exa…

Share Tweet

Mike Conley Will Reportedly Keep Gritting And Grinding For The Grizzlies On The Largest Contract In League History

USA TODAY Sports All along, the Memphis Grizzlies felt confident about their chances to retain free agent Mike Conley and keep the Grit-n-Grind crew intact for at least a few more championship runs. But anything can happen during free agency, and as the…

Share Tweet

Getty Image Chandler Parsons made no secret of his desire to be wined and dined during what might be the wildest free agency period in league history. But the Memphis Grizzlies' July 1 offer, apparently, was too good for the talented swingman to pass up…

Share Tweet

Grizzlies Take Care Of Mavs

Mar 20

The Grizzlies got double-digit points from seven players in a 112-101 win over the Mavericks.

Pistons End 10-Game Slide

Mar 17

Reggie Jackson had 23 points and 20 assists in Detroit's 105-95 win over Memphis, ending its 10-game losing streak.

Grizzlies Beat Short-Handed Nuggets

Mar 16

Zach Randolph scored 21 points and grabbed 16 rebounds in the Grizzlies' 92-81 win over the Nuggets.

Grizzlies Rock Bucks

Mar 14

The Grizzlies beat the Bucks 96-83 for their 25th home victory of the season.