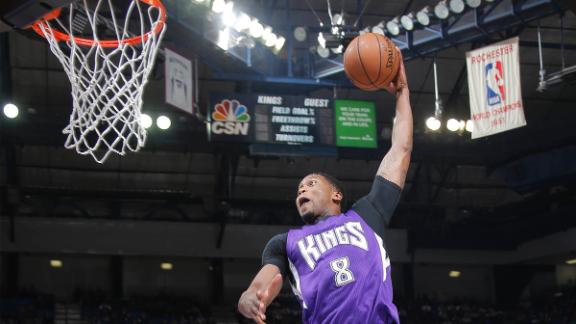 ESPN.com
Updated Feb 26 (5 days ago)
Rudy Gay scored 28 points, DeMarcus Cousins finished with 16 points and nine rebounds, and the Sacramento Kings grinded out a 102-90 win over the Memphis Grizzlies on Wednesday night.
Upvote
Share
Tweet
ESPN.com

Feb 24 (7 days ago)

The Grizzlies are rolling since acquiring forward Jeff Green from Boston, writes Michael Wallace.

Upvote Share Tweet

Marc Gasol scored 21 points, and the Grizzlies overcame a 13-point deficit in the fourth quarter for a 98-92 victory over the Trail Blazers on Sunday night.

Upvote Share Tweet

The Portland Trail Blazers honored beloved former player Jerome Kersey with an emotional 25 seconds of silence before their game against the Memphis Grizzlies on Sunday night.

Upvote Share Tweet

OKC shuts down Griz behind KD, Westbrook

ESPN.com

Feb 12

Kevin Durant scored 26 points and Russell Westbrook added 24 to help the Thunder defeat the Memphis Grizzlies 105-89 on Wednesday night.

Upvote Share Tweet

dimemag.com

Feb 9

Tony Allen, Damian Lillard (Spruce Derden–USA TODAY Sports) The Memphis Grizzlies have the second best record in the brutally difficult Western Conference at 37-13 after knocking off the East-leading Hawks on Sunday. But Marc Gasol is the only player on…

Upvote Share Tweet

Grizzlies score final 8 points to topple Hawks

ESPN.com

Feb 8

Mike Conley had 21 points and six assists, Marc Gasol finished with 16 points and 10 rebounds and the Memphis Grizzlies beat the Atlanta Hawks 94-88 on Sunday.

Upvote Share Tweet

dimemag.com yahoo.com

Feb 6

The entire league is having trouble defending James Harden. But to hear a dogged, confident defender like the Memphis Grizzlies' Tony Allen admit that he has trouble stopping The Beard? Talk about strengthening a MVP case. In an excellent feature story …

Upvote Share Tweet

GIF: Mike Conley Crossover Burns Bledsoe, Or Was It A Wily Marc Gasol?

dimemag.com

Feb 3

The Grizzlies escaped with a win last night after Jeff Green's three-point play and a game-sealing block by Marc Gasol. Besides the protecting the win with the game-winning block, the 2015 NBA All-Star Gasol may have also played a hand in Mike Conley's …

Upvote Share Tweet

GIFs: Jeff Green's Three-Point Play & Marc Gasol's Game-Sealing Block

dimemag.com

Feb 3

Much like the Clippers against the Nets, the Suns should have beat the Grizzlies last night. They were up by seven with 1:49 to play but couldn't hold on. Recent addition Jeff Green was a big reason why, and All-Star starter Marc Gasol came through in t…

Upvote Share Tweet

Jeff Green converted a three-point play with 4.5 seconds left and the Grizzlies rallied from seven down in the final 1:35 to beat the Suns for the seventh straight time, 102-101 on Monday night.

Upvote Share Tweet

dimemag.com nba.com

Feb 2

The best teams have multiple stars. What volumes it speaks of the Cleveland Cavaliers' and Memphis Grizzlies' quality that their Conference Players of the Week not only aren't their best players, but perhaps not their second-best, either. Whether that l…

Upvote Share Tweet

dimemag.com

Feb 1

Fortunes of the Minnesota Timberwolves have drastically changed since the last time Ricky Rubio took the floor. The 'Wolves were 2-2 with last-second losses to the Memphis Grizzlies and Chicago Bulls when the Spanish star went down with a nasty ankle sp…

Upvote Share Tweet

Thunder fall to Grizzlies in Durant's return

ESPN.com

Jan 31

Zach Randolph had 21 points and 18 rebounds, and Marc Gasol added 15 points and 12 rebounds to lead the Memphis Grizzlies past the Oklahoma City Thunder 85-74 on Saturday night.

Upvote Share Tweet

Memphis Grizzlies guard/forward Vince Carter has an injured tendon in his left foot and will undergo more evaluation.

Upvote Share Tweet

yahoo.com

Jan 29

Nearly seven years ago to the day, Pau Gasol was traded to the Los Angeles Lakers from the Memphis Grizzlies. His presence immediately put the Los Angeles Lakers over the top in a killer Western Conference – the team made it to the Finals in his first h…

Upvote Share Tweet

Grizzlies Edge Timberwolves

Feb 28

Marc Gasol tallied 27 points and 11 rebounds, and Mike Conley knocked down a go-ahead 3-pointer in the final minute to help the Grizzlies beat the Timberwolves 101-97.

Clippers Roll Over Grizzlies

Feb 27

Chris Paul and DeAndre Jordan each posted double-doubles in the Clippers' 97-79 win over the Grizzlies.

Kings Get Impressive Win Over Grizzlies

Feb 25

Rudy Gay scored 28 points and the Kings battled past the Grizzlies for a 102-90 win.

NBA Free Agency Look Ahead

Feb 24

Amin Elhassan broke down the top free agents in the upcoming NBA offseason and discussed which players have the best chances of changing teams.