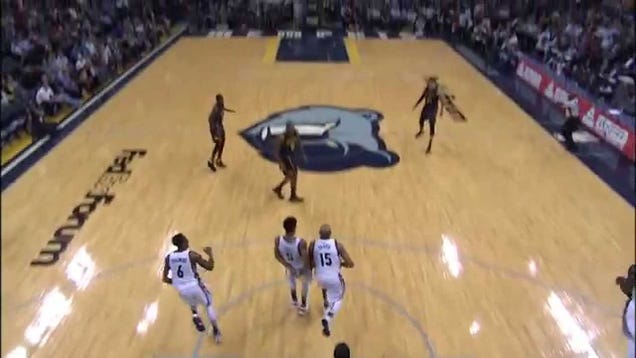 Vince Carter Nails Buzzer-Beater From Three-Quarter-Court
deadspin.com
Updated Nov 28 (3 days ago)
Vince Carter has played a mere 101 minutes this year and has only hit seven threes, but this one should count double. The Grizzlies lost, but the Hawks didn't hit any shots nearly as cool as this. Read more...
Share
Tweet
yahoo.com

Nov 17

The Memphis Grizzlies and Oklahoma City Thunder have been natural rivals over the past few years due in large part to their clash of styles. The Memphis grit-and-grind approach and OKC high-scoring attack are easily cast as opposites, and the team able …

Share Tweet

Wolves' Rubio listed as questionable for Sunday's game vs. Grizzlies

nba.com

Nov 14

After Ricky Rubio missed so much time last season due to a severe ankle injury, the Minnesota Timberwolves knew he was susceptible to a few nagging muscle pulls and strains as he started his comeback.

Share Tweet

yahoo.com

Nov 12

Back in May, Stephen Curry unceremoniously ejected the Memphis Grizzlies from the Western Conference semifinals with a 35-point performance highlighted by a steal followed by an obscene 62-foot bomb to beat the third-quarter buzzer, extend the Golden St…

Share Tweet

Steph Curry Hit Two Ridiculous Three-Pointers, Even For Him

deadspin.com

Nov 11

The Warrriors and Grizzlies are playing an incredibly ugly basketball game in Memphis, but Steph Curry is still out here doing stuff that only Steph Curry can do. First, he hit a three on a shot that was clearly only taken to draw a foul:Read more...

Share Tweet

yahoo.com

Nov 10

A look around the league and the Web that covers it. It's also important to note that the rotation order and starting nods aren't always listed in order of importance. That's for you, dear reader, to figure out. C: ESPN.com. Kevin Arnovitz on the state …

Share Tweet

yahoo.com

Nov 10

Many NBA finishes thrill with wild swings involving surprising turnovers, big shots, and other moments of drama. The final seconds of Monday night's game between the Memphis Grizzlies and Los Angeles Clippers at Staples Center will not be remembered as …

Share Tweet

yahoo.com

Nov 5

The Los Angeles Clippers' 112-108 loss to the Golden State Warriors on Wednesday night left plenty of Clipper lovers feeling kind of blue. In an effort to make fans feel a bit better about the Clips' first defeat of the season, the social media staffer …

Share Tweet

Warriors Top Grizz, 119 To—Wait, I'm Pretty Sure This Is A Video Game Score

deadspin.com

Nov 3

There's been a terrible mistake. The AP, ESPN, even the NBA itself—they're all recording the final score of last night's Warriors-Grizzlies game as a 119-69 win for the Warriors, but clearly that is the score of some kid's video game. I mean, ha ha, 119…

Share Tweet

yahoo.com

Nov 3

The Memphis Grizzlies looked pretty good through 12 minutes of Monday night's road game against the Golden State Warriors at Oracle Arena. Up 22-21 after one quarter, Memphis appeared capable of grinding out a win against the team that eliminated them f…

Share Tweet

Grizzlies exercise 3rd-year option on Jordan Adams

nba.com

Oct 27

The Memphis Grizzlies have exercised the third-year contract option on guard Jordan Adams, keeping him signed through the 2016-17 season.

Share Tweet

yahoo.com

Oct 21

Welcome to the most straightforward preview of the 2015-16 preseason. Since their breakthrough season of 2010-11, the Memphis Grizzlies have cultivated an image as a hardnosed, grit-and-grind squad with very few deviations from that path. While players …

Share Tweet

Randolph willing to do whatever Grizzlies ask to win

nba.com

Oct 13

Zach Randolph insists he's ready to do whatever the Memphis Grizzlies need or ask of him in his 15th NBA season.

Share Tweet

The NBA is investigating the incident between Grizzlies forward Matt Barnes and Knicks coach and former teammate Derek Fisher, a situation Barnes said is "personal matter" involving someone who was a good friend at one point.

Share Tweet

Matt Barnes Terrorizes Ex, Amusing Sportswriters

deadspin.com

Oct 8

This past Saturday, Memphis Grizzlies forward Matt Barnes reportedly drove nearly a hundred miles from Santa Barbara to the Los Angeles home of his estranged wife Gloria Govan—whom he was arrested on suspicion of abusing in 2010—to harass and physically…

Share Tweet

yahoo.com

Oct 7

Last week, a still photograph taken during a workout at the P3 sports science institute in Santa Barbara, Calif., informed us that Vince Carter could still jump awfully high, even at 38 years of age. On Tuesday night, though, footage of the Memphis Griz…

Share Tweet

yahoo.com

Oct 1

Memphis Grizzlies fans long ago took Mike Conley in as one of their own. They showed patience through the point guard's early struggles after Memphis drafted him out of Ohio State with the No. 4 pick in the 2007 NBA draft. They supported him as he took …

Share Tweet

Grizzlies Take Care Of Mavs

Mar 20

The Grizzlies got double-digit points from seven players in a 112-101 win over the Mavericks.

Pistons End 10-Game Slide

Mar 17

Reggie Jackson had 23 points and 20 assists in Detroit's 105-95 win over Memphis, ending its 10-game losing streak.

Grizzlies Beat Short-Handed Nuggets

Mar 16

Zach Randolph scored 21 points and grabbed 16 rebounds in the Grizzlies' 92-81 win over the Nuggets.

Grizzlies Rock Bucks

Mar 14

The Grizzlies beat the Bucks 96-83 for their 25th home victory of the season.