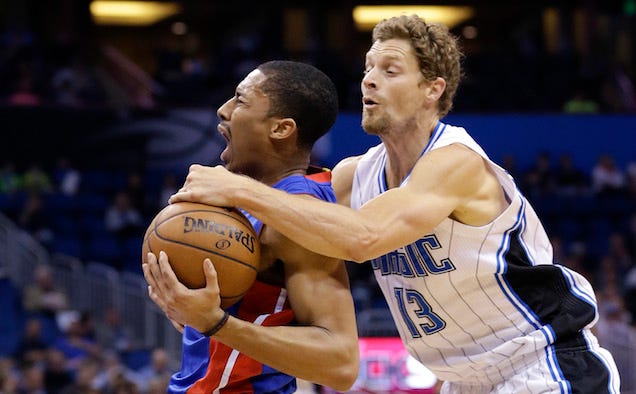 deadspin.com
Updated Jun 30 (2 days ago)
Luke Ridnour was traded three times in two days last week, but before he could start preparing for life in Oklahoma City, the guard was traded again today. Apologies to any Grizzlies, Hornets, or Thunder fans who bought Luke Ridnour jerseys.Read more...
Share
Tweet
Report: Grizzlies agree to terms with Wright

nba.com

19 hours ago

The Memphis Grizzlies have agreed to terms with free-agent forward Brandan Wright, a person familiar with the situation said.

Share Tweet

Grizzlies' Martin has stress fracture, will miss Summer League

nba.com

Jun 29 (3 days ago)

Memphis Grizzlies first-round draft pick Jarell Martin says he has a stress fracture in his foot that will prevent him from playing in any summer league games.

Share Tweet

Suns send 2nd-round pick Harrison to Grizzlies

nba.com

Jun 26 (7 days ago)

The Phoenix Suns have traded second-round pick Andrew Harrison to the Memphis Grizzlies for forward-center Jon Leuer.

Share Tweet

deadspin.com nba.com

Jun 25

Before yesterday, I wouldn't have known where Luke Ridnour played last season. My best guess would have been, "Is he still in Minnesota?" The guard was actually with the Magic, until he was traded to the Grizzlies Wednesday, but his journey didn't end t…

Share Tweet

Magic deal Ridnour to Grizzlies for rights to Latvian Timma

nba.com

Jun 24

The Orlando Magic have agreed to send reserve point guard Luke Ridnour to the Memphis Grizzlies in exchange for the rights to forward Janis Timma.

Share Tweet

Every team (Insider)

ESPN.com

Jun 23

The Memphis Grizzlies need shooting. Virginia's Justin Anderson can shoot and also defend. "Anderson is big, athletic, can play defense and can shoot....

Share Tweet

Grizzlies' Draft options tied to Marc Gasol's decision

nba.com

Jun 23

Not knowing what All-Star center Marc Gasol will do as a free agent leaves the Memphis Grizzlies facing a variety of options of what they could do in the NBA Draft.

Share Tweet

yahoo.com

Jun 19

You might recall, with those legendary 2014-15 Chicago Bulls, Memphis Grizzlies, and Washington Wizards teams owning 2-1 leads in the second round of the playoffs in May, Phil Jackson's attempt to dance on the grave of the fad known as the "three-pointe…

Share Tweet

Grizzlies' Green exercises player option for next season

nba.com

Jun 18

Grizzlies forward Jeff Green has exercised his player option keeping him with Memphis for the 2015-16 season.

Share Tweet

ESPN.com

Jun 11

In their latest mock drafts (Insider), Chad Ford and Jeff Goodman both believe that Anderson can provide the Memphis Grizzlies with the shot blocking ...

Share Tweet

yahoo.com

May 20

Hey, Tony Allen, where did you think you'd end up in the All-Defensive Team voting this year again? [Follow Dunks Don't Lie on Tumblr: The best slams from all of basketball] Right you are, "Grindfather." Right you are. The score-stopping Memph…

Share Tweet

yahoo.com

May 18

How They Got Here • Golden State: After a season of near-constant highs, the Warriors finally experienced real adversity in the Western Conference Semifinals against the Memphis Grizzlies. After dispatching the Grizzlies with ease in Game 1, Golden Stat…

Share Tweet

The Memphis Grizzlies head into the offseason with a major goal: re-signing their free agent All-Star center.

Share Tweet

yahoo.com

May 16

The Golden State Warriors were in some trouble. After falling behind by double digits early in Game 6 of the Western Conference Semifinals at FedExForum, the Memphis Grizzlies came through with a very strong third-quarter to cut the margin to as little …

Share Tweet

Grizzlies Hold Pregame "Moment Of Song" In Memory Of B.B. King

deadspin.com

May 15

Memphis legend B.B. King died last night , and given his importance as a cultural icon to the Blues capital, it was a given the Grizzlies would do some sort of tribute before tonight's Game 6 against the Warriors. But the occasion didn't call for the st…

Share Tweet

yahoo.com

May 15

We've got a pair of potential closeout Game 6s on tap this evening, with the Washington Wizards and Memphis Grizzlies each looking to stave off elimination. Can they follow in the Houston Rockets' thrilling footsteps by staying alive and forcing Game 7s…

Share Tweet

nba.com

May 15

Grizzlies guard Tony Allen says he's definitely playing Game 6 against the Golden State Warriors with Memphis needing a win to avoid elimination trailing their Western Conference semifinal 3-2.

Share Tweet

The Warriors Are Cruel

deadspin.com

May 14

I won't presume to know how Grizzlies fans were feeling during the first few minutes of last night's Game 5 loss to the Warriors. It was certainly too early for them to be feeling confident, but the Grizzlies being up by double digits early, with Marc G…

Share Tweet

yahoo.com

May 14

The Golden State Warriors looked in crisis just four days ago. After a second straight blowout victory over the Memphis Grizzlies, it's safe to say that the best team of the NBA's regular season is still one of the league's obvious championship contende…

Share Tweet

Grizzlies Take Care Of Mavs

Mar 20

The Grizzlies got double-digit points from seven players in a 112-101 win over the Mavericks.

Pistons End 10-Game Slide

Mar 17

Reggie Jackson had 23 points and 20 assists in Detroit's 105-95 win over Memphis, ending its 10-game losing streak.

Grizzlies Beat Short-Handed Nuggets

Mar 16

Zach Randolph scored 21 points and grabbed 16 rebounds in the Grizzlies' 92-81 win over the Nuggets.

Grizzlies Rock Bucks

Mar 14

The Grizzlies beat the Bucks 96-83 for their 25th home victory of the season.