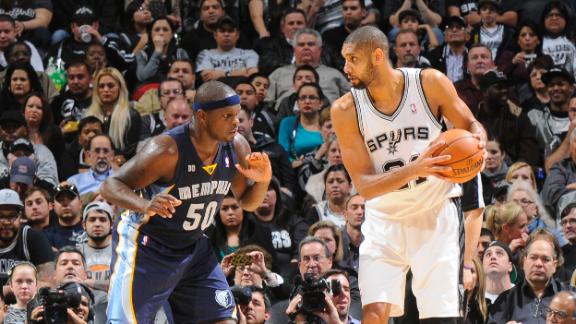 Take a look inside the Memphis Grizzlies' NBA-best in-arena music team

yahoo.com

Jan 16, 2013

Each professional sports venue has a standard rotation of songs, including but not limited to "Let's Get It Started," that one Pitbull song about the neverending party, and the collected works of LMFAO (video links barred from BDL by editorial…

Share Tweet
Spurs Fight Off Grizzlies

Jan 16

Spurs capture 13th straight home win with 103-82 victory over Grizzlies.
Sports Columnists
Daily Dime: Heat rule when interested

Jan 16

LeBron James' milestone night showed a team engaged and at its best, Brian Windhorst writes.

Dwayne Wade says he has no ill feelings toward coach Erik Spoelstra

Jan 16

Miami Heat star Dwyane Wade said Wednesday he has no ill will toward coach Erik Spoelstra over his benching in the fourth quarter of Monday's loss to the Utah Jazz.