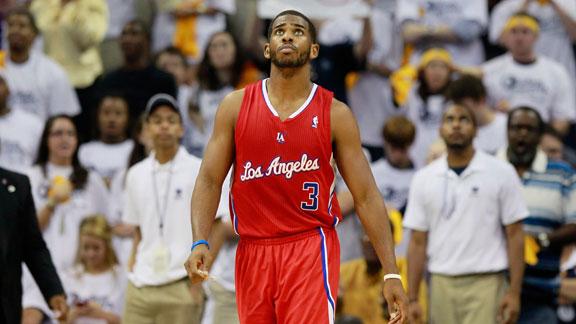 Clips top Griz in Game 7 for rare 1st-round win
ESPN.com
Updated May 13, 2012
Kenyon Martin scored seven of his 11 points in the fourth quarter, and the Los Angeles Clippers advanced to the Western Conference semifinals with an 82-72 win Sunday over the Memphis Grizzlies in Game 7.
Upvote
Share
Tweet
CNNSI.com

May 13, 2012

MEMPHIS, Tenn. (AP) The Los Angeles Clippers refused to let a third chance to knock the Memphis Grizzlies out of the playoffs slip away.

Upvote Share Tweet

Lee Jenkins: Grizzlies on brink of historic comeback as Clippers squander another chance

CNNSI.com

May 13, 2012

LOS ANGELES -- After Game 1, the Clippers gathered in the lobby bar of the Westin in downtown Memphis and tried to recreate their epic rally. They deconstructed the details of the last 10 minutes: the 24-point deficit, the 28-3 run, all the Grizzlies mi…

Upvote Share Tweet

Clippers vs. Grizzlies: Game 7

May 13

Chris Paul has 19 points and nine assists and the Clippers defeat the Grizzlies 82-72 and will face the Spurs in round two.

Clippers Push Past Grizz

May 13

Chris Paul scored 19 points in the Clippers 82-72 win over the Grizzlies.