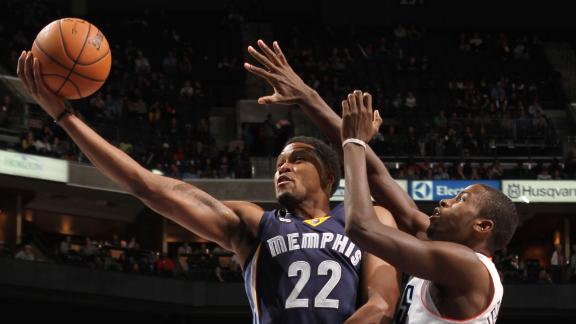 Mike Conley scored 20 points and the Memphis Grizzlies beat the Charlotte Bobcats 94-87 on Saturday night for their eighth consecutive victory.
Share
Tweet
nydailynews.com dimemag.com ESPN.com

Nov 17, 2012

The Knicks kept their composure to topple the Spurs, but the next night in Memphis, they lost their cool in a team-wide meltdown that cost them a chance to defeat the Grizzlies and remain the last undefeated team.

Share Tweet

"I'm 38 Years Old, Baby": Things Rasheed Wallace Said, Did, And Pointed At During Last Night's Knicks Game

deadspin.com

Nov 17, 2012

Rasheed Wallace: lover, fighter, hilarious training camp invitee, and talker of the best trash in the NBA. On Tuesday, he yelled "Yeah, Aflac!" at Aaron Afflalo after Afflalo bricked a free throw; last night, he yelled everything at everybody …

Share Tweet

Grizzlies Extend Win Streak To Eight Games

Nov 17

Mike Conley scored 20 points and Rudy Gay added 16 to help the Grizzlies fend off the Bobcats.