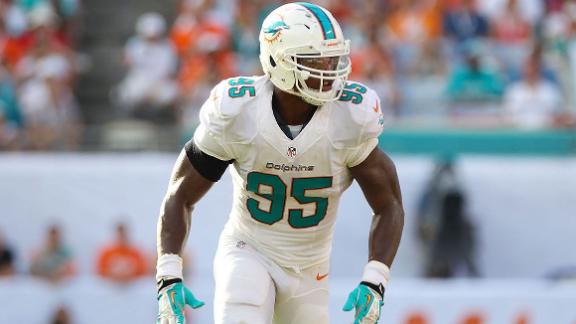 ESPN.com
miamiherald.com
profootballtalk.com
Updated 6 hours ago
Defensive end Dion Jordan says he's blessed and thankful that the Dolphins accepted him back after his six-game suspensions
Upvote
Share
Tweet
ESPN.com

12 hours ago

A weekly look at what the Miami Dolphins must fix: This is a difficult week to nitpick at the Dolphins (3-3) following a complete, four-quarter performance in a 27-14 victory over the Chicago Bears. However, the Dolphins did allow a season-high four sac…

Upvote Share Tweet

Kyle Long says he shouldn't blame fans, blames media instead

profootballtalk.com

13 hours ago

Given some time to stretch, Bears guard Kyle Long was able to reach all the way up to take the foot out of his mouth. After blaming Bears fans (Yep, it was their fault) in the aftermath of Sunday's loss to the Dolphins, Long came back Monday and told WX…

Upvote Share Tweet

profootballtalk.com

15 hours ago

The Bills will get a chance to see if their trade for RB Bryce Brown paid off. The Dolphins have sowed optimism and distrust with their performances thus far. DT Vince Wilfork continues to play a crucial role in the team's defense. LB Quinton Coples is …

Upvote Share Tweet

The PFF and Salguero rewind of the Bears win

miamiherald.com

23 hours ago

Glad tidings on the scoreboard typically translate to good grades for the Miami Dolphins from my friends at ProFootballFocus.com and this week is no different. The Dolphins beat the Chicago Bears and the film rewind of the victoy was kind to Miami. Here…

Upvote Share Tweet

ESPN.com profootballtalk.com deadspin.com

Oct 20 (yesterday)

Bears coach Marc Trestman disputed the notion that receiver Brandon Marshall called out Jay Cutler during a few tense moments in the locker room on the heels of the club's 27-14 loss Sunday to the Dolphins, but also said "I didn't hear all of it."

Upvote Share Tweet

profootballtalk.com

Oct 20 (yesterday)

The Bears are trying to combat reports of a broken locker room after frustrations spilled over after Sunday's loss to the Dolphins, something that a win next week would surely help. Their chances of getting that win would be improved if cornerback Kyle …

Upvote Share Tweet

Bears' Long: Wrong to cast blame on fans

ESPN.com

Oct 20 (yesterday)

Chicago Bears guard Kyle Long criticized fans at Soldier Field for booing Sunday as the team trotted into the locker room down 14-0 to the Miami Dolphins, but on Monday admitted "it was wrong for me to point fingers at the fans."

Upvote Share Tweet

Consistency by the Miami Dolphins a significant step

miamiherald.com

Oct 20 (yesterday)

CHICAGO -- Inconsistency has been the bugaboo for the Dolphins this year. Everyone knows that. Everyone has come to expect it. And one game of consistency does not change everything, as I write in my column today. By the way, I also take you into the Do…

Upvote Share Tweet

Kyle Long sends criticism back at Bears fans

profootballtalk.com

Oct 20 (yesterday)

The Bears have plenty of problems at the moment, as evidenced by their third straight home loss yesterday, this one to the Dolphins. That loss made for a heated locker room, with wide receiver Brandon Marshall calling out the entire roster. But Bears gu…

Upvote Share Tweet

Tannehill Leads Dolphins Past Bears 27-14

nytimes.com

Oct 20 (yesterday)

Ryan Tannehill was sure he was going to hand the ball off. Then he saw the defense, and he knew what he had to do.

Upvote Share Tweet

Dolphins Jordan: 'Blessed To Be Back From Ban

Oct 21

Miami Herald's Armando Salguero breaks down the role Dolphins defensive end Dion Jordan will have with the team after serving a six-game suspension for violating the NFL's performance enhancing and substance abuse policies.

Bears Drop Another At Home

Oct 19

Jeff Dickerson and Jon Greenberg break down the Bears' 27-14 loss to the Dolphins.

Game Balls: Miami at Chicago

Oct 19

Dolphins reporter James Walker's game ball goes to Ryan Tannehill, who threw for 277 yards and two touchdowns. Bears defensive tackle Jeremiah Ratliff gets the nod from Michael Wright after a career-high 3.5 sacks in the first half and seven tackles.

Sunday Blitz: Dolphins-Bears Recap

Oct 19

Jim Basquil and Merril Hoge break down the Dolphins' 27-14 win over the Bears.