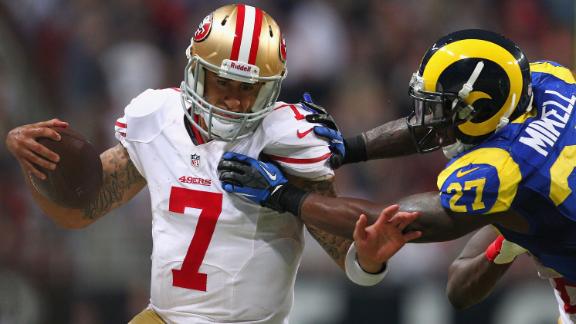 ESPN.com
Updated Dec 3, 2012
Jim Harbaugh watched how Colin Kaepernick handled himself when things didn't go right for the San Francisco 49ers, and that told the coach plenty more about his second-year quarterback with all of three NFL starts to his name.
Share
Tweet
profootballtalk.com ESPN.com

Dec 3, 2012

With Dolphins left tackle Jake Long possibly done for the year with a triceps injury, the question becomes whether the first overall pick in the 2008 draft will return to the Fins in 2013. Adam Schefter of ESPN reported earlier today that Long's franchi

Share Tweet

Special teams negatively affecting chance to win

miamiherald.com

Dec 3, 2012

The Dolphins special teams has had some great moments from Marcus Thigpen this year and got excellent all-around games from the entire unit, particularly at New York, this season. But lately, the special teams have had to fight to merely keep from hurti…

Share Tweet

Some curious coaching decisions on Sunday

miamiherald.com

Dec 3, 2012

I do not blame the Dolphins defense for Sunday's loss. I do not blame the coaching. I don't blame the special teams even though they cost the Dolphins points. I put the blame for Sunday's loss to the New England Patriots squarely on the collective shoul…

Share Tweet

profootballtalk.com

Dec 3, 2012

RB Fred Jackson returned to a leading role in the Bills offense this week. Special teams errors really hurt the Dolphins in the first half. Patriots RB Stevan Ridley went over 1,000 yards for the season while helping close out Sunday's win. A slide by R

Share Tweet

GameDay: Patriots vs. Dolphins highlights

Dec 3

The New England Patriots hold the Miami Dolphins to 277 total yards and improve to 9-3 after a 23-16 road victory.