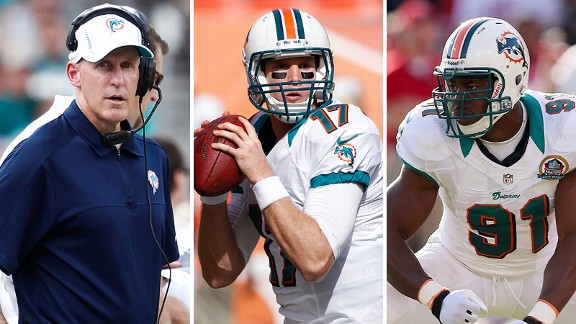 Why Dolphins are my sleeper pick for 2013
Updated Mar 1
Share
Tweet
Potential franchise quarterback? Check. Solid defense? Check. Plenty of resources in the draft and free agency? Check and check. I've picked a sleeper team nearly every year since joining ESPN.com's blog network. This season's under-the-radar pick is th…
Source:
ESPN.com
Updated Mar 1

Share Tweet

The Bills have shown some interest in retaining FB Corey McIntyre. Examining the high regard for RB Lamar Miller with the Dolphins. A snapshot of the Patriots' cap situation. The ugly numbers of the Jets payroll. Ravens WR Jacoby Jones is planning to da

Source:

profootballtalk.com

Ireland, Dolphins deserve praise for cap situation

Updated Mar 1

Share Tweet

Some of you guys are going to hate this post. As the new league year and free agency nears -- it begins on March 12 at 4 p.m. -- teams must be prepared to be under the salary cap that is estimated to be around $121-$123 million, depending on what source…

Source:

miamiherald.com

Turner, Abraham Among Falcons Cuts

Mar 1

Adam Schefter discusses Atlanta's decision to release RB Michael Turner, DE John Abraham and CB Dunta Robinson, and identifies possible targets to replace Turner.