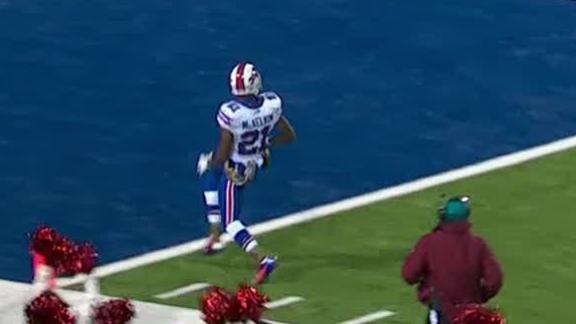 profootballtalk.com
miamiherald.com
ESPN.com
CNNSI.com
buffalobills.com
Updated Nov 15, 2012
It might be time to put the Miami Dolphins offense on the side of a milk carton because it continues to be missing in action. Their playoff hopes may have disappeared as well. Buffalo Bills safety Jairus Byrd and linebacker Bryan Scott each intercepted …
Share
Tweet
Offensive Touchdowns Are So Overrated: Bills-Dolphins, In Two GIFs

deadspin.com

Nov 15, 2012

Bills 19, Dolphins 14: Oh, this game. From the get-go, it didn't look very promising that these AFC East foes would light up the scoreboard, although a nifty special teams moment early on gave up all some brief flicker of hope. More »

Share Tweet

ESPN.com profootballtalk.com

Nov 15, 2012

Leodis McKelvin scored on a 79-yard punt return, and the Buffalo Bills' defense finally flexed its muscles in a 19-14 victory over the Miami Dolphins on Thursday night.

Share Tweet

ESPN.com deadspin.com

Nov 15, 2012

The Buffalo Bills lead the Miami Dolphins, 19-7, at halftime. Here are some notes at intermission: It's been a great first half for special teams. Buffalo defensive back Leodis McKelvin got things starting with a 79-yard punt return, and Miami backup ta

Share Tweet

ESPN.com profootballtalk.com miamiherald.com buffalobills.com yahoo.com

Nov 15, 2012

Miami receiver Jabar Gaffney is sitting out the Dolphins' game against the Buffalo Bills on Thursday night because of a knee injury.

Share Tweet

Tonight's game a chance for a little revenge

miamiherald.com

Nov 15, 2012

BUFFALO -- Here it is. The opportunity. This is the night. If you are old enough and remember back long enough to know that Dave Wannstedt did enormous damage to the Miami Dolphins, then tonight is the opportunity for a bit of revenge. It was Wannstedt …

Share Tweet

Spiller a hometown hero

Here's the piece that aired on tonight's NFL Network pre-game show for tonight's Bills-Dolphins Thursday night game on C.J. Spiller, and how he's followed in the footsteps of his late uncle. Spiller's uncle was slain at age 19 and was a high sch

Share Tweet

Join our ESPN.com NFL experts as they break down the AFC East match up between the Buffalo Bills and the Miami Dolphins. Contribute your thoughts and questions beginning at 8:30 p.m. ET. See you there. Countdown Live: Bills-Dolphins

Share Tweet

A while since Miami has run for 100

After rushing for over 100 yards in two of their first three games this season, the Dolphins haven't done it since. Miami hasn't hit the century mark rushing as a team in six games. Bills head coach Chan Gailey is naturally hoping that continues, kno

Share Tweet

Walker's AFC East picks

We're baaaaaack! After another solid week -- we only missed the Dolphins -- the AFC East blog returns for another round of stellar predictions. We are 23-7 overall picking division games. Week 11 starts early with a Thursday night game. So let's get to …

Share Tweet

Buffalo school needs your vote

Tonight's Thursday night game against the Miami Dolphins isn't the only Miami v. Buffalo competition happening this week. The NFL Play 60 ConorsChoose.org Showdown is putting one school from each city in a voting showdown for a good cause. Buffalo's

Share Tweet

Don't look for complex game plan

NFL game plans are relatively complex each and every week, but with very limited time to prepare for a Thursday night game both Chan Gailey and Dolphins head coach Joe Philbin have admitted that their approach both offensively and defensively will be pr…

Share Tweet

I remember sitting in Lucas Oil Stadium two weeks ago watching Indianapolis Colts rookie quarterback Andrew Luck carve up the Miami Dolphins for 433 yards. Andrew Luck #12 QBIndianapolis Colts 2012 STATS Att362 Comp208 Yds2631 TD10 Int9 Rat79.1 Luck was…

Share Tweet

profootballtalk.com

Nov 15, 2012

The Bills are an awful 2-13 in AFC East games under Chan Gailey. For the Dolphins, tonight brings a test of whether they're legitimate playoff contenders or not. The Patriots' league-best turnover margin could get a boost against a Colts team near the

Share Tweet

Miami Dolphins vs. Dolphins Bills highlights

Nov 15

The Buffalo Bills and Miami Dolphins each get a special teams touchdown, but Bills K Rian Lindell's four field goals turn out to be the difference in a 19-14 Bills victory.

Bills Snap Three-Game Skid

Nov 15

Bills hold off Dolphins, 19-14.