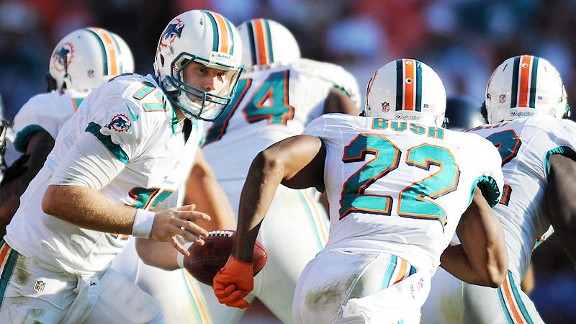 ESPN.com
Updated Nov 25, 2012
MIAMI -- The Miami Dolphins will have a meaningful December game next week against the reigning AFC champion New England Patriots. Let that sink in for a second. The Dolphins have come a long way in just a few short months. That was evident on Sunday wh…
Share
Tweet
Liquid Menace Stalks Official: Your Sunday NFL GIF Roundup

deadspin.com

Nov 25, 2012

We'll be putting all our GIFs for the day here, from official Buddy Of The West Horton narrowly escaping certain death to Indianapolis cheerleaders remaining Chuckstrong. We'll update the post as the later games conclude, so stay tuned. More »

Share Tweet

ESPN.com profootballtalk.com

Nov 25, 2012

Dan Carpenter kicked a 43-yard field goal on the final play Sunday, and the Miami Dolphins scored 17 points in the last 8:08 to rally past the Seattle Seahawks 24-21.

Share Tweet

miamiherald.com ESPN.com

Nov 25, 2012

Call it a comeback. The Dolphins were down twice in the fourth quarter -- once at 14-7 and then at 21-14 -- but fought back each time and just battled through a victory. Dolphins 24. Seahawks 21. The game was a coming of age moment for Ryan Tannehill. H…

Share Tweet

yahoo.com profootballtalk.com

Nov 25, 2012

With 1:53 left in the third quarter of the Miami Dolphins' game against the Seattle Seahawks at Miami's Sun Life Stadium, Dolphins quarterback Ryan Tannehill ran for a 19-yard gain, taking the ball from the Miami 33-yard line to the Seattle 48. And then…

Share Tweet

deadspin.com ESPN.com

Nov 25, 2012

Damn you, BW3. In a premature attempt to extend what's so far been a boring Seattle-Miami NFL game, a groundskeeping blunder led to a delay in the action when midway through the third quarter, Sun Life Stadium's sprinkler system went off, leading player…

Share Tweet

Russell Wilson gets on hot streak, Seahawks take lead

After a slow start, Seahawks quarterback Russell Wilson has found his footing. He's brought his team back for a 14-7 lead over the Dolphins, with a pair of 80-yard touchdown drives. He's also completed 14 straight passes, on the kind of hot streak heâ

Share Tweet

Well, the Dolphins offense came to life toward the end of the first half and went on an impressive TD march, culminated by Reggie Bush's 21-yard TD. On that score, center Mike Pouncey led the run with a sweep while tight end Charles Clay also got a grea…

Share Tweet

Goose eggs on the board going to second quarter

Ryan Tannehill has an interception. Reggie Bush has been largely ineffective. Jake Long gave up a sack. Mike Pouncey was called for holding. At least the defense is playing well. The Dolphins and the Seahawks are not exactly lighting up the scoreboard s…

Share Tweet

The Seattle Seahawks will come at the Miami Dolphins today with one of the best sack-tandems in the NFL. Bruce Irvin and Chris Clemons each have seven sacks. So it stands to reason Miami's offensive tackles will have to play well for the Dolphins to suc…

Share Tweet

Dolphins trying to figure out how to fix their stadium

To use a scouting term, Sun Life Stadium is a bit of a tweener. The home of the Dolphins, with 75,540 seats, is too big for regular season use. Because of the pleasant weather, it's not worn down enough to warrant a rebuild. But it's old enough (the 1

Share Tweet

The Bills' running game could be their key to victory on Sunday. Dolphins TE Anthony Fasano was downgraded from probable to questionable on Saturday. How much will Patriots T Sebastian Vollmer's back problems cost him in free agency? Mike Lupica of th

Share Tweet

Sunday Blitz: Seahawks-Dolphins Recap

Nov 25

Prim Siripipat and Cris Carter break down the Dolphins' 24-21 win over the Seahawks.

Miami Dolphins celebrate late win

Nov 25

Miami Dolphins head coach Joe Philbin addresses his team following a 24-21 victory over the Seattle Seahawks.

Dolphins Earn Fifth Win With Late Field Goal

Nov 25

Dan Carpenter kicked a 43-yard field goal as time expired to end the Dolphins' skid.

Seattle Seahawks vs. Miami Dolphins highlights

Nov 25

Miami Dolphins quarterback Ryan Tannehill helps break a three-game losing streak as he leads a game-winning drive to defeat the Seattle Seahawks 24-21.