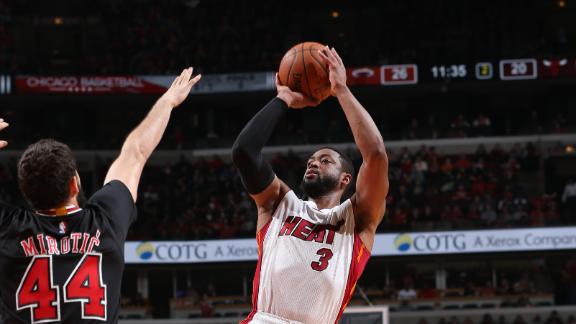 ESPN.com
dimemag.com
nba.com
Updated Jan 25 (yesterday)
Dwyane Wade scored 26 points, Chris Bosh finished with 20 and Hassan Whiteside had an unconventional triple-double to help the Miami Heat beat the sluggish Chicago Bulls 96-84 Sunday.
Upvote
Share
Tweet
Watch Derrick Rose Glide For Swooping Reverse Layup Versus Heat

dimemag.com

Jan 25 (yesterday)

The wildly improved outside shooting is great. But what really has us excited about Derrick Rose's recent play is the frequency with which he's attacking the rim, and how he's doing it once he gets there. Watch the Chicago Bulls superstar tap into MVP-w…

Upvote Share Tweet

dimemag.com

Jan 24 (2 days ago)

Gregg Popovich, basketball masochist? Nah. Pop and the reigning champion San Antonio Spurs were haunted enough by their heartbreaking loss to the Miami Heat in the 2013 NBA Finals that we know that's not the case. Like all of us, though, San Antonio's l…

Upvote Share Tweet

nba.com

Jan 22 (4 days ago)

Miami Heat guard Dwyane Wade has been fined $15,000 for making an obscene gesture during the Heat's 78-76 loss to the Charlotte Hornets on Wednesday, Jan. 21, at Time Warner Cable Arena, it was announced today by Rod Thorn, President, Basketball Operati…

Upvote Share Tweet

ESPN.com

Jan 22 (5 days ago)

LeBron James met with free-agent guard and former Heat teammate Ray Allen in Miami during his recent two-week rest period to try to appeal to the league's all-time leader in 3-pointers again about joining the Cavs this season.

Upvote Share Tweet

nba.com

Jan 21 (5 days ago)

Point guard Kemba Walker started against the Miami Heat after missing the last two games because of a cyst on his left knee.

Upvote Share Tweet

KD Blows By Birdman For Dunk; Andersen Answers With Rare 3-Pointer

dimemag.com

Jan 21 (5 days ago)

In 12-plus NBA seasons, tattooed center Chris Andersen has attempted 40 three-point field goals. He's made just eight of them over that stretch with the eighth coming last night. It happened right after Kevin Durant smoked him for a dunk. Birdman doesn'…

Upvote Share Tweet

We're just a handful of days removed from Russell Westbrook deciding to stonewall reporters after a win, answering questions only by repeatedly praising the Oklahoma City Thunder's "execution" before flat-out telling Oklahoman columnist Berry …

Upvote Share Tweet

Watch Thunder Go Full-Court Without Dribbles For Serge Ibaka Alley-Oop

dimemag.com

Jan 20 (6 days ago)

Russell Westbrook, Kevin Durant, and Serge Ibaka are inarguably the most athletic trio of of teammates in basketball. Of course, the Oklahoma City Thunder stars are pretty damn skilled, too. Watch all three players put their multi-faceted talents on dis…

Upvote Share Tweet

nba.com

Jan 15

A federal judge handed down a six-year prison sentence Thursday to a man who portrayed himself as a member of a wealthy Pakistani family while running a multimillion-dollar investment scam involving three former Miami Heat players and the team itself.

Upvote Share Tweet

dimemag.com

Jan 15

If this rumor had confronted the masses a year ago, everyone would have lost their mind because last year's Heat team really needed a big man. This year, Miami is obviously without LeBron, and nobody expects them to challenge for much of anything — even…

Upvote Share Tweet

Warriors crush Wade-less Heat for 8th in row

ESPN.com

Jan 15

Stephen Curry made seven 3-pointers and finished with 32 points, and the Golden State Warriors overwhelmed the undermanned Miami Heat 104-89 on Wednesday night for their eighth straight victory.

Upvote Share Tweet

Miami Heat guard Dwyane Wade is sitting out against the Golden State Warriors on Wednesday night because of a strained left hamstring.

Upvote Share Tweet

On Tuesday evening, in a tough loss to the Miami Heat, Kobe Bryant missed 16 of 19 shots from the field. The shooting performance wasn't typical of his recent play – Kobe hasn't usually been this bad – but it is sadly reflective of the sub-Kobester stat…

Upvote Share Tweet

Miami Heat's Hassan Whiteside opening up NBA's eager eyes

yahoo.com

Jan 14

Comparisons to David Robinson and Alonzo Mourning are premature, but Hassan Whiteside's sudden rise to stardom for the Miami Heat must have handfuls of NBA talent evaluators scratching their heads. Offered the opportunity to play meaningful minutes for …

Upvote Share Tweet

ESPN.com

Jan 9

LaMarcus Aldridge had 24 points and 12 rebounds, and the Portland Trail Blazers used a big third quarter to beat the Miami Heat 99-83 on Thursday night.

Upvote Share Tweet

yahoo.com dimemag.com

Jan 8

When Nicolas Batum came out to warm up for the Portland Trail Blazers' nationally televised Thursday night matchup with the Miami Heat, the French forward wore a shirt bearing the phrase "Je Suis Charlie" — which translates to "I am Charl…

Upvote Share Tweet

Tall Justice is back to fighting crime and keeping the mood light

miamiherald.com

Jan 8

If you haven't seen Chris Bosh's latest video short for the comedy website Funny or Die, it's worth a few laughs. Bosh is keeping the mood light in the locker room as well as the Heat plods through a difficult stretch of the season. Bosh will be in L.A.…

Upvote Share Tweet

dimemag.com

Jan 8

The injury Deron Williams suffered against the Miami Heat on Sunday has turned out to be much more than minor. After feeling additional pain early in the Brooklyn Nets' loss to the Boston Celtics last night and undergoing further testing today, Williams…

Upvote Share Tweet

Heat Overpower Bulls

Jan 25

Dwyane Wade scored 26 points and Hassan Whiteside had 12 blocks in Miami's 96-84 win over the Chicago Bulls.

Excellent All-Around Game From Whiteside

Jan 25

Hassan Whiteside contributes a triple-double in the Heat's win over the Bulls.

Wade Talks Whiteside, Win

Jan 25

Miami guard Dwyane Wade discusses center Hassan Whiteside's performance and the Heat's 96-84 win over the Chicago Bulls.

Rose Hits Acrobatic Layup

Jan 25

Chicago Bulls guard Derrick Rose drove the baseline and made a nice reverse layup.