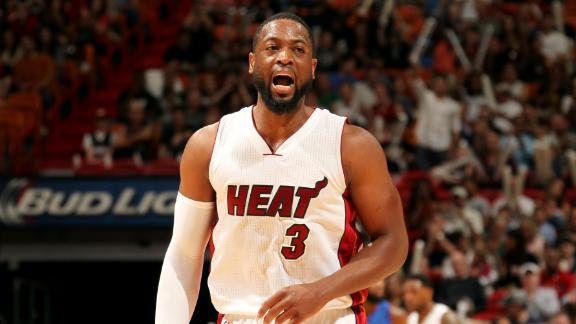 Wade fuels Heat with 40 day after procedure
ESPN.com
Updated Mar 29 (yesterday)
Dwyane Wade scored 40 points one day after having fluid removed from his balky left knee, Udonis Haslem set season highs with 18 points and 13 rebounds, and the undermanned Heat beat the Pistons 109-102 on Sunday night.
Share
Tweet
Morning update on Dwyane Wade's troublesome left knee

miamiherald.com

Mar 28 (3 days ago)

Dwyane Wade was scheduled to meet with doctors on Saturday morning and determine the best course of action to treat his ailing left knee amid the Heat's playoff race. Under normal circumstances, Wade likely would have fluid drained from his left knee an…

Share Tweet

With just a few weeks remaining until the NBA postseason, every night can impact the standings. NBA Playoff Picture keeps you up to date on all the most important news for all 16 berths and seeds. Hail to the Hawks: The Atlanta Hawks' 99-86 win over the…

Share Tweet

miamiherald.com nba.com ESPN.com

Mar 27 (4 days ago)

Hassan Whiteside offered a close look at his injured hand before Friday's road game against the Atlanta Hawks and it didn't look pretty. Whiteside split his right hand between his forefinger and ring finger during the Heat's game against the Milwaukee B…

Share Tweet

Celts' Thomas back after missing 8 games

ESPN.com

Mar 25 (6 days ago)

Boston Celtics point guard Isaiah Thomas is set to return from an eight-game absence on Wednesday night against the Miami Heat.

Share Tweet

Bucks stun Heat on Middleton's game winner

ESPN.com

Mar 25 (7 days ago)

Khris Middleton hit a 3-pointer at the buzzer as the Bucks snapped a six-game losing streak with an 89-88 comeback victory over Miami on Tuesday night in a key game for the sixth spot in the Eastern Conference playoff race.

Share Tweet

yahoo.com

Mar 24 (7 days ago)

It can be difficult to establish a rapport and a rhythm with new teammates after a in-season trade, especially when you're a young point guard. Sure, some veterans seem to find their way pretty quickly — Goran Dragic's quick acclimation to pairing with …

Share Tweet

The NBA announced Monday that Russell Westbrook was incorrectly credited with a rebound in Oklahoma City's 93-75 win over the Miami Heat. The correction means the Thunder point guard finished with 12 points, 17 assists and nine rebounds.

Share Tweet

Heat's Wade, Clippers' Paul named Players of the Week

nba.com

Mar 23

The Miami Heat's Dwyane Wade and the Los Angeles Clippers' Chris Paul today were named NBA Eastern and Western Conference Players of the Week, respectively, for games played Monday, March 16, through Sunday, March 22.

Share Tweet

yahoo.com

Mar 20

Miami Heat center Hassan Whiteside has been one of the great positive surprises of this NBA season, rising from obscurity to become a top rim protector and strong candidate for Most Improved Player honors. Unfortunately, Whiteside has recently allowed h…

Share Tweet

Dwyane Wade credits improved health and a recent change in his workout routine as the driving forces behind his recent surge in production amid the Miami Heat's push to make the playoffs.

Share Tweet

yahoo.com

Mar 17

Just a week after Miami Heat president Pat Riley discussed LeBron James' 2014 free agent departure in ways that were beneath him, another Heat legend and current Heat employee is going on record to complain about James' move back to Cleveland. [DraftKin…

Share Tweet

Blatt: Cavaliers must finish in second place

ESPN.com

Mar 17

After his team lost by double digits at home to the Miami Heat, Cleveland Cavaliers coach David Blatt laid down an ultimatum: The team must finish in second place in the Eastern Conference.

Share Tweet

Wade-led Heat again stun LeBron, Cavaliers

ESPN.com

Mar 16

Dwyane Wade scored 21 of his 32 points in the first half, Goran Dragic added 20, and the Heat handed LeBron James another loss on his former home floor with a 106-92 victory over the Cavaliers on Monday.

Share Tweet

LeBron to have knee treated after 'scary' fall

ESPN.com

Mar 15

LeBron James tweaked his right knee in the second half of the Cleveland Cavaliers' 123-108 win over the Orlando Magic on Sunday and is hopeful it won't sideline him for his return to Miami to face the Heat on Monday night.

Share Tweet

Raptors' Valanciunas gets night off after birth of son

nba.com

Mar 13

Toronto center Jonas Valanciunas sat out the Raptors' game against the Miami Heat on Friday night, a day after the birth of his son.

Share Tweet

yahoo.com

Mar 12

Pat Riley is not venting in comic sans. He's not guaranteeing a championship for his team or lobbing insults at his former player, and the Miami Heat president will not be turned into the sort of punchline Cleveland Cavaliers owner Dan Gilbert became up…

Share Tweet

Updated with playoff tie-breakers, a closer look at the playoff race between the Heat and Hornets

miamiherald.com

Mar 11

If nothing else, these final weeks of the season are going to be fun to cover. At ninth in the standings before Wednesday night's game, and trailing the Hornets by a half game in the standings, the Heat is locked in a playoff race that seems fated for a…

Share Tweet

Wade, Heat Cruise Past Nuggets

Mar 20

Dwyane Wade scored 20-plus points for the seventh straight game and the Heat toppled the Nuggets 108-91.

NBA Top Plays

Mar 20

Derrick Williams' posterizing, one-handed slam is the top play in the NBA.

Heat Hold Off Blazers

Mar 18

Dwyane Wade and Luol Deng combined to score 56 points in the Heat's 108-104 win over the Blazers.

NBA Top Plays

Mar 18

Chris Andersen's dunk on Chris Kaman is the top play in the NBA.