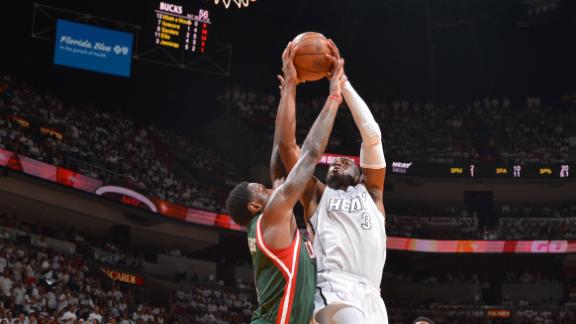 Heat pull away from Bucks, take 2-0 lead
Updated Apr 23
Share
Tweet
Dwyane Wade scored 21 points, LeBron James finished with 19, and the Miami Heat took off in the fourth quarter to pull away and beat the Milwaukee Bucks 98-86 in Game 2 of the teams' Eastern Conference first-round series Tuesday night.
Source:
ESPN.com
Updated Apr 23

Share Tweet

Plenty of goofy things happen during an NBA season, but it's possible that there was no comment more ridiculous than Milwaukee Bucks shooting guard Monta Ellis's proclamation that the only differences between him and Miami Heat superstar Dwyane Wade wer…

Source:

yahoo.com

Pre-Game 2 Twitter Q&A

Updated Apr 23

Share Tweet

Andersen was 4 of 4 in Game 1. This is a pretty interesting prop bet, if it's actually out there. I'll going with the over, considering Birdman told me after the game that he was a little nervous in the first half and that those jitters were gone by the…

Source:

miamiherald.com

Updated Apr 23

Share Tweet

The Miami Heat have made a sound choice in keeping the team's 2012-13 focus on the month of June, instead of stressing over the eight NBA months that come before it. From the slowish start to the season to the perfect perspective in the midst of the tea

Sources:

yahoo.com miamiherald.com

That animated film about Chris Bosh as a space prince who saves the galaxy is finally out (Video)

Updated Apr 23

Share Tweet

Back in November, we told you about "Adventures of Christopher Bosh in the Multiverse," an animated film produced by Miami arts collective Bleeding Palm for the Borscht Film Festival. The film - which grew out of an April Fools Day joke that the Miami H

Source:

yahoo.com

Updated Apr 23

Share Tweet

It is not a good idea to play LeBron James [We are all watching] in shooting games after practice. He will beat you. And he will make you pay for it. Check out this video from Heat practice yesterday: LeBron beats Ray Allen and Mario Chalmers in a game …

Source:

dimemag.com

Heat Pull Away In Fourth, Take 2-0 Series Lead

Apr 23

Dwyane Wade scored 21 points to lead the Heat to a 98-86 win over the Bucks in Game 2.