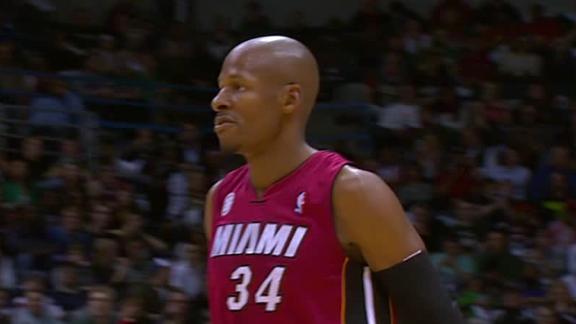 Updated Apr 26
Share
Tweet
The Miami Heat are keeping a close eye on Dwyane Wade and his aching knee.
Bench production allowing Heat's Big 3 to rest

Updated Apr 26

Share Tweet

More than anything, this first-round playoff series has been about the Heat's depth. The Heat's bench is averaging 40.7 points per game entering Sunday's Game 4. For perspective, consider this: The Heat has played 165 postseason games in franchise h

Source:

miamiherald.com

Updated Apr 26

Share Tweet

Kevin Durant would dribble up and down the street outside his grandmother's house in Capitol Heights, Md., so bound was he to be a point guard. He played the point as a freshman at National Christian Academy in Fort Washington. He ran it during pickup g…

Source:

CNNSI.com

8 Things We've Learned So Far From The NBA Playoffs

Updated Apr 26

Share Tweet

It's the most wonderful time of the year, basketball fans. For the next two months or so, we'll be treated to only the best of the best the league has to offer. With every game broadcasted on national television, there's a lot of NBA to digest, and

Source:

dimemag.com

Updated Apr 26

Share Tweet

The Bucks led the defending champions through two quarters, but the Miami Heat showcased many strengths on their way to a 104-91 win in Game 3, writes Chris Ballard.

Source:

CNNSI.com

Ray Allen Breaks Another Record; The Greatest Shooting Display On YouTube; Skylar Diggins & Jay-Z Team Up

Updated Apr 26

Share Tweet

If you ask Brandon Jennings, he probably still thinks Milwaukee is winning in seven games. Everyone else? They know this series is over, especially after the Heat's predictable shutdown second half in their 104-91 win to take a 3-0 lead. LeBron scored 2

Source:

dimemag.com

Playoff Coaching In The Crosshairs

Apr 26

David Thorpe and Marc Stein on which coaches are killing, and getting killed, in the playoffs.

LeBron's Test

Apr 26

Tim Grover says Michael Jordan, Dwyane Wade and Kobe Bryant are what he calls 'cleaners.' The best of the NBA's leaders. LeBron, he says, isn't there yet, but can get there with a title this season.