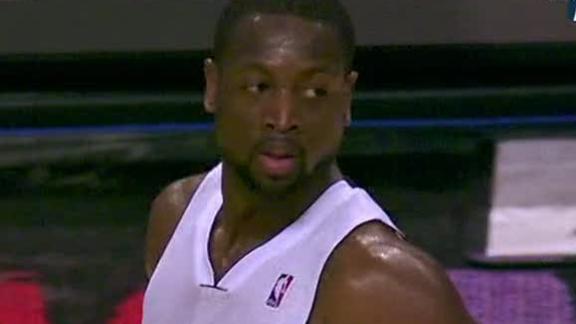 Updated Dec 1, 2012
Share
Tweet
Dwyane Wade scored a season-high 34 points, LeBron James added 21 points and the Miami Heat rallied from a 14-point deficit to beat the Brooklyn Nets 102-89 on Saturday night.
Source:
ESPN.com
Updated Dec 1, 2012

Share Tweet

Gregg Popovich said Saturday night he doesn't know if the San Antonio Spurs will appeal a $250,000 fine from the NBA for sending his star players home to rest instead of playing them against the Miami Heat.

Updated Dec 1, 2012

Share Tweet

NBA fines Spurs $250,000 for resting players vs. Heat

Source:

CNNSI.com

Wade's Big Night Rallies Heat

Dec 1

Dwyane Wade scored 34 points to lead the Heat over the Nets 102-89.