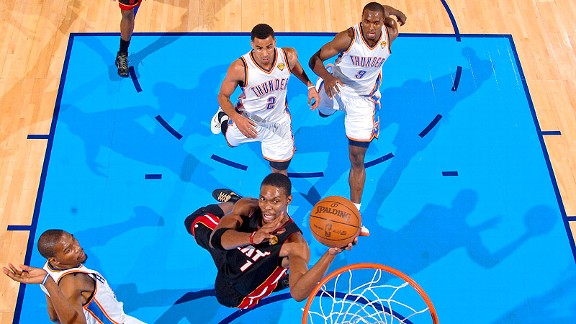 Udonis Haslem aims to 'bring a defensive tone' against OKC

miamiherald.com

Dec 24, 2012

When last the Heat squared off against the Oklahoma City Thunder, Udonis Haslem was a reserve and recorded a rebound, an assist and a point-the rare triple-single-in Game 5 of the 2012 NBA Finals. On Christmas Day, Haslem will have a bigger role again

Share Tweet

ESPN.com

Dec 24, 2012

Despite the Thunder's great improvement, the Heat still have the winning formula: LeBron James and Dwyane Wade.

Share Tweet

miamiherald.com

Dec 24, 2012

LeBron's Christmas shoes are regal and Kevin Durant's are modern art but the award for the funnest Christmas shoe goes to Heat reserve Terrel Harris... Chris Bosh calls them "upside down cupcakes." LeBron's 2012 Christmas shoes are sure to be …

Share Tweet

NBA On Christmas Preview

Dec 24

Jalen Rose and Bill Simmons share which NBA matchups they're looking forward to on Christmas Day.

LeBron's Special Meeting

Dec 24

LeBron James and Rashawn King sit down with Rachel Nichols to discuss their inspirational meeting together.

TrueHoop TV: Secret Santa

Dec 24

The second annual TrueHoop TV Secret Santa edition. Who drew who, and what will they give this year?

Battier On Hero Ball

Dec 24

Kevin Arnovitz and Shane Battier discuss the impact of analytics in the NBA, and why so many coaches employ hero-ball at the end of games.