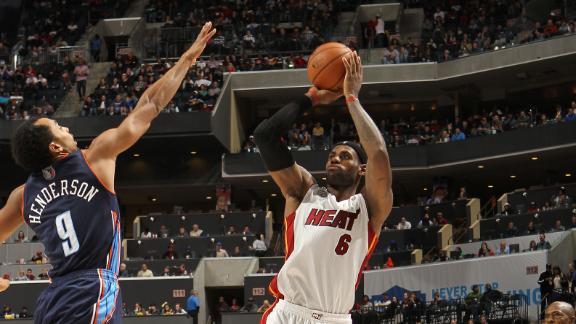 LeBron James collects the lob from Dwyane Wade and throws down the alley-oop slam.

Upvote Share Tweet

Hakim Warrick Flies by LeBron James for a Ferocious Slam

Charlotte Bobcats power forward Hakim Warrick flies by Miami Heat's LeBron James and knocks down a ferocious banger.

Upvote Share Tweet

Miami Heat's LeBron James explodes on the fast break for an incredible reverse dunk on the Charlotte Bobcats.

Upvote Share Tweet

Miami Heat coach Erik Spoelstra says the team has assigned center Dexter Pittman to the Sioux Falls Skyforce of the NBA's Development League.

Upvote Share Tweet

Kendrick Perkins, after watching Chris Bosh score a game-changing bucket, calls out some anonymous Thunder players

yahoo.com

Dec 26, 2012

Late in Oklahoma City's loss to the Miami Heat on Tuesday, Thunder center Kendrick Perkins was caught out of position defensively in a move that would have made no sense even if his teammates had been on the same page with the defensive-minded center. W

Upvote Share Tweet

LeBron & The Heat Deliver Something Special For OKC; Kobe & Carmelo Stage A Crazy Duel

The past year was a good one for LeBron James and the Miami Heat. Championships. Rings. Respect. Fear. They hogged all the goodies. Christmas day was no different. Yesterday's NBA Finals rematch in Miami between the Heat and Thunder was a rugged, physic

Upvote Share Tweet

LeBron, Heat Easily Dispatch Bobcats

Dec 26

LeBron James had 27 points, 12 rebounds and eight assists in Miami's 105-92 win.