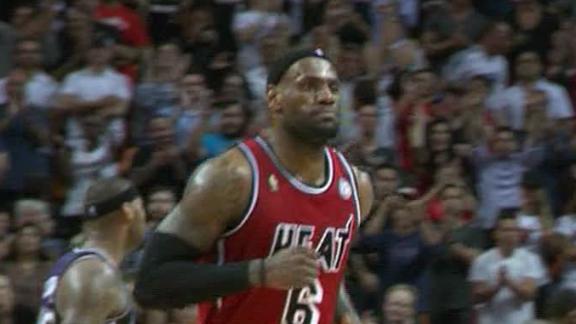 Heat's Battier out with hamstring problem

nba.com

Feb 26, 2013

Heat forward Shane Battier was held out of Miami's game against the Sacramento Kings on Tuesday night because of tightness in his right hamstring.

Share Tweet

Mark Zuckerberg, Bill Gates and Chris Bosh talk about coding

miamiherald.com

Feb 26, 2013

A very cool short film about the importance of computer coding featuring Bill Gates, Mark Zuckerberg and, of course, Chris Bosh.

Share Tweet

CNNSI.com

Feb 26, 2013

CHICAGO (AP) - Cavaliers All-Star guard Kyrie Irving has a hyperextended right knee and will miss tonight's game against the Bulls.

Share Tweet

Heat Survive In 2OT To Win 12th Straight

Feb 26

LeBron James and Dwyane Wade combine for 79 points as Heat hold off Kings in double overtime for the 141-129 win.

Steve Kerr Talks NBA Hoops

Feb 26

Steve Kerr joins "First Take" to talk about the Lakers' playoff chances, the biggest threat to the Heat, who would win a one-on-one battle between Michael Jordan and LeBron James, and why the Knicks are struggling.