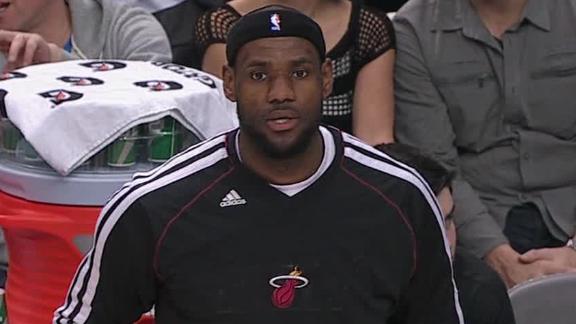 miamiherald.com
ESPN.com
CNNSI.com
Updated Mar 17, 2013
If you don't think the Heat's streak is jeopardy on Monday in Boston, then you haven't been paying attention for the last three seasons. The Heat is 0-5 at Boston during the regular season since 2010. Yes, the Heat has knocked the Celtics out of playoff…
Share
Tweet
McHale caught up in Heat's streak

nba.com

Mar 17, 2013

Even Houston coach Kevin McHale is caught up in the Miami Heat's winning streak, and he wouldn't mind seeing it continue against his former team.

Share Tweet

nba.com

Mar 17, 2013

Milwaukee Bucks forward Larry Sanders has been fined $50,000 for using a derogatory and offensive term and publicly criticizing the officials, it was announced today by Stu Jackson, Executive Vice President, Basketball Operations.

Share Tweet

nydailynews.com

Mar 17, 2013

On his way out of the Student Activities Center gym at UCLA, Kenyon Martin, one of the few Knick big men not limping around or being examined by team doctors, did not have the answer for the two most pressing questions of the day: When are the Knicks go…

Share Tweet

Heat Go For 23 Straight When They Face Celtics

Mar 17

NBA Countdown crew on the chances the Celtics beat the Heat Monday 8 p.m. ET on ESPN.

Heat Extend Win Streak To 22 Games

Mar 17

Miami tied the second-longest winning streak in NBA history, beating the Raptors 108-91 for its 22nd consecutive victory.