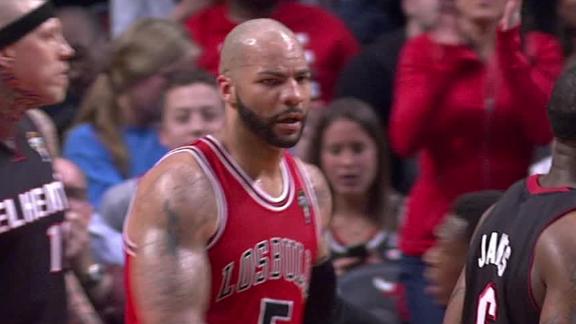 Updated Mar 27
Share
Tweet
The math shows that the chance of such a streak by a team with the winning percentage of the Heat is only 2 percent.
Sources:
nytimes.com
ESPN.com
CNNSI.com
deadspin.com
Check Out Jimmy Butler's Huge Alley Oop Dunk on Chris Bosh's Head!

Updated Mar 27

Share Tweet

Like the rest of the basketball world, we're sure you're glued to this Miami Heat/Chicago Bulls game on on ESPN. However this thing turns out, the one thing that is certain is that the Bulls are giving LeBron James & Co. everything they can handle. If

Source:

dimemag.com

Updated Mar 27

Share Tweet

Dwyane Wade was back in the lineup when the Miami Heat tried for their 28th consecutive victory on Wednesday night against the Chicago Bulls.

Sources:

nba.com yahoo.com miamiherald.com ESPN.com

Derrick Rose isn't playing against the Heat, no matter what Waka Flocka Flame says (Video)

Updated Mar 27

Share Tweet

On Tuesday night, rapper Waka Flocka Flame, best known for his basketball-adjacent hit "Hard in Da Paint," tweeted that Derrick Rose would return to NBA action: "Word is D.Rose back" (plus a hashtag with a word we can't reprint on a …

Source:

yahoo.com

Updated Mar 27

Share Tweet

DEERFIELD, Ill. (AP) - Injured Chicago Bulls star Derrick Rose said he will not suit up against Miami on Wednesday and sounded like a player who just might miss the entire season.

Updated Mar 27

Share Tweet

Each victory brings the Heat closer to the Lakers' all-time record of 33 straight wins. How does Miami's winning streak compare? Rob Mahoney revisits the historic 1971-72 season.

Source:

CNNSI.com

Knicks Top Grizzlies For Sixth Straight Win

Mar 27

J.R. Smith scores 35 points as the Knicks hold off the Grizzlies' fourth-quarter rally for the 108-101 win.

Wade Alley-Oop To LeBron

Mar 27

Off the offensive rebound, Dwyane Wade throws it up to LeBron James for the one-handed slam.

Wade Plans To Play Vs. Bulls

Mar 27

Heat G Dwyane Wade participated in the team's morning shootaround and says he plans to play Wednesday against the Bulls.

Jimmy Butler Dunks Over Chris Bosh

Mar 27

Luol Deng throws it up to Jimmy Butler who finishes with the one-handed slam over Chris Bosh.

Sports Columnists

Jerry West says he thought Miami Heat would break Los Angeles Lakers' win …

Mar 28

Hall of Famer Jerry West told ESPN.com on Wednesday night that he had started to believe the Heat, at the very least, would match the Lakers' all-time record of 33 wins in a row.