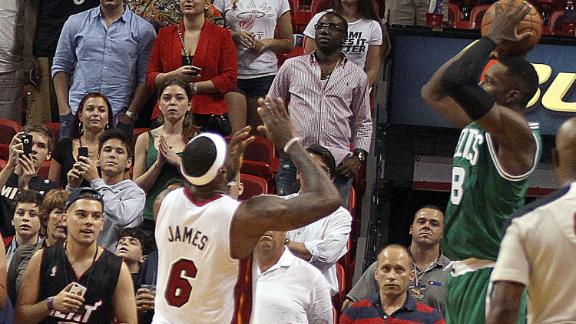 ESPN.com
Updated Nov 9, 2013
Jeff Green hit a 3-pointer at the buzzer to lift the Boston Celtics to a 111-110 victory over the Miami Heat on Saturday night.
Share
Tweet
miamiherald.com

Nov 9, 2013

I'm not going to go into the odd backstory of how all this was supposedly leaked, but NBA teams are apparently going to wear jerseys with sleeves on Christmas Day. I'm not sold on the authenticity of these jerseys, but people like jerseys, so this is a …

Share Tweet
NBA Top Plays

Nov 9

Check out the top three plays from the night in the NBA.

Green, Celtics Stun Heat At Buzzer

Nov 9

Jeff Green's 3-pointer at the buzzer pushed the Celtics to a 111-110 win over the Heat.