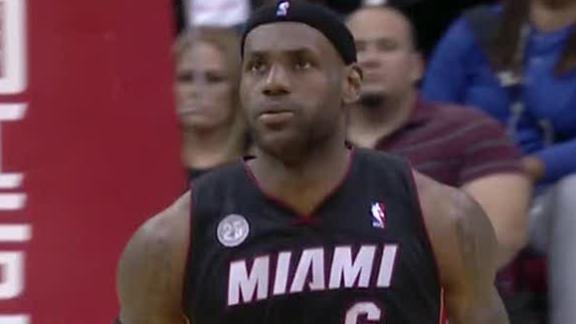 ESPN.com
Updated Nov 12, 2012
LeBron James scored a season-high 38 points, Chris Bosh had 24 points and 10 rebounds, and the Miami Heat rallied to beat the Houston Rockets 113-110 on Monday night.
Share
Tweet
miamiherald.com nba.com

Nov 12, 2012

The NBA announced on Monday that LeBron James was the Eastern Conference Player of the Week for games played Nov.5-11. The Heat went 3-1 last week and James averaged 21.0 points, 11.0 rebounds and 6.0 assists per game. James shot .569 during the four-ga…

Share Tweet

CNNSI.com dimemag.com

Nov 12, 2012

The Lakers' hiring of Mike D'Antoni shows that he and his up-tempo methods are no longer ahead of their time.

Share Tweet

miamiherald.com yahoo.com CNNSI.com

Nov 12, 2012

GAME STORY LINK: "Memphis Blues" BEST OF THE NIGHT: Tip of the hat to Wayne Ellington, who knocked down seven three-pointers and scored 25 points, a career high. The Heat was focused on stopping Memphis inside the paint and Ellington flipped t…

Share Tweet

Heat Rally To Top Rockets

Nov 12

LeBron drops 38 points on Rockets.

LeBron Soars Past Harden

Nov 12

Mario Chalmers Alley-oop to LeBron James who goes over James Harden for the dunk.