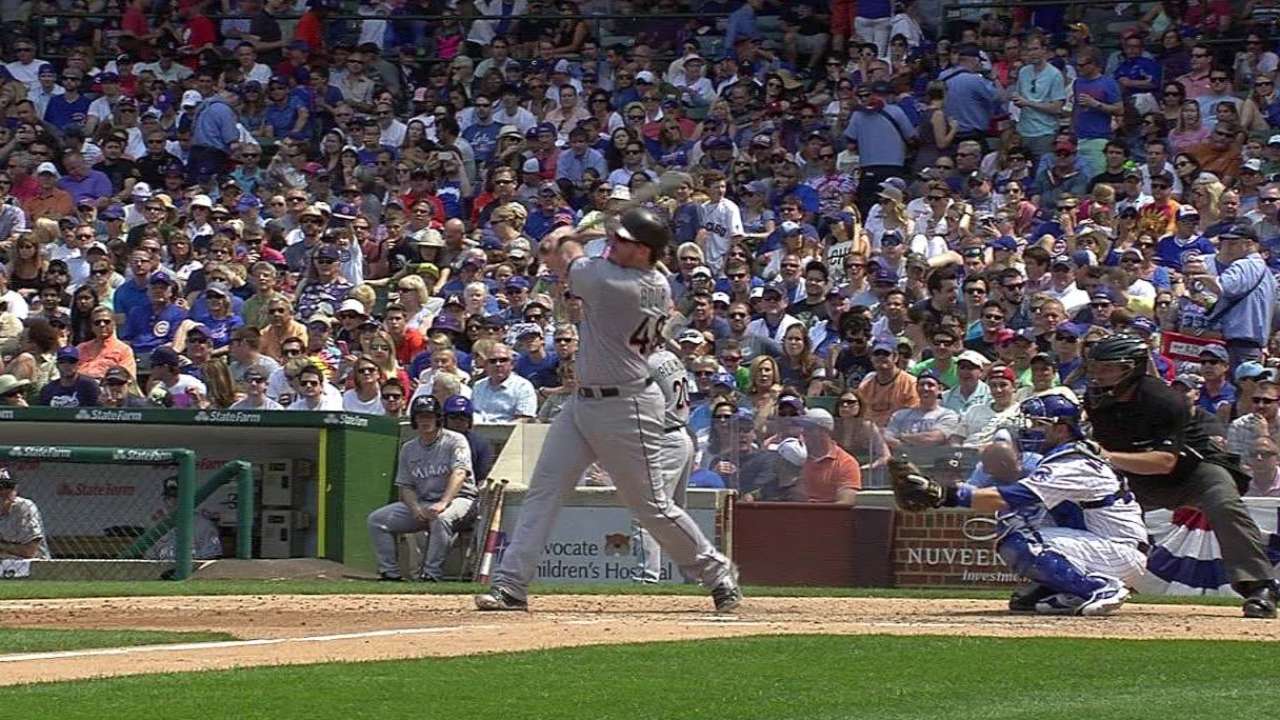 Bour shows value with 4th HR in past 4 games
MLB.com
Updated 17 hours ago
For the fourth straight game, Justin Bour belted a home run, which not only matched a Marlins record. The latest drive, a laser off Jason Hammel in the sixth inning on Friday, lifted Miami to a 2-1 win over the Cubs at Wrigley Field.
Share
Tweet
nytimes.com

13 hours ago

Clint Robinson, a 30-year-old nonroster invitee in spring training, hit a seventh inning home run to lift the Washington Nationals over the San Francisco Giants.

Share Tweet

Home Runs, Koehler Lift Marlins to 2-1 Win Over Cubs

nytimes.com

19 hours ago

Justin Bour and Christian Yelich homered and the Miami Marlins got six impressive innings from Tom Koehler in a 2-1 win over the Chicago Cubs on Friday.

Share Tweet

Woman Alleges Permanent Neck Injury Due To Marlins' Shark Attack

deadspin.com

Jul 3 (yesterday)

A lawsuit filed last month in Miami-Dade County court alleges a woman suffered serious and permanent injuries after being attacked by a fake shark during a 2013 Miami Marlins game. The Marlins, like most shitty (and a few good) teams, hold a mascot race…

Share Tweet

Baseball-Fernandez Cuts Giants Down to Size on Marlins Return

nytimes.com

Jul 3 (yesterday)

Jose Fernandez made a triumphant return after more than a year out with injury when he hit a solo home run and pitched a winning game for the Miami Marlins on Thursday.

Share Tweet

Marlins sign first-round pick Naylor

MLB.com

Jul 2 (yesterday)

The Marlins on Thursday signed their first-round pick, first baseman Josh Naylor.

Share Tweet

The afternoon dubbed #JoseDay didn't start out as the Miami Marlins hoped, but by the end of it, Jose Fernandez had his first MLB win in more than a year, six strikeouts and he managed to hit a baseball over the fence. So, #JoseDay, as it turned out, wa…

Share Tweet

MLB.com

Jul 1 (3 days ago)

Giants catcher Buster Posey left Wednesday night's game against the Marlins in the fifth inning. No explanation was immediately given, though Miami's Marcell Ozuna hit a fourth-inning foul tip that struck Posey's mask and could have shaken him up.

Share Tweet

nytimes.com yahoo.com MLB.com

Jul 1 (4 days ago)

Dee Gordon's hit resulted in the first of its kind at 4-year-old Marlins Park.

Share Tweet

yahoo.com

Jun 30 (4 days ago)

Cincinnati Reds speedster Billy Hamilton was at it again Monday, swiping four bags in Cincinnati's 11-7 win over Minnesota to raise his stolen base total to 40 this season. Unsurprisingly, that puts Hamilton in the league lead for steals and no one is p…

Share Tweet

What's next: Royals-Astros in 1st-place collision

MLB.com

Jun 28 (6 days ago)

The week ahead in baseball is an exciting one, beginning with a matchup of the first-place Royals and first-place Astros in Houston, but also featuring the return of Marlins star pitcher Jose Fernandez.

Share Tweet

MLB.com nytimes.com

Jun 28 (6 days ago)

The dry spell is finally over for Zack Greinke, who threw 7 2/3 scoreless innings in the Dodgers' 2-0 win over Miami on Sunday at Marlins Park. The victory was the All-Star's first since May 5, a span of 10 outings.

Share Tweet

yahoo.com

Jun 28 (6 days ago)

If there's one big advantage to being a rookie in MLB, it's that life is never boring. Whether your teammates are sending you on a coffee run or just flat ignoring you after your first career home run, they're always looking for ways to crack you and ke…

Share Tweet

nytimes.com yahoo.com MLB.com

Jun 27 (7 days ago)

Tom Koehler pitched seven innings, and the host Miami Marlins beat Clayton Kershaw and the Los Angeles Dodgers, 3-2, on Saturday in the Marlins' first game since their star slugger, Stanton, was sidelined by a hand injury.

Share Tweet

Giancarlo Stanton: Face Of The National League

Mar 17

Marlins right fielder Giancarlo Stanton's season was cut short after taking a pitch to the side of the face in September. Stanton steps back to the plate, unfazed -- with a new $325 million contract and a specially designed face shield.

Stanton Hit By Pitch In Batting Practice

Feb 28

Buster Olney and John Kruk react to Marlins slugger Giancarlo Stanton being hit by a pitch in live batting practice Saturday and explain why Stanton being hit in practice could be a good thing.

Marlins Striving For A Championship

Feb 27

Marlins outfielder Giancarlo Stanton and second baseman Dee Gordon discuss expectations for this season and Stanton talks about stepping into the batter's box after last year's season-ending beaning.

Marlins Improving, Need More Than Stanton

Feb 27

If the Marlins want to contend for the division title, Curt Schilling and Buster Olney say they need help from more than just Giancarlo Stanton.