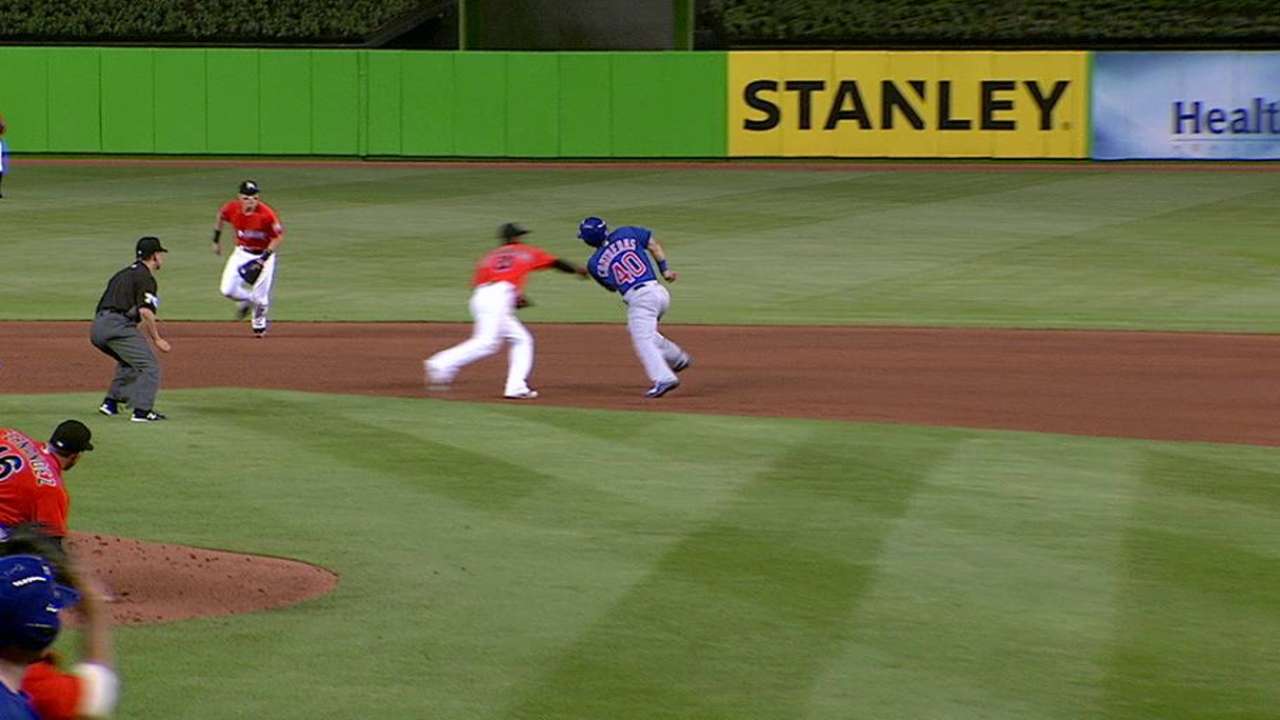 Marlins' infield on best defensive stretch in a century
MLB.com
Updated 13 hours ago
The Marlins defense has secured the ball well over their recent hot streak, and it made history in Sunday's 6-1 win over the Cubs at Marlins Park. Per STATS LLC, Miami's infield has gone 26 straight games without recording an error dating back to May 30…
Share
Tweet
This Martin Prado post-game interview may give you nightmares

yahoo.com

14 hours ago

Miami Marlins infielder Martin Prado may have played the hero during Sunday's 6-1 win over the Chicago Cubs, but he certainly looked like a villain during his post-game interview. Prado was the star of the contest, hitting a three-run double in the eigh…

Share Tweet

MLB.com nytimes.com

18 hours ago

Jose Fernandez struck out 13 over seven innings, Martin Prado hit a three-run double and the Marlins were credited with the tie-breaking run after a review to post a 6-1 victory on Sunday at Marlins Park over the Cubs, who lost for the sixth time in the…

Share Tweet

MLB.com

22 hours ago

When Cubs pitcher Jake Arrieta walked into the visitor's clubhouse at Marlins Park on Sunday, someone had taped "Coastal Carolina" on his locker. That stung.

Share Tweet

MLB.com nytimes.com

Jun 25 (yesterday)

The Cubs' winning streak didn't last very long. Justin Bour smacked a two-run homer and an RBI double and Giancarlo Stanton drove in three runs to power the Marlins to a 9-6 come-from-behind victory on Saturday over the Cubs, who lost for the fifth time…

Share Tweet

MLB.com nytimes.com

Jun 24 (2 days ago)

The Cubs came out swinging, and scoring, quickly on Friday night. Kris Bryant and Willson Contreras each homered in the first inning, but it was Contreras' RBI single in the seventh that proved the difference in a 5-4 win over Miami at Marlins Park.

Share Tweet

MLB.com nytimes.com

Jun 23 (4 days ago)

Giancarlo Stanton finally had reason to display some positive emotion. The slugger, who has slumped most of the season, broke out on Thursday night with a home run, but his greatest satisfaction was a two-out, full-count, RBI single to right field in th…

Share Tweet

yahoo.com

Jun 23 (4 days ago)

The Triple-A baseball team in New Orleans, currently called the Zephyrs and affiliated with the Miami Marlins, is looking for a new name for next season that represents the city's great culture. The Zephyrs name was inherited when the team moved from De…

Share Tweet

Conley Pitches 8 Innings to Help Marlins Beat Braves 3-0

nytimes.com

Jun 22 (5 days ago)

Adam Conley walked off the mound for the final time in the eighth inning Wednesday with a string of zeroes behind him.

Share Tweet

nytimes.com

Jun 21 (6 days ago)

Jace Peterson has not hit a lot of home runs in his brief career.

Share Tweet

yahoo.com nytimes.com MLB.com

Jun 21 (6 days ago)

Welcome to The Walk Off, the nightly MLB recap from Big League Stew. Here we'll look the top performers of the night, show you a must-see highlight and rundown the scoreboard. First, we start with a game you need to know about. The Colorado Rockies and …

Share Tweet

A solo-HR record: 8-track tape measure

MLB.com

Jun 21 (6 days ago)

Rockies first baseman Mark Reynolds wasn't thinking history Monday, when he accounted for two of the eight combined solo homers in the Rockies' 5-3 victory over the Marlins on Monday night. The contest, according to Stats LLC, marked the highest run tot…

Share Tweet

yahoo.com

Jun 19

It's not often you walk away from a baseball game with a ball in hand. Catching a foul ball is incredibly difficult, and getting one from a sideline patrolling ball-person only works if you paid to sit close to the action. That's why we're touched by wh…

Share Tweet

Stanton's 3 Hits Help Marlins Beat Rockies 9-6

nytimes.com

Jun 18

Giancarlo Stanton singled in his first three at-bats to give his lowly average a boost, and the Miami Marlins totaled 17 hits while beating the Colorado Rockies 9-6 on Saturday.

Share Tweet

Giancarlo Stanton: Face Of The National League

Mar 17

Marlins right fielder Giancarlo Stanton's season was cut short after taking a pitch to the side of the face in September. Stanton steps back to the plate, unfazed -- with a new $325 million contract and a specially designed face shield.

Stanton Hit By Pitch In Batting Practice

Feb 28

Buster Olney and John Kruk react to Marlins slugger Giancarlo Stanton being hit by a pitch in live batting practice Saturday and explain why Stanton being hit in practice could be a good thing.

Marlins Striving For A Championship

Feb 27

Marlins outfielder Giancarlo Stanton and second baseman Dee Gordon discuss expectations for this season and Stanton talks about stepping into the batter's box after last year's season-ending beaning.

Marlins Improving, Need More Than Stanton

Feb 27

If the Marlins want to contend for the division title, Curt Schilling and Buster Olney say they need help from more than just Giancarlo Stanton.