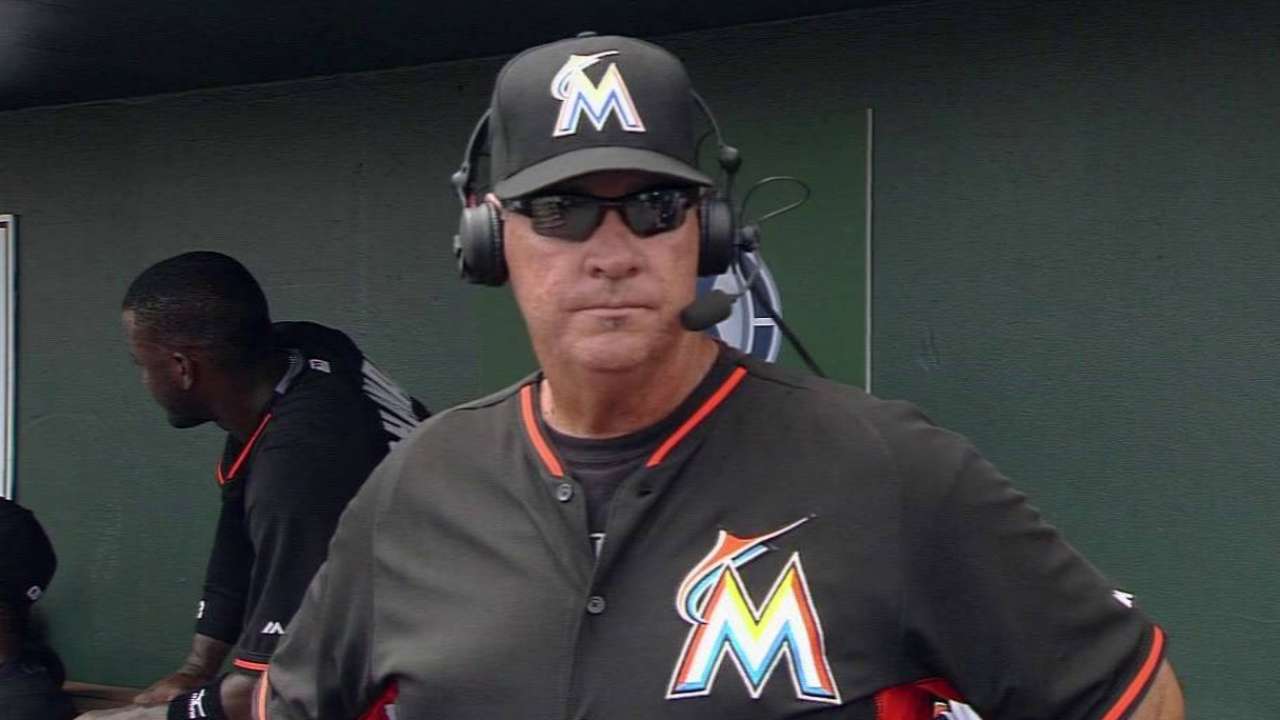 Rain Helps Cards' Wainwright Clean Up Tough Outing vs Miami

nytimes.com

15 hours ago

St. Louis Cardinals ace Adam Wainwright gave up four runs, including a solo homer by Giancarlo Stanton, in 3 2-3 innings Thursday before a rain delay ended his outing in a 5-3 loss to the Miami Marlins.

Share Tweet

Mammoth shot shows Stanton's nearly season-ready

MLB.com

16 hours ago

Peppering baseballs over the Marlins' building at Roger Dean Stadium is common for Giancarlo Stanton in batting practice. When the two-time All-Star is launching a baseball off Adam Wainwright on the balcony in a game, it's a sign the slugger is just ab…

Share Tweet

nytimes.com ESPN.com deadspin.com yahoo.com

20 hours ago

Miami Marlins pitcher Jarred Cosart said Major League Baseball is reviewing his deleted Twitter account as part of an investigation into gambling-related tweets posted there and he is cooperating with the investigation.

Share Tweet

Who's Smooching In The Background Of Rajai Davis's Interview?

deadspin.com

Mar 25 (yesterday)

As Rajai Davis was talking to Fox Sports Detroit during today's Marlins-Tigers game, a player wandered into the frame, waved at the camera, sat down, and smooched a gal before the two left. The reader who gave us the heads-up believes it was Joe Nathan,…

Share Tweet

nytimes.com ESPN.com

Mar 25 (yesterday)

Tigers star Miguel Cabrera played the field for the first time this spring, doing fine at first base as Detroit beat the Miami Marlins 8-4 Wednesday.

Share Tweet

Valdespin Has 2-Run Triple in 8-Run Eighth to Lead Marlins

nytimes.com

Mar 24 (3 days ago)

Allen Craig bolstered his bid for more playing time in Boston's crowded outfield, hitting a three-run double in helping the Red Sox build a lead the Miami Marlins would overcome with an eight-run eighth inning for a 9-4 victory Tuesday.

Share Tweet

nytimes.com ESPN.com MLB.com

Mar 23 (4 days ago)

The Marlins took another step toward keeping their young talent in Miami, finalizing a $49.57 million contract with outfielder Christian Yelich.

Share Tweet

Mat Latos Gives Up 9 Runs in Marlins' 12-3 Loss to Mets

nytimes.com

Mar 23 (4 days ago)

Mat Latos gave up seven hits in an eight-run second inning, and the New York Mets routed the Miami Marlins 12-3 Monday.

Share Tweet

Santana Sparks Offense, Twins Edge Marlins

nytimes.com

Mar 22 (5 days ago)

Danny Santana had four hits as the leadoff hitter, Phil Hughes struck out four and the Minnesota Twins beat the Miami Marlins 5-3 on Sunday.

Share Tweet

Nats' Zimmermann to Marlins' Alvarez: 'Can I Help You?'

nytimes.com

Mar 21 (6 days ago)

Jordan Zimmermann and Henderson Alvarez exchanged brush-back pitches and angry glares Saturday in a Washington Nationals split squad's 4-2 win over the Miami Marlins.

Share Tweet

Marlins, Pirates featuring outfield of dreams

MLB.com

Mar 20 (7 days ago)

It's the primary trio that is of the utmost interest, and it's a safe bet that neither the Marlins nor Pirates would trade their own outfield for the other. The rest of baseball, meanwhile, would happily grab either one.

Share Tweet

Mingling with Marlins' alumni benefiting Latos, young roster

MLB.com

Mar 20 (7 days ago)

Bringing back faces from the past is having a positive influence on the young Miami players. This week, former Marlins great Mike Lowell spent a couple of days in camp as a guest coach.

Share Tweet

Gomes, Johnson Lift Braves Over Marlins 6-3

nytimes.com

Mar 19

Even though he won 10 games for the marlins last season, Tom Koehler isn't considering himself a lock for Miami's rotation.

Share Tweet

nytimes.com MLB.com

Mar 19

The Marlins have made another long-term investment in their young, talented outfield.

Share Tweet

Ozuna willing to wait on extension

MLB.com

Mar 19

While two-thirds of the Marlins' young outfield have been locked up for the foreseeable future, Marcell Ozuna is willing to wait on getting his own contract extension.

Share Tweet

yahoo.com

Mar 19

Your browser does not support iframes.New-look helmet, same Giancarlo Stanton. Sporting the protective guard he plans to wear all season, the Miami Marlins slugger got back to what he does best on Wednesday: smashing home runs. Stanton hit his first din…

Share Tweet

Giancarlo Stanton: Face Of The National League

Mar 17

Marlins right fielder Giancarlo Stanton's season was cut short after taking a pitch to the side of the face in September. Stanton steps back to the plate, unfazed -- with a new $325 million contract and a specially designed face shield.

Stanton Hit By Pitch In Batting Practice

Feb 28

Buster Olney and John Kruk react to Marlins slugger Giancarlo Stanton being hit by a pitch in live batting practice Saturday and explain why Stanton being hit in practice could be a good thing.

Marlins Striving For A Championship

Feb 27

Marlins outfielder Giancarlo Stanton and second baseman Dee Gordon discuss expectations for this season and Stanton talks about stepping into the batter's box after last year's season-ending beaning.

Marlins Improving, Need More Than Stanton

Feb 27

If the Marlins want to contend for the division title, Curt Schilling and Buster Olney say they need help from more than just Giancarlo Stanton.