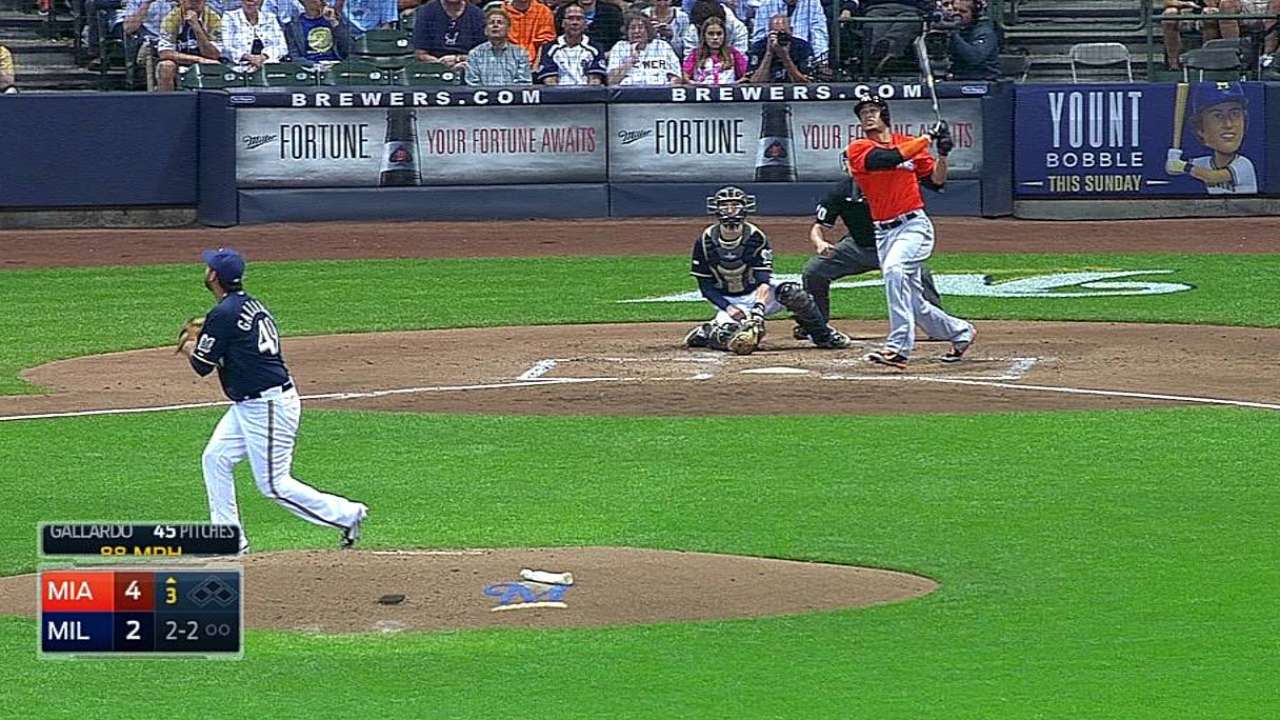 MLB.com
Updated Sep 29 (2 days ago)
Missing the final 17 games did not cost Giancarlo Stanton a chance to become the first player in Marlins history to win the National League home run crown. Stanton's 37 home runs held up by a sizable margin, as he ended up pacing the league. Anthony Riz…
Upvote
Share
Tweet
nytimes.com MLB.com deadspin.com

Sep 28 (3 days ago)

Washington's Zimmermann pitched the fifth no-hitter of the season and the first in Nationals history, a 1-0 gem against the Miami Marlins that concluded with a diving catch.

Upvote Share Tweet

Alvarez views thrilling no-hitter from different perspective

MLB.com

Sep 28 (3 days ago)

Marlins right-hander Henderson Alvarez found himself part of history in the final game of the season again, but this time, it was in reverse. Nearly a year after throwing a no-hitter, Alvarez took the loss in Jordan Zimmermann's 1-0 no-no at Nationals P…

Upvote Share Tweet

Marlins extend manager Redmond through '17

ESPN.com

Sep 28 (3 days ago)

Miami Marlins manager Mike Redmond has been given a two-year contract extension through 2017.

Upvote Share Tweet

Span ties one Washington record, sets another

MLB.com

Sep 27 (4 days ago)

Denard Span put his name in the Nationals' record book in Saturday's 5-1 win over the Marlins. By collecting two hits, he broke Cristian Guzman's record for the most multihit games in a season with his 58th. Span also tied Guzman for the most hits in a …

Upvote Share Tweet

nytimes.com MLB.com

Sep 27 (4 days ago)

For his past six starts, Stephen Strasburg has pitched about as well as anyone could ask.

Upvote Share Tweet

Prospects drive rout as Marlins split doubleheader

MLB.com

Sep 27 (5 days ago)

J.T. Realmuto drove in four runs and Enrique Hernandez delivered his first career grand slam as Miami rolled to a 15-7 win over the Nationals, salvaging a split after being blanked, 4-0, in the first game.

Upvote Share Tweet

ESPN.com MLB.com nytimes.com

Sep 27 (5 days ago)

The NL East champion Nationals locked up home-field advantage until the World Series by beating the Miami Marlins 4-0 on Doug Fister's three-hitter in the opener of a day-night doubleheader Friday. Miami took Game 2 by a score of 15-7.

Upvote Share Tweet

From 30,000 feet in the air, Steve Cishek and a number of his Marlins teammates couldn't help but root on Derek Jeter. The Marlins were in flight to Washington on Thursday night when Jeter went out in grand style at Yankee Stadium.

Upvote Share Tweet

Fruits of '12 trade developing into core pieces for Miami

The fruits of one of the most controversial trades in recent history are starting to flourish for the Marlins. Two seasons later, several core pieces are now in place in Miami thanks to the 2012 deal with Toronto.

Upvote Share Tweet

Span seeing action in final games to 'keep his rhythm'

Denard Span still has what he called "a pretty good gash" on his right knee, but the Nationals center fielder and leadoff man was back in the lineup for the first game of Friday's doubleheader against the Marlins. "He's just a little bit …

Upvote Share Tweet

nytimes.com ESPN.com

Sep 25 (6 days ago)

The Miami Marlins still plan to make a multiyear contract offer to NL home run leader Giancarlo Stanton this offseason, despite his recent season-ending injury.

Upvote Share Tweet

Kendrick does it all in final start of year vs. Marlins

MLB.com

Sep 24 (7 days ago)

If Kyle Kendrick made the final start of his eight-year Phillies career Wednesday, he made it a memorable one. Kendrick allowed one run in seven innings and went 3-for-3 with one double and one RBI in a 2-1 victory over the Marlins at Marlins Park.

Upvote Share Tweet

MLB.com nytimes.com

Sep 23

With his team mired in a slump, Henderson Alvarez showcased his All-Star form on Tuesday night. It was certainly welcomed by a scuffling Miami squad, eager to end its four-game losing streak. Alvarez threw 7 2/3 scoreless innings, setting the tone in th…

Upvote Share Tweet

Ozuna's return unlikely, final decision forthcoming

MLB.com

Sep 23

The Marlins aren't counting on the return of outfielder Marcell Ozuna, who sustained a high right ankle sprain in Sunday's 2-1 loss to the Nationals, before the end of the season. But they will reevaluate his injury before making a final decision.

Upvote Share Tweet

Zimmermann has sore shoulder; shouldn't miss start

MLB.com

Sep 23

Nationals manager Matt Williams said Jordan Zimmermann's right shoulder is black and blue after he was hit by a comebacker off the bat of Marlins infielder Casey McGehee on Saturday.

Upvote Share Tweet

nytimes.com MLB.com

Sep 21

Stephen Strasburg pitched seven strong innings to help the NL-leading Washington Nationals to a 2-1 win over the Miami Marlins on Sunday for a four-game sweep.

Upvote Share Tweet

Ryan Zimmerman had two hits, including an RBI triple, in his return to the lineup and the Washington Nationals beat the Miami Marlins 3-2 Saturday night.

Upvote Share Tweet

Nats pad lead for top NL mark with comeback win

MLB.com

Sep 20

Of all the days to enjoy a comeback win, the Nationals chose a good one. With the Dodgers losing to the Cubs earlier in the day, Washington had a chance to be 2 1/2 games over Los Angeles for the best record in the National League if the Nats beat the M…

Upvote Share Tweet

SweetSpot TV: Marlins' Skipper To Return

Sep 29

Eric Karabell and David Schoenfield discuss Mike Redmond's two-year contract extension.

Zimmermann No-Hits Marlins

Sep 28

Baseball Tonight Spotlight: Jordan Zimmermann struck out 10 batters en route to the first no-hitter in Nationals history.

Zimmermann Talks No-Hitter

Sep 28

Jordan Zimmermann talks about his first career no-hitter that fueled the Nationals' 1-0 win over the Marlins.

Souza's Incredible Grab Clinches No-Hitter

Sep 28

Steven Souza made an incredible grab in left field for the final out of Jordan Zimmermann's no-hitter.