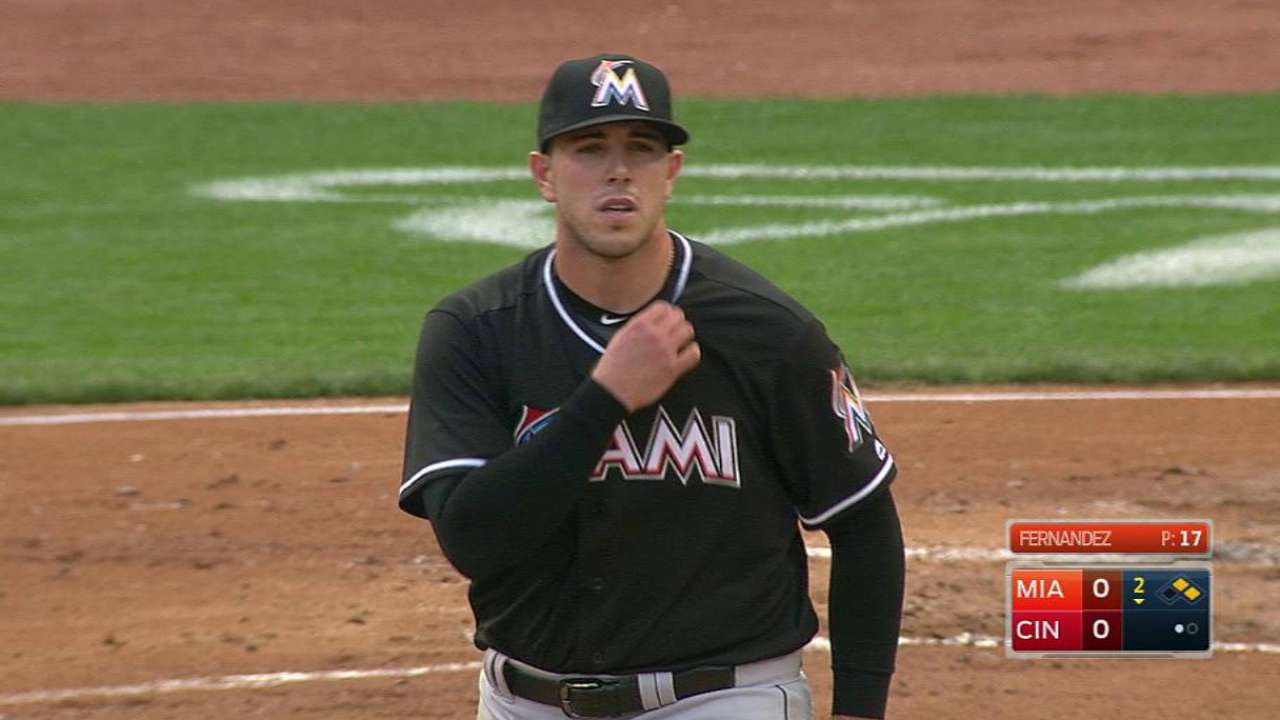 Streaking Royals face Fernandez on MLB.TV
MLB.com
Updated 2 hours ago
The Royals are the hottest team in baseball and they will look to win their 10th straight game and keep pace in the American League Wild Card race tonight against ace Jose Fernandez and the Marlins, who are also contending for a Wild Card berth in the N…
Share
Tweet
MLB.com nytimes.com

15 hours ago

The red-hot Royals extended their winning streak to nine games with a 1-0 win over the Marlins on Tuesday night in an Interleague matchup of Wild Card contenders at Marlins Park.

Share Tweet

Ozuna exits Marlins game due to family emergency

MLB.com

16 hours ago

Marlins center fielder Marcell Ozuna left Tuesday night's game against the Royals because of a family emergency, the club announced during the eighth inning.

Share Tweet

Marlins place Dietrich on DL with knee bruise

MLB.com

19 hours ago

The Marlins added another name to their growing list of injured players on Tuesday when they placed infielder Derek Dietrich on the 15-day disabled list with a right knee contusion that he sustained during the last road trip.

Share Tweet

nytimes.com MLB.com

Aug 21 (3 days ago)

Christian Yelich homered in the first inning, Miami added a pair of unearned runs and the Marlins rallied past the Pittsburgh Pirates 3-2 Sunday to complete a three-game sweep.

Share Tweet

Yelich homers to back Urena, secure sweep of Bucs

MLB.com

Aug 21 (3 days ago)

From spot starter to staple in the rotation. That's what the Marlins are asking of Jose Urena, and the right-hander came through with a composed six strong innings that set the tone in a 3-2 Miami win over the Pirates on Sunday at PNC Park.

Share Tweet

MLB.com

Aug 20 (4 days ago)

Robbed of a hit in his first at-bat on Saturday night at PNC Park, Marlins outfielder Ichiro Suzuki wasn't denied his second time up. The 42-year-old lined a double to right off Pirates right-hander Chad Kuhl in the fourth inning for his 3,008th career …

Share Tweet

Andino's clutch hit lifts rallying Marlins vs. Bucs

MLB.com

Aug 19 (5 days ago)

In search of a spark, the Marlins found it on Friday night in a veteran who had not appeared in the big leagues since 2013. Robert Andino, recently called up from Triple-A New Orleans, made his first start in left field and came through with an RBI sing…

Share Tweet

Cabrera's Homer Lifts Reds to 5-4 Win Over Marlins

nytimes.com

Aug 18 (6 days ago)

Ramon Cabrera hit a three-run homer, Dan Straily continued his second-half surge and the Cincinnati Reds made it eight wins in 10 series since the All-Star break with a 5-4 victory over the Miami Marlins on Thursday night.

Share Tweet

A well-rested Jose Fernandez was unable to slow down the Reds on Thursday night. Ramon Cabrera belted a three-run home run off the All-Star right-hander, and Dan Straily gave up two runs in six innings as Cincinnati was able to hold off the Marlins, 5-4…

Share Tweet

MLB.com nytimes.com

Aug 17 (7 days ago)

Brandon Phillips put on a show with his glove and bat on Wednesday night. The veteran second baseman delivered the decisive two-out, two-run double off reliever Nick Wittgren in the seventh inning that rallied the Reds to a 3-2 win over the Marlins, kno…

Share Tweet

Foot keeps Duvall out, but All-Star not concerned

MLB.com

Aug 17 (7 days ago)

Foul balls off the foot are often painful, but the one Reds left fielder Adam Duvall took off his left foot Monday vs. the Marlins got him in a spot he's been slow to recover from. Duvall missed his second straight game on Wednesday vs. Miami.

Share Tweet

Barnhart Slam Sparks Reds to 6-3 Win Over Marlins

nytimes.com

Aug 16

Tucker Barnhart's first career grand slam capped the Cincinnati Reds' five-run first inning, giving Anthony DeSclafani all the support he needed to beat his former team in a 6-3 win over the Miami Marlins on Tuesday night.

Share Tweet

Marlins top Reds, forge tie for 2nd NL Wild Card

MLB.com

Aug 15

The combination of Dee Gordon's speed and the power of Marcell Ozuna and Chris Johnson emerged Monday in the Marlins' 6-3 win over the Reds at Great American Ball Park.

Share Tweet

Reds' Hamilton runs into wall, bruises knee

MLB.com

Aug 15

Reds center fielder Billy Hamilton has often given up his body and risked injury to make a play and it forced him out of Monday's 6-3 loss to the Marlins with a bruised right knee. Hamilton exited before the top of the fifth inning and was replaced by T…

Share Tweet

nytimes.com

Aug 15

A look at what's happening all around the majors today:

Share Tweet

Giancarlo Stanton: Face Of The National League

Mar 17

Marlins right fielder Giancarlo Stanton's season was cut short after taking a pitch to the side of the face in September. Stanton steps back to the plate, unfazed -- with a new $325 million contract and a specially designed face shield.

Stanton Hit By Pitch In Batting Practice

Feb 28

Buster Olney and John Kruk react to Marlins slugger Giancarlo Stanton being hit by a pitch in live batting practice Saturday and explain why Stanton being hit in practice could be a good thing.

Marlins Striving For A Championship

Feb 27

Marlins outfielder Giancarlo Stanton and second baseman Dee Gordon discuss expectations for this season and Stanton talks about stepping into the batter's box after last year's season-ending beaning.

Marlins Improving, Need More Than Stanton

Feb 27

If the Marlins want to contend for the division title, Curt Schilling and Buster Olney say they need help from more than just Giancarlo Stanton.