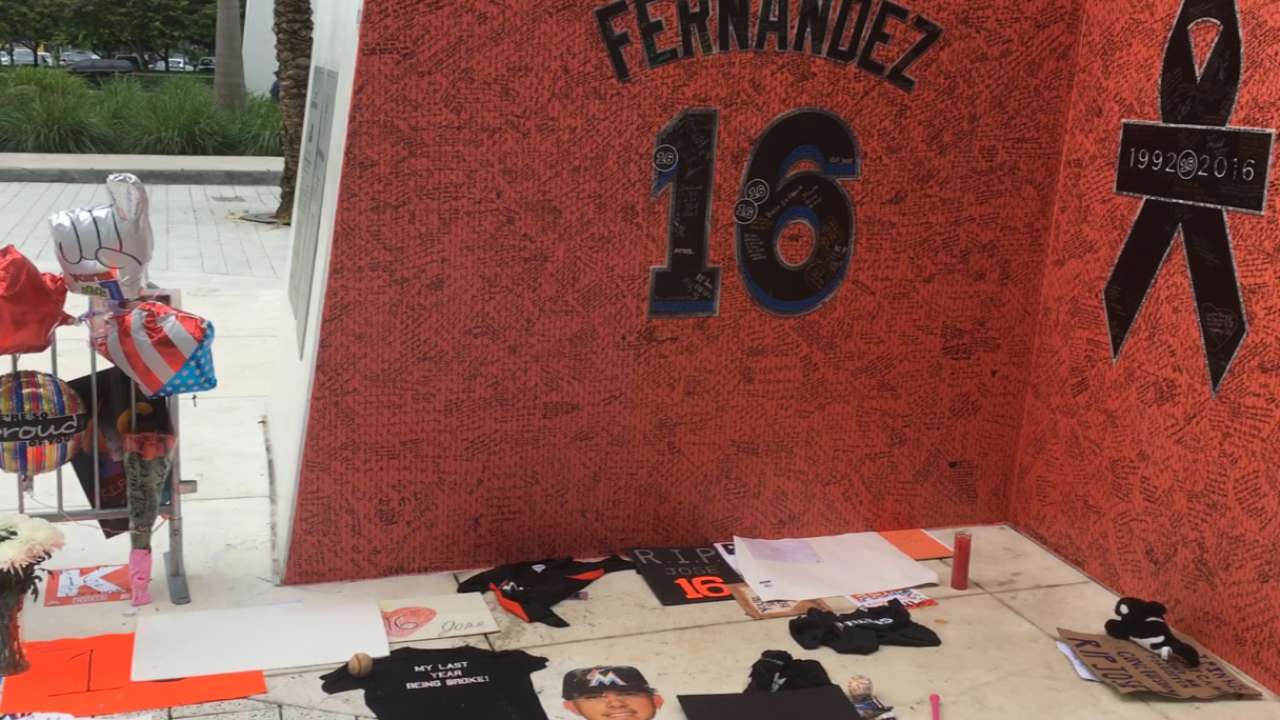 MLB.com
yahoo.com
nytimes.com
Updated 18 hours ago
An organization and hundreds of its grieving fans gathered at Marlins Park on Wednesday afternoon to bid farewell to All-Star pitcher Jose Fernandez, whose tragic death has rocked South Florida and the sports world.
Share
Tweet
nytimes.com

14 hours ago

Bruce, who had mostly struggled since arriving from the Reds in an Aug. 1 trade, hit his third home run in five games, and the Mets stayed ahead of the Giants and the Cardinals.

Share Tweet

yahoo.com

Sep 28 (yesterday)

When you take a kid to a baseball game, you hope that it'll be a great experience. At the very least, you hope there won't be tears. On Tuesday night, while the New York Mets were playing the Miami Marlins, the Mets spotted (and indirectly caused) the t…

Share Tweet

nytimes.com

Sep 28 (yesterday)

Adam Duvall's two-run single was all Cincinnati needed as the Reds beat the St. Louis Cardinals 2-1 on Wednesday night.

Share Tweet

ESPN.com

Sep 28 (yesterday)

Mets stay atop wild-card race with big win against Marlins

Share Tweet

Yo, Bruce homer to back Thor in WC hunt

It will take weeks, months, even years for the Marlins to recover from the death of Jose Fernandez. In some ways, they never will. But they at least attempted to restore a sense of normalcy on Tuesday night at Marlins Park, where the Mets scored a 12-1 …

Share Tweet

Mets left-handed starter Steven Matz will undergo season-ending surgery next week at the Hospital for Special Surgery in New York to remove a bone spur from his left elbow, the team announced before Tuesday's game against the Marlins.

Share Tweet

nytimes.com yahoo.com

Sep 27 (yesterday)

The Marlins star pitcher was killed with two friends in a boating accident over the weekend.

Share Tweet

Sources: Prado to get 3-year extension

Martin Prado, the Marlins' unofficial captain, has agreed to terms on a three-year, $40 million contract, sources have told MLB.com. The Marlins have not confirmed the deal.

Share Tweet

With grieving Marlins taking center stage, Nationals' game rings hollow

ESPN.com

Sep 27 (2 days ago)

With grieving Marlins taking center stage, Nationals' game rings hollow

Share Tweet

deadspin.com

Sep 27 (3 days ago)

The Miami Marlins beat the Mets tonight, 7-3. The evening was full of remembrances of José Fernández, including a pregame moment of silence , a tear-choked coda from the Mets' broadcast booth , and a tremendous leadoff home run from Dee Gordon . The tea…

Share Tweet

Giancarlo Stanton: Face Of The National League

Mar 17

Marlins right fielder Giancarlo Stanton's season was cut short after taking a pitch to the side of the face in September. Stanton steps back to the plate, unfazed -- with a new $325 million contract and a specially designed face shield.

Stanton Hit By Pitch In Batting Practice

Feb 28

Buster Olney and John Kruk react to Marlins slugger Giancarlo Stanton being hit by a pitch in live batting practice Saturday and explain why Stanton being hit in practice could be a good thing.

Marlins Striving For A Championship

Feb 27

Marlins outfielder Giancarlo Stanton and second baseman Dee Gordon discuss expectations for this season and Stanton talks about stepping into the batter's box after last year's season-ending beaning.

Marlins Improving, Need More Than Stanton

Feb 27

If the Marlins want to contend for the division title, Curt Schilling and Buster Olney say they need help from more than just Giancarlo Stanton.