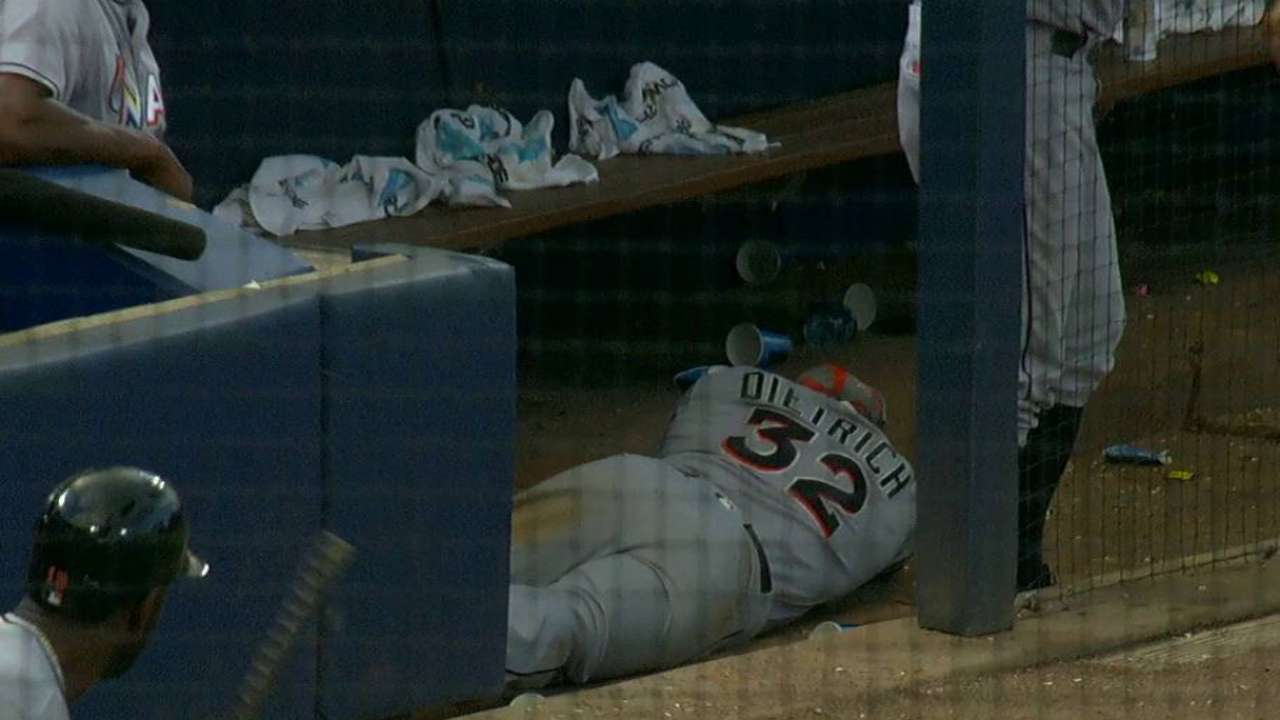 yahoo.com
nytimes.com
ESPN.com
MLB.com
Updated 7 hours ago
Baseball is unpredictable. After the little round ball is struck by the bat, it's incredibly hard to predict where it will go and what it will hit. And when most people hear about someone being hit by a baseball during a game, it's usually a spectator i…
Share
Tweet
Fort Bragg excited for upcoming Major League game

MLB.com

18 hours ago

As America remembers the military's sacrifices on Memorial Day, a date of celebration is on the calendar for the Fourth of July Weekend, and the venue for it is very much on track. Fort Bragg will play host to the Braves and Marlins at a new stadium on …

Share Tweet

Giancarlo takes BP, hopes to return soon

MLB.com

May 29 (yesterday)

More clarity is being shed on Giancarlo Stanton's return to the starting lineup. The Marlins' right fielder is moving in the right direction, taking a few rounds of batting practice with his teammates on Sunday at Turner Field.

Share Tweet

Braves Beat Marlins 7-2 to Lock Up First Home Series Win

nytimes.com

May 28 (yesterday)

Braves interim manager Brian Snitker says Gordon Beckham is "bouncing around like he's a teenager."

Share Tweet

Aybar lands on DL with right foot contusion

MLB.com

May 28 (yesterday)

It has been a rough nine days for Braves shortstop Erick Aybar. Aybar, who was hit on the right foot by a pitch from Marlins left-hander Adam Conley in the fourth inning of the Braves' 4-2 win over Miami on Friday night, was placed on the 15-day disable…

Share Tweet

Sizzling Jose wins 6th straight as Marlins top Rays

MLB.com

May 26 (4 days ago)

Jose Fernandez's struggles in the ballpark he came to as a high schooler are a thing of the past. Fernandez struck out 12 batters and allowed only one run in Miami's 9-1 win over Tampa Bay on Thursday afternoon at Tropicana Field.

Share Tweet

nytimes.com

May 26 (4 days ago)

Jose Fernandez struck out 12 in seven innings Thursday and won his sixth straight start for the Miami Marlins, a 9-1 decision over the Tampa Bay Rays.

Share Tweet

yahoo.com

May 26 (4 days ago)

For some fans, baseball without Ichiro Suzuki just doesn't make sense. He's played for three teams in his 17-year MLB career, and most of those years were spent with the Seattle Mariners, with a two-and-a-half-year sojourn playing for the New York Yanke…

Share Tweet

nytimes.com MLB.com

May 25 (5 days ago)

Cole Gillespie had a late tiebreaking RBI single, Marcell Ozuna drove in two runs and the Miami Marlins beat the Tampa Bay Rays 4-3 on Wednesday night.

Share Tweet

Garton gets surprise callup; Beckham down

MLB.com

May 25 (5 days ago)

Tampa Bay called up Ryan Garton from Triple-A Durham and sent down shortstop Tim Beckham prior to the club's game against the Marlins on Wednesday. To make room for Garton, Jake Goebbert was taken off the 40-man roster.

Share Tweet

Unlikely offense recharges Rays in win

MLB.com

May 24 (6 days ago)

Logan Morrison remained hot against his former club, as the left-handed-hitting first baseman had three hits, a walk and scored twice on Tuesday afternoon in Tampa Bay's 4-3 win over Miami at Marlins Park.

Share Tweet

Rays Hang On to Beat Marlins 4-3, Ending a 3-Game Slide

nytimes.com

May 24 (6 days ago)

Jake Odorizzi was great at the start, and Alex Colome provided just as good a finish.

Share Tweet

deadspin.com yahoo.com

May 24 (6 days ago)

Remember when the Miami Marlins sued Jonathan Vilma because he moved his barbecue restaurant out of the stadium after the Marlins screwed up his food and failed to deliver on their promise of a packed house and booming business? Well, now the Marlins ar…

Share Tweet

deadspin.com MLB.com

May 24 (6 days ago)

Ichiro Suzuki should be making us sad. He's 42 years old, a wisp of the player he used to be, and currently in year two of the Joe Montana-in-Kansas City phase of his career. An old-ass former star playing out his final days for a no-account team like t…

Share Tweet

Suzuki's 4 Hits Help Marlins Rally Past Rays 7-6

nytimes.com

May 23 (7 days ago)

Ichiro Suzuki is rapidly pulling away from Wee Willie Keeler on the all-time hit list with the same approach made famous by the late Hall of Famer.

Share Tweet

MLB.com nytimes.com

May 22

When Max Scherzer is on his game, the Nationals are in capable hands. The ace once again was sharp, striking out eight over eight innings in an 8-2 win over Miami on Sunday afternoon at Marlins Park.

Share Tweet

Hit No. 2,955 moves Ichiro up all-time list

MLB.com

May 22

Marlins outfielder Ichiro Suzuki in his first at-bat on Sunday followed Willie Keeler's famous motto: He hit it "where they ain't." Ichiro's single to center off Washington's Max Scherzer was career No. 2,955, which matched Keeler for 32nd all…

Share Tweet

Giancarlo Stanton: Face Of The National League

Mar 17

Marlins right fielder Giancarlo Stanton's season was cut short after taking a pitch to the side of the face in September. Stanton steps back to the plate, unfazed -- with a new $325 million contract and a specially designed face shield.

Stanton Hit By Pitch In Batting Practice

Feb 28

Buster Olney and John Kruk react to Marlins slugger Giancarlo Stanton being hit by a pitch in live batting practice Saturday and explain why Stanton being hit in practice could be a good thing.

Marlins Striving For A Championship

Feb 27

Marlins outfielder Giancarlo Stanton and second baseman Dee Gordon discuss expectations for this season and Stanton talks about stepping into the batter's box after last year's season-ending beaning.

Marlins Improving, Need More Than Stanton

Feb 27

If the Marlins want to contend for the division title, Curt Schilling and Buster Olney say they need help from more than just Giancarlo Stanton.