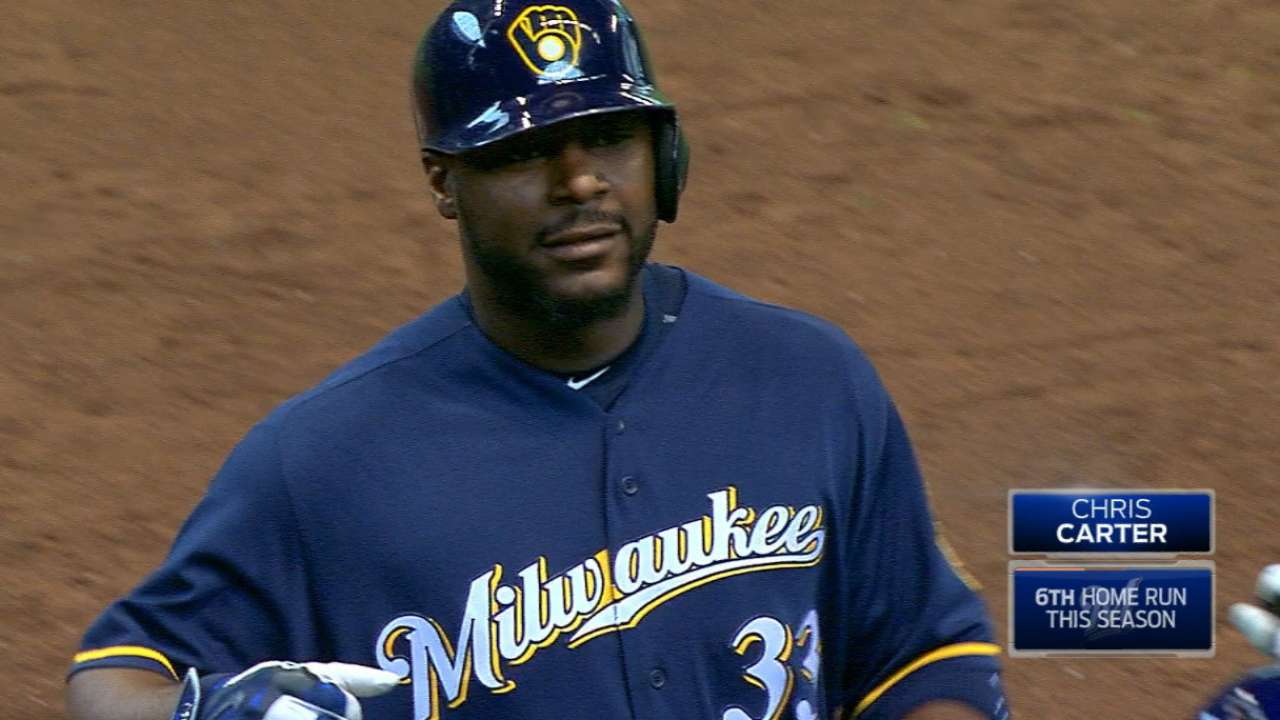 MLB.com
nytimes.com
Updated 20 hours ago
Their Opening Day starter remained mired in his funk, but Brewers' hitters slugged Wily Peralta to victory with Milwaukee's best offensive game in two years.
Share
Tweet
nytimes.com

Apr 30 (3 days ago)

Marlins lefty Adam Conley threw no-hit ball for 7 2/3 innings before being pulled by manager Don Mattingly after 116 pitches, and Miami's bullpen wound up holding off the Milwaukee Brewers 6-3 on Friday night.

Share Tweet

nytimes.com MLB.com

Apr 30 (3 days ago)

Miami Marlins manager Don Mattingly said it was an easy decision to pull Adam Conley after 116 pitches despite the lefty having not allowed a hit for 7 2/3 innings.

Share Tweet

yahoo.com

Apr 30 (3 days ago)

The Miami Marlins needed something positive on Friday to take their minds off Dee Gordon's 80-game PED suspension. Enter 26-year-old left-hander Adam Conley, who answered the call by nearly making history. [Related: Bryce Harper doesn't want Dee Gordon'…

Share Tweet

The Brewers went around the horn for the seventh triple play in team history, with third baseman Aaron Hill, second baseman Yadiel Rivera and first baseman Chris Carter combining to retire the Marlins in the top of the fifth inning.

Share Tweet

Bryce Harper said he was disappointed when he heard the news that Marlins second baseman Dee Gordon received an 80-game suspension Friday morning for violating Major League Baseball's drug policy.

Share Tweet

Marlins outfielder Ichiro Suzuki became the only active player with 500 career stolen bases by swiping second base in the first inning on Friday night against the Brewers.

Share Tweet

Buster Olney Thinks Players Union Should Ignore Players, Listen To Buster Olney

deadspin.com

Apr 29 (3 days ago)

By now you know that Marlins second baseman and reigning NL batting champ Dee Gordon has been suspended 80 games for testing positive for PEDs. This will cost him roughly half his 2016 salary, or around $1.65 million; it will not cost him the other half…

Share Tweet

nytimes.com yahoo.com MLB.com ESPN.com deadspin.com

Apr 29 (3 days ago)

Gordon, the reigning National League batting champion, was suspended for 80 games after testing positive for exogenous testosterone and clostebol.

Share Tweet

MLB.com nytimes.com

Apr 29 (4 days ago)

Kenta Maeda looked like he was going to turn in another excellent start, but that trajectory was interrupted by a seventh-inning rally that helped the Marlins to a 5-3 win and a four-game sweep of Don Mattingly's former team.

Share Tweet

MLB.com nytimes.com

Apr 28 (4 days ago)

Justin Nicolino clamped down the Dodgers with 7 1/3 shutout innings and took home a victory in his first start of 2016, guiding the Marlins to 2-0 victory on Wednesday night.

Share Tweet

Phelps, Mattingly ejected; Urena ends threat

MLB.com

Apr 28 (5 days ago)

Marlins reliever David Phelps, upset after close pitches were called balls in a walk to pinch-hitter Joc Pederson in the frantic eighth inning, was ejected by home-plate umpire Todd Tichenor on Wednesday night at Dodger Stadium.

Share Tweet

Giancarlo Stanton: Face Of The National League

Mar 17

Marlins right fielder Giancarlo Stanton's season was cut short after taking a pitch to the side of the face in September. Stanton steps back to the plate, unfazed -- with a new $325 million contract and a specially designed face shield.

Stanton Hit By Pitch In Batting Practice

Feb 28

Buster Olney and John Kruk react to Marlins slugger Giancarlo Stanton being hit by a pitch in live batting practice Saturday and explain why Stanton being hit in practice could be a good thing.

Marlins Striving For A Championship

Feb 27

Marlins outfielder Giancarlo Stanton and second baseman Dee Gordon discuss expectations for this season and Stanton talks about stepping into the batter's box after last year's season-ending beaning.

Marlins Improving, Need More Than Stanton

Feb 27

If the Marlins want to contend for the division title, Curt Schilling and Buster Olney say they need help from more than just Giancarlo Stanton.