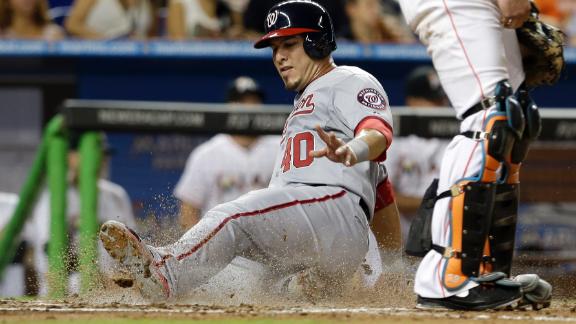 Nats pad lead for top NL mark with comeback win

MLB.com

6 hours ago

Of all the days to enjoy a comeback win, the Nationals chose a good one. With the Dodgers losing to the Cubs earlier in the day, Washington had a chance to be 2 1/2 games over Los Angeles for the best record in the National League if the Nats beat the M…

Upvote Share Tweet

LaRoche Hits 2-Run Homer, Nats Beat Marlins 3-2

nytimes.com

Sep 19 (yesterday)

Adam LaRoche hit an early two-run homer to support Doug Fister and lead the NL-leading Washington Nationals to a 3-2 victory over the Miami Marlins on Friday night.

Upvote Share Tweet

Miami Marlins ace Jose Fernandez has been cleared to start throwing Oct. 1.

Upvote Share Tweet

Gonzalez, Harper Lead Nationals Past Marlins, 6-2

nytimes.com

Sep 18 (2 days ago)

Gio Gonzalez allowed two runs in seven innings, Bryce Harper had three hits, and the Washington Nationals kept up their push for home-field advantage in the NL playoffs by beating the Miami Marlins 6-2 on Thursday night.

Upvote Share Tweet

ESPN.com nytimes.com yahoo.com MLB.com deadspin.com

Sep 18 (2 days ago)

Giancarlo Stanton still needs to have five teeth fixed or replaced, along with a procedure to assess how much blood remains in his sinus cavity, and he will be understandably leery the next time he grabs a bat.

Upvote Share Tweet

Marlins hold off Mets, end trip with series win

MLB.com

Sep 17 (3 days ago)

An emotional and exhausting road trip for the Marlins actually ended on a high. Christian Yelich delivered an RBI double and Henderson Alvarez set the tone by holding the Mets to two runs in six innings on Wednesday night in Miami's 4-3 win at Citi Fiel…

Upvote Share Tweet

nytimes.com MLB.com

Sep 16 (4 days ago)

Just hours after Commissioner Bud Selig said he was impressed with the manner in which the Mets were rebuilding, the team got two home runs and six runs batted in from Wilmer Flores.

Upvote Share Tweet

Lagares exits with hyperextended right elbow

MLB.com

Sep 16 (4 days ago)

Juan Lagares left the Mets' game with the Marlins on Tuesday in the top of the fifth inning with what the team announced as a hyperextended right elbow. Kirk Nieuwenhuis entered the game, playing center and batting leadoff.

Upvote Share Tweet

Nationals Run Past Marlins

Sep 18

The Nationals scored five runs in the top of the fourth and went on to beat the Marlins 6-2.

Who Wins NL MVP?

Sep 17

The Baseball Tonight crew breaks down the National League MVP race.

Flores Leads Mets Past Marlins

Sep 16

Wilmer Flores hit two home runs and had six RBIs in the Mets' 9-1 win over the Marlins.

No Surgery Required For Stanton

Sep 12

Doug Glanville says that when Marlins OF Giancarlo Stanton returns, he must put the getting-hit-in-the-face incident behind him.