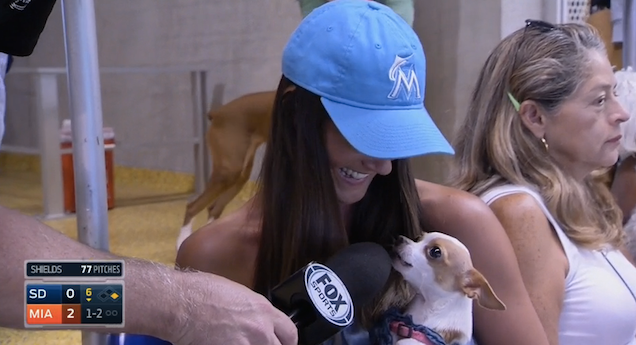 Dog At Marlins Park: "Grrrr"
deadspin.com
Updated 1 hour ago
The dogs were all over Marlins Park Sunday for the team's Bark in the Park event. A couple of pooches were even interviewed. One dog named Lemon, who belonged to Fox Sports Florida reporter Jessica Blaylock, was not thrilled about Craig Minervini's micr…
Share
Tweet
Hechavarria Hits a Walkoff HR, Marlins Top Padres 5-2

nytimes.com

23 hours ago

Adeiny Hechavarria hit a three-run home run off Brandon Maurer with one out in the ninth inning, and the Miami Marlins topped the San Diego Padres 5-2 on Sunday.

Share Tweet

Despaigne Helps Padres Beat Marlins 5-3

nytimes.com

Aug 1 (yesterday)

Odrisamer Despaigne pitched six solid innings, and the San Diego Padres beat the Miami Marlins 5-3 on Saturday night.

Share Tweet

Cosart dealing with inner-ear disorder

MLB.com

Aug 1 (2 days ago)

After undergoing a series of medical tests, it's been discovered that Jarred Cosart is dealing with an inner ear disorder that has affected his balance. The 25-year-old right-hander, who opened the season in the Marlins' rotation, is seeing a specialist…

Share Tweet

Take Me Out to the Rooftop: Wrigley Changes Bring New Looks

nytimes.com

Aug 1 (2 days ago)

Top of the first, one out. It's a Friday in July, the start of a holiday weekend, and the Chicago Cubs are hosting the Miami Marlins.

Share Tweet

Padres top Marlins with five-run 11th inning

MLB.com

Aug 1 (3 days ago)

It took a little extra work, but the Padres defeated the Marlins, 8-3, in 11 innings on Friday to claim their sixth win in seven games. Marlins closer A.J. Ramos walked Yonder Alonso with the bases loaded to send home the go-ahead run, and San Diego add…

Share Tweet

Kennedy Watches Wife Give Birth on FaceTime, Then Pitches

nytimes.com

Jul 31 (3 days ago)

Ian Kennedy expected to miss Friday's start against the Miami Marlins to be with his wife Allison, who was in labor with their fourth child.

Share Tweet

nytimes.com MLB.com

Jul 31 (3 days ago)

Right-hander Dan Haren has been acquired by the Chicago Cubs from the Miami Marlins.

Share Tweet

Cardinals add to bullpen depth, acquire Jonathan Broxton from Brewers

yahoo.com

Jul 31 (3 days ago)

The St. Louis Cardinals certainly buy into the old baseball adage that you can never have too much pitching. Reliever Jonathan Broxton was traded from the Milwaukee Brewers to the Cardinals on Friday, just a week after the Cards made a deal with the Mia…

Share Tweet

nytimes.com yahoo.com

Jul 31 (4 days ago)

Ace right-hander Jose Fernandez is unbeaten and perhaps stronger than ever after recovering from elbow surgery. Giancarlo Stanton remains one of baseball's top power hitters. Dee Gordon is among the game's leaders in batting average and stolen bases. Ad…

Share Tweet

nytimes.com MLB.com yahoo.com

Jul 30 (4 days ago)

The first-place Los Angeles Dodgers bolstered their pitching staff on the eve of the trade deadline, completing a 13-player deal with the Atlanta Braves and Miami Marlins that sent two starters and two relievers to the NL West leaders on Thursday.

Share Tweet

New Nat Papelbon saves Scherzer's 11th win

MLB.com

Jul 30 (4 days ago)

All of the Nationals' offense in Thursday's series finale against the Marlins came on one swing of the bat -- a Ryan Zimmerman home run -- and that's all Max Scherzer needed. The All-Star right-hander tossed seven strong innings and allowed just three s…

Share Tweet

nytimes.com

Jul 30 (4 days ago)

Max Scherzer scattered three hits over seven innings, Jonathan Papelbon got his first save for Washington with a perfect ninth inning and the Nationals beat the Miami Marlins 1-0 on Thursday.

Share Tweet

Stats of the Day: Harper's multihomer effort

MLB.com

Jul 30 (4 days ago)

Bryce Harper homered twice in the Nationals' 7-2 victory over the Marlins. His eighth multihomer effort came with Harper at the age of 22 years and 286 days.

Share Tweet

deadspin.com yahoo.com

Jul 30 (4 days ago)

Some weird stuff happened at the Marlins' stadium while the visiting Nationals were taking batting practice last night. Some weird fart stuff, to be specific:Read more...

Share Tweet

nytimes.com MLB.com

Jul 30 (5 days ago)

Right fielder Bryce Harper hit a three-run, tiebreaking home run and added a second upper-deck blast, leading the Washington Nationals to a 7-2 win over the Miami Marlins on Wednesday at Marlins Park.

Share Tweet

MLB.com

Jul 29 (5 days ago)

The Dodgers' pending acquisition of starting pitcher Mat Latos and outfielder Michael Morse from Miami has expanded into multiple trades involving three teams, 12 players and a Draft pick.

Share Tweet

Giancarlo Stanton: Face Of The National League

Mar 17

Marlins right fielder Giancarlo Stanton's season was cut short after taking a pitch to the side of the face in September. Stanton steps back to the plate, unfazed -- with a new $325 million contract and a specially designed face shield.

Stanton Hit By Pitch In Batting Practice

Feb 28

Buster Olney and John Kruk react to Marlins slugger Giancarlo Stanton being hit by a pitch in live batting practice Saturday and explain why Stanton being hit in practice could be a good thing.

Marlins Striving For A Championship

Feb 27

Marlins outfielder Giancarlo Stanton and second baseman Dee Gordon discuss expectations for this season and Stanton talks about stepping into the batter's box after last year's season-ending beaning.

Marlins Improving, Need More Than Stanton

Feb 27

If the Marlins want to contend for the division title, Curt Schilling and Buster Olney say they need help from more than just Giancarlo Stanton.