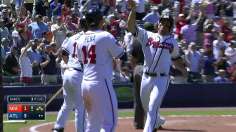 CNNSI.com
nytimes.com
MLB.com
Updated 7 hours ago
Gattis' pinch-hit heroics lift Braves over Marlins
Upvote
Share
Tweet
deadspin.com

13 hours ago

Remember last night, when the Atlanta Braves and Miami Marlins combined to strike out 28 times , a thing that had never before occurred in the modern era? Well, those crazy free-swingers went and did the exact same thing today, and they didn't even need…

Upvote Share Tweet

MLB.com deadspin.com nytimes.com

18 hours ago

The Braves and Marlins have decided to give Alex Wood and Jose Fernandez a couple extra days of rest coming off the impressive pitchers' duel the two young hurlers waged at Turner Field on Tuesday night. Consequently, Wood and Fernandez are currently sl…

Upvote Share Tweet

Marlins promote righty reliever Capps from Triple-A

MLB.com

18 hours ago

The Marlins recalled right-hander Carter Capps from Triple-A New Orleans on Wednesday morning to replace right-hander Arquimedes Caminero. Caminero was optioned to New Orleans following Tuesday night's 1-0 win against the Braves at Turner Field.

Upvote Share Tweet

Gattis hits walkoff HR in 10th, Braves top Marlins

Upvote Share Tweet

Heaney leads big day for Marlins on the farm

MLB.com

Apr 21 (3 days ago)

The Marlins' farm system's left-leaning tendencies were on full display on the mound Sunday, as top prospect Andrew Heaney went seven innings against Pensacola (Reds) in the Double-A Southern League and allowed just one run on three hits over seven inni…

Upvote Share Tweet

nytimes.com MLB.com

Apr 20 (4 days ago)

Adeiny Hechavarria hit a go-ahead sacrifice fly in the eighth inning after an instant replay went in Miami's favor and the Marlins beat the Seattle Mariners 3-2 to complete a three-game sweep.

Upvote Share Tweet

Marlins rally past Mariners in series finale

MLB.com

Apr 20 (4 days ago)

Christian Yelich extended his hitting streak to 14 games by sparking an eighth-inning rally as the Marlins defeated the Mariners, 3-2, on Sunday afternoon in front of 20,228 at Marlins Park.

Upvote Share Tweet

yahoo.com ESPN.com nytimes.com MLB.com

Apr 19 (5 days ago)

Your browser does not support iframes.p://mit.zenfs.com/121/2014/04/TheGrandSlam1.jpg">The hottest hitter in baseball struck again on Friday night when Miami Marlins outfielder Giancarlo Stanton connected on yet another impressive home run. Only…

Upvote Share Tweet

MLB.com nytimes.com

Apr 16

Jayson Werth had some long drives during this series held in play by the spacious dimensions of Marlins Park. But off Jose Fernandez in the sixth inning on Wednesday night, the right fielder was not denied of a home run by instant replay in the National…

Upvote Share Tweet

Slowey to replace Hand in Marlins rotation

ESPN.com

Apr 16

Right-hander Kevin Slowey will move into the Miami Marlins' rotation to replace struggling left-hander Brad Hand and start Sunday against Seattle.

Upvote Share Tweet

MLB.com nytimes.com

Apr 16

Benches and bullpens cleared and there was some jawing going on Tuesday night, but the dust quickly settled without further incident at Marlins Park. In the Marlins' 11-2 win over the Nationals, tempers heated up in the fourth inning after Tom Koehler's…

Upvote Share Tweet

nytimes.com ESPN.com MLB.com

Apr 16

Giancarlo Stanton, the Miami outfielder, tied a career high and hit a three-run homer off Washington starter Stephen Strasburg.

Upvote Share Tweet

Yelich relieved to avoid collision with Stanton

MLB.com

Apr 15

At 6-foot-6, 240-pounds, Giancarlo Stanton is an imposing figure who is difficult to miss in the outfield. Christian Yelich is certainly glad he was able to stay clear of his teammate on a fly ball to the gap in right-center at Marlins Park on Monday ni…

Upvote Share Tweet

Harang Dominant In Braves' Win

Apr 23

Aaron Harang struck out 11 batters over six innings of work and pinch hitter Evan Gattis hit a two-run double to lift the Braves to a 3-1 win over the Marlins.

Marlins Blank Braves

Apr 22

Jose Fernandez struck out 14 in the Marlins' 1-0 win over the Braves.

What Sets Jose Fernandez Apart?

Apr 21

The "Baseball Tonight" crew breaks down why Jose Fernandez is one of the best pitchers in baseball.

Gattis' Big Blast Lifts Braves In 10

Apr 21

Evan Gattis hit a two-run home run in the 10th inning to give the Braves a 4-2 walk-off win over the Marlins.