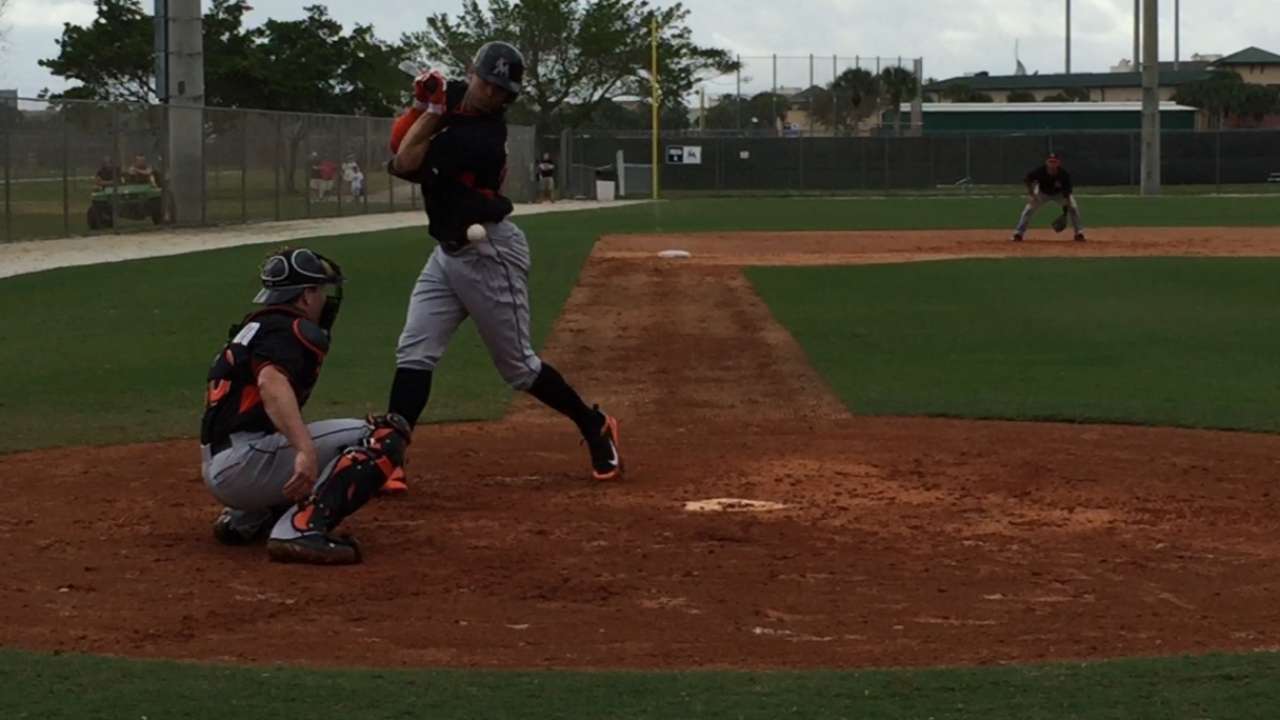 Marlins opt to hold Stanton out of UM exhibition
MLB.com
Updated 9 hours ago
After consideration, the Marlins decided to keep Giancarlo Stanton out of the lineup on Tuesday against the University of Miami. Instead, the 25-year-old slugger participated in simulated games on the back fields at the Roger Dean Stadium complex.
Upvote
Share
Tweet
Marlins Beat University of Miami 7-1

nytimes.com

6 hours ago

Miami Marlins left-hander Andrew McKirahan needed only 12 pitches to strike out all three batters he faced Tuesday and help beat the University of Miami 7-1.

Upvote Share Tweet

Brad Hand Helps Marlins Beat FIU 7-2

nytimes.com

Mar 2 (yesterday)

Brad Hand needed only nine pitches in a perfect first inning Monday for the Miami Marlins, who beat Florida International 7-2.

Upvote Share Tweet

The Nationals are the consensus favorites to win the NL East, but the Mets and Marlins think they might both have something to say about that. For the Mets, optimism begins with a rotation stacked with power arms and more of them in the Minors.

Upvote Share Tweet

Haren likely to start first Grapefruit League tilt Thursday

Marlins manager Mike Redmond said Sunday that veteran right-hander Dan Haren likely will be the starting pitcher for the Grapefruit League opener on Thursday against the Cardinals at Roger Dean Stadium.

Upvote Share Tweet

Fernandez throws first session since Tommy John surgery

Marlins ace Jose Fernandez took another step Sunday in his rehab from Tommy John surgery when the right-hander threw a short bullpen session off the mound for the first time since last May.

Upvote Share Tweet

yahoo.com

Feb 28 (3 days ago)

Breathe easy, Miami Marlins fans. Superstar slugger Giancarlo Stanton is doing fine and was even able to finish Saturday's intrasquad game after being hit on the left hip by a pitch from Henderson Alvarez. Henderson Alvarez plunks Giancarlo Stanton with…

Upvote Share Tweet

ESPN.com

Feb 27 (4 days ago)

Outfielder Juan Pierre has announced his retirement after a 14-year major league career that included a World Series championship with the 2003 Florida Marlins.

Upvote Share Tweet

Morse impressed with Marlins' energy, enthusiasm

MLB.com

Feb 27 (5 days ago)

Spring Training games may not have started yet, but the energy level has already picked up at the Marlins' camp. New first baseman Michael Morse, who knows something about winning cultures, can sense the excitement building.

Upvote Share Tweet

MLB.com deadspin.com

Feb 26 (5 days ago)

The result wasn't very eventful, but the occasion was monumental for the Marlins. Giancarlo Stanton stepped into the batter's box on Thursday morning and saw live pitching for the first time since being struck in the face by a pitch at Milwaukee last Se…

Upvote Share Tweet

MLB.com

Feb 24

When it is time to face live pitching, it will be business as usual for Giancarlo Stanton. The Marlins slugger insists he will step into the box with full confidence, like any of his previous at-bats. But just in case, Stanton will wear a special face g…

Upvote Share Tweet

yahoo.com

Feb 24

Mat Latos is known just as much for his fiery personality as he is for his fire-balling right arm on the mound, so the following shouldn't come as any suprise. The 27-year-old starting pitcher was dealt to his hometown Miami Marlins in December after th…

Upvote Share Tweet

Marlins stockpile arms for spring bullpen battle

MLB.com

Feb 23

Strength in numbers was an objective the Marlins considered when putting together their bullpen. There are no shortage of quality candidates this spring for only a few spots.

Upvote Share Tweet

Willis mounts another comeback, this time with Brewers

MLB.com

Feb 22

Dontrelle Willis starts talking, and the volume in the Brewers Spring Training clubhouse begins to rise. Everyone forgets that it's 8:30 a.m., that it's been a dozen years since a 21-year-old Willis strutted to the World Series with the Marlins and that…

Upvote Share Tweet

With some Senior Circuit seasoning, Salty set to shine

MLB.com

Feb 22

Familiarity may ultimately breed success for Jarrod Saltalamacchia. A year ago, the Marlins catcher went through the transition of switching from the American League to National League. The results weren't what the 29-year-old anticipated.

Upvote Share Tweet

nytimes.com

Feb 21

Pitcher Nathan Eovaldi had a tough year last season with the Miami Marlins, but his velocity and fire portend a turnaround with the Yankees.

Upvote Share Tweet

Latos cautions Fernandez to take his time

MLB.com

Feb 21

As eager as the Marlins are to have Jose Fernandez back in their rotation, Mat Latos cautions not to rush the 22-year-old who is battling back from Tommy John surgery.

Upvote Share Tweet

The reluctant veteran and eager ace both reported to Miami Marlins camp Friday, and come July, they might be in the rotation together, disproving doubters.

Upvote Share Tweet

Redmond eager for Spring Training to begin

MLB.com

Feb 18

As an organization, the Marlins had a busy offseason, bringing in a number of new faces, who are now getting acquainted with those returning to the organization. Manager Mike Redmond was at the golf course on Wednesday. But his focus is on getting every…

Upvote Share Tweet

Ramos, Marlins unfazed by high expectations

MLB.com

Feb 17

Reliever A.J. Ramos is excited for the start of Spring Training later this week, and he hopes the Marlins will rise up to meet the hype that has been generated this winter.

Upvote Share Tweet

Marlins ink veteran outfielder Johnson to Minors deal

MLB.com

Feb 17

Reed Johnson finds himself in a similar situation as a year ago. The 38-year-old outfielder is being given an opportunity without a guarantee to latch on with the Marlins.

Upvote Share Tweet

Marlins hoping to host 2017 Classic games

MLB.com

Feb 16

The All-Star Game may not be the only major showcase Marlins Park will host in 2017. Miami also is hopeful of attracting a round of the World Baseball Classic, which will be held in the spring of the same year.

Upvote Share Tweet

yahoo.com

Feb 14

As if there haven't been enough head-scratching decisions made concerning MLB All-Star games — past, present and future — new commissioner Rob Manfred added one more on Friday. While officially announcing that Marlins Park in Miami will host the 2017 Al…

Upvote Share Tweet

MLB.com

Feb 14

The 2017 All-Star Game is a triumph of persistence and a tribute to all the men and women who relentlessly pursued a two-decade dream of building a first-class ballpark in South Florida.

Upvote Share Tweet

Stanton Hit By Pitch In Batting Practice

Feb 28

Buster Olney and John Kruk react to Marlins slugger Giancarlo Stanton being hit by a pitch in live batting practice Saturday and explain why Stanton being hit in practice could be a good thing.

Marlins Striving For A Championship

Feb 27

Marlins outfielder Giancarlo Stanton and second baseman Dee Gordon discuss expectations for this season and Stanton talks about stepping into the batter's box after last year's season-ending beaning.

Marlins Improving, Need More Than Stanton

Feb 27

If the Marlins want to contend for the division title, Curt Schilling and Buster Olney say they need help from more than just Giancarlo Stanton.

Schoenfield's Preseason Rankings: 19-24

Feb 4

David Schoenfield reveals teams 19-24 in his preseason rankings that finds both the Yankees and Marlins finishing below .500 in his projections.