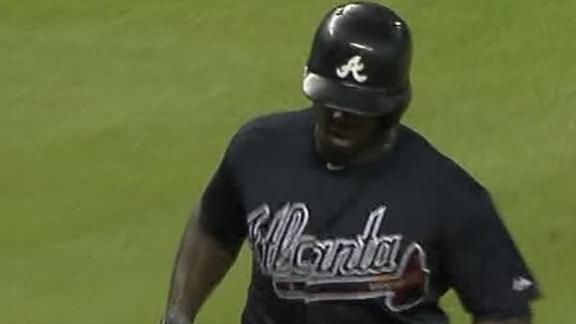 ESPN.com
Updated Jul 9, 2013
Justin Upton homered, doubled twice and scored three runs to help the Atlanta Braves earn their 27th comeback victory when they beat the Miami Marlins 6-4 Tuesday night.
Share
Tweet
Miami Marlins latest ticket-selling gimmick is 'exclusively' ridiculous

yahoo.com

Jul 9, 2013

Good news: You're one of Gio Gonzalez' friends and family members. Yes, you there.At least according to the lowly Miami Marlins, you are. They're offering a special, exclusive "Gio Gonzalez Family & Friends" ticket packages for this weeken…

Share Tweet

B.J. Upton Shits Out A Double, According To Typo

deadspin.com

Jul 9, 2013

The Associated Press would later correct its caption on this photo of B.J. Upton's fourth-inning double against the Marlins, but not before the original version was published verbatim in at least two outlets: ESPN's game HQ and on the website of the Aik…

Share Tweet

Web Gems

Jul 9

Does Ed Lucas' barehanded pickup and throw to first top Carlos Gomez's leaping catch over the wall to end game.

Justin Upton Carries Braves Past Marlins

Jul 9

Justin Upton had three runs scored and two RBIs in the Braves' 6-4 win over the Marlins.