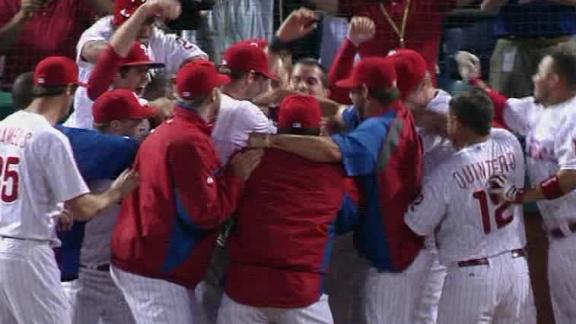 John Mayberry Jr. hit a grand slam with two outs in the bottom of the 11th inning after his tying shot in the 10th, and the Philadelphia Phillies beat the Miami Marlins 7-3 Tuesday night.
Share
Tweet
Mayberry's Walk-Off Grand Slam Lifts Phillies

Jun 4

John Mayberry Jr.'s grand slam in the 11th propelled the Phillies to a 7-3 win over the Marlins.
Sports Columnists
Peter King: Late Deacon Jones would have dominated any era; mail

Jun 4

You can't say many players from the '40s, '50s and '60s would have dominated today. Be competitive, sure. But dominated? Not many. Deacon Jones, though -- there was a guy who would have been one of the greats whenever he played.