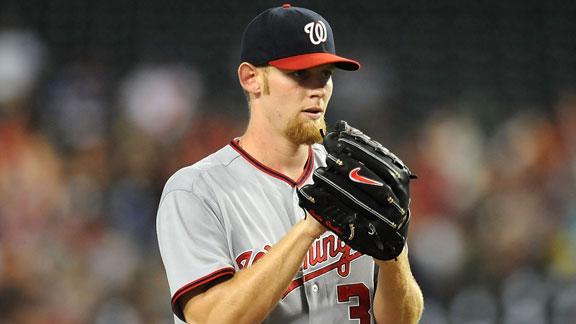 ESPN.com
CNNSI.com
deadspin.com
Updated Sep 8, 2012
Stephen Strasburg is "not too happy" with the Washington Nationals' decision to shut him down following a shaky start against the Miami Marlins.
Share
Tweet
CNNSI.com

Sep 8, 2012

Nationals rally past Marlins in 10, extend best record

Share Tweet

Corey Brown's single drove in Ian Desmond with the winning run in the bottom of the 10th inning Saturday, lifting the Washington Nationals to a 7-6 victory over the Florida Marlins.

Share Tweet

Ozzie Guillen Is Back On Twitter And As Crazy As Ever

deadspin.com

Sep 8, 2012

On May 17, the last time Ozzie Guillén composed a tweet before his 3.5 month hiatus, the Marlins were celebrating a new stadium, a largely new team, a new manager, and new trippy home run celebration sculpture. So it seemed logical that Guillen would q…

Share Tweet

Hey Knicks, Marlins, Orioles, Redskins, And Islanders Fans: ESPN Says The Sacramento Kings Have The Worst Owners In Sports

deadspin.com

Sep 8, 2012

Venerable Kings blog Sactown Royalty notes that ESPN: The Paper Thingy ranks the Maloofs as the worst owners in sports-all of sports!-in their "Ultimate Standings 2012," which rates organizations across the four major sports based on some arbitrary me

Share Tweet

Running Reyes continues to rack up triples

MLB.com

Sep 8, 2012

Jose Reyes added two triples in the Marlins' 9-7 win over the Nationals on Friday night, tying him for the Major League lead with 11.

Share Tweet

Nationals Walk Off In 10th

Sep 8

Corey Brown's pinch-hit single lifts Nationals to 7-6 win.