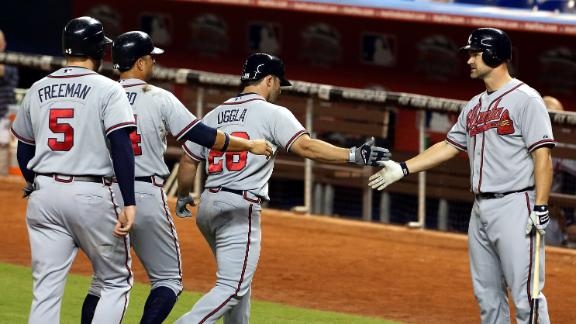 ESPN.com
Updated Sep 17, 2012
Dan Uggla hit a three-run home run in the first inning, Martin Prado tied a career best with four hits and the Braves beat the Marlins 7-5 on Monday night.
Share
Tweet
Braves jump out early, hold on for Hudson

After jumping out to an early six-run lead, the Braves held on for a 7-5 win against the Marlins in front of 23,308 at Marlins Park. The victory extended Atlanta's win streak to four games and pulled the club to within five of Washington, which was off …

Share Tweet

Earlier this month, Chipper Jones bid a final farewell to Citi Field, and in August, he made his last regular-season trip to Nationals Park. On Monday, Jones kicked off his final trip to Miami to face the Marlins.

Share Tweet

Spacious home both a pro and con for Marlins

Depending on your point of view, Marlins Park plays either too big or it's just right. The Marlins' flashy new home also is one of the most difficult places to hit a home run.

Share Tweet

As a precaution, Giancarlo Stanton wasn't in the Marlins' lineup on Monday night due to a sore left intercostal muscle.

Share Tweet

Braves Win 4th Straight

Sep 17

Martin Prado collects four hits in Braves' 7-5 win over Marlins.