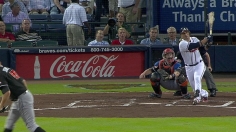 One night after clinching a playoff spot, the Braves didn't let up, as Paul Maholm retired 13 straight at one point and Martin Prado drove in two runs to lead the way in a 3-0 win over the Marlins at Turner Field.
Upvote
Share
Tweet
As a precaution, the Marlins aren't rushing Giancarlo Stanton back just yet.

Upvote Share Tweet

After throwing 32 pitches in a bullpen session Wednesday, Roy Halladay is expected to start as scheduled Saturday against the Marlins in Miami.

Upvote Share Tweet

Maholm, Braves Blank Marlins

Sep 26

Paul Maholm struck out six batters en route to his 13th win of the season.