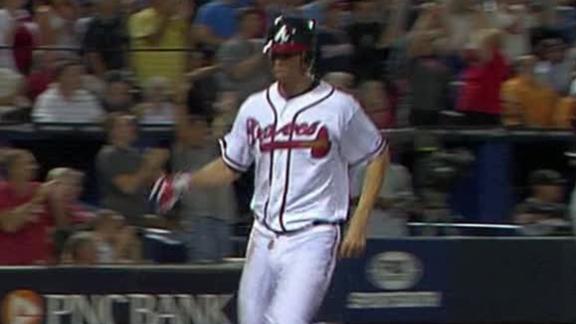 Updated Sep 27, 2012

Share Tweet

With the help of an error by Marlins left fielder Bryan Petersen, the Braves scored four runs in the fourth inning Thursday night and erased an early two-run deficit. They went on to win 6-2, completing a three-game sweep of the Marlins.

Source:

MLB.com

Ozzie likens Eovaldi to young Verlander

Updated Sep 27, 2012

Share Tweet

In watching Nathan Eovaldi, Marlins manager Ozzie Guillen sees some similarities to one of the best in the game.

Source:

MLB.com

Updated Sep 27, 2012

Share Tweet

MIAMI (AP) -- Adam Greenberg will get another shot at hitting in the major leagues.

Sources:

CNNSI.com deadspin.com yahoo.com MLB.com ESPN.com

Updated Sep 27, 2012

Share Tweet

Over the past few years, Bo Porter has earned the label of someone who might make a great manager one day. Next year, Porter will get a chance to prove that thought right. After interviewing for the Pirates and Marlins for managing jobs in recent years,…

Source:

yahoo.com

As Playoff Dreams Drift Away, Phillies Fans Will Do Anything To Mask The Stench

Updated Sep 27, 2012

Share Tweet

With the Nationals and Braves storming to guaranteed playoff spots, it stands to figure that the teams would leave some division foes in the wake of their success. Sure, the Marlins and Mets found themselves buried with regularity this year, but for Phi…

Source:

deadspin.com

Braves Win Fifth Straight

Sep 27

Braves roll Marlins 6-2.

Adam Greenberg's Second Chance

Sep 27

Seven years after a scary injury during his only Major League plate appearance, Adam Greenberg will get a second chance at bat with the Miami Marlins. Adam talks to Michelle Steele about his return to the Majors.

Sports Columnists

Biggest NFL games of Week 4 -- John Clayton's First & 10

Sep 27

Roger Goodell's influence will be felt when the struggling Saints and Packers meet on Sunday, writes John Clayton.

Don Banks: Saviors now, regular refs will be scrutinized more than ever in…

Sep 27

When the NFL's regular crews of referees mercifully get back to work, starting Thursday night in Baltimore, let's hope they're ready for their close-up. Because this is going to be the closest close-up the league's game officials have ever experienced.