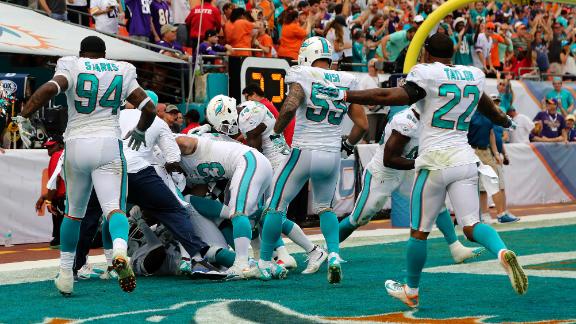 miamiherald.com
ESPN.com
yahoo.com
profootballtalk.com
Updated 2 hours ago
Joe Philbin will remain the Miami Dolphins coach in 2015. Owner Stephen Ross made the announcement in the locker room today after the Dolphins beat the Minnesota Vikings, 37-35. "You can enjoy your Christmas and stop speculating who's going to be t…
Upvote
Share
Tweet
nytimes.com yahoo.com miamiherald.com profootballtalk.com ESPN.com

3 hours ago

Miami Dolphins owner Stephen Ross stood on the sideline at the end of Sunday's wild victory sharing a laugh with those around him, his mind made up regarding the direction of the franchise.

Upvote Share Tweet

Onside Free Kick Fails, Still Looks Cool

deadspin.com

3 hours ago

The Vikings lost today when the Dolphins blocked a late punt to earn a game-winning safety, but with a few seconds left Minnesota still had a chance to get back on offense if they could properly execute the rare onside free kick. It didn't work, but sti…

Upvote Share Tweet

Counting Down The Top 10 Moments From NBA Christmas Day: 10-8

dimemag.com

8 hours ago

The NBA isn't like other professional sports in America; they play on Christmas. Not only do they play, but the games on the national holiday signal a focal point for most NBA observers and a day when it's finally appropriate to take stock of the first …

Upvote Share Tweet

Prado gives Marlins options with their batting order

MLB.com

8 hours ago

Adding Martin Prado to the equation gives manager Mike Redmond some interesting decisions to make regarding the Marlins' batting order. It may also impact when slugger Giancarlo Stanton comes to the plate.

Upvote Share Tweet

deadspin.com thehockeynews.com

8 hours ago

Florida Panthers captain Willie Mitchell got tied up with Pittsburgh's Kris Letang, and inexplicably resorted to swinging Letang's own helmet at him. Willie Mitchell's a lawless man.Read more...

Upvote Share Tweet

Dolphins-Vikings inactives

ESPN.com

9 hours ago

MIAMI GARDENS, Fla. – Here are the players you won't see in Sunday's game between the Miami Dolphins and Minnesota Vikings: Dolphins (7-7) OL Nate Garner RT Dallas Thomas RB Daniel Thomas WR Matt Hazel LB Chris McCain WR Rishard Matthews DB Don Jones Vi…

Upvote Share Tweet

profootballtalk.com

11 hours ago

The Bills can't afford a letdown after last week's win over the Packers. Dolphins WR Mike Wallace has worked to be more than a deep threat. LB Jamie Collins is finishing strong for the Patriots again this season. Sunday could be the final home game for …

Upvote Share Tweet

PITTSBURGH, Pa. - Derrick Pouliot scored in his NHL debut and Sidney Crosby ended his drought with a third-period goal for the Pittsburgh Penguins in their 3-1 victory over the Florida Panthers on Saturday night. Marc-Andre Fleury stopped 45 ...

Upvote Share Tweet

nytimes.com MLB.com ESPN.com

19 hours ago

Having acquired Martin Prado from the Yankees, Miami traded McGehee, a third baseman, to the San Francisco Giants for the minor league right-handers Kendry Flores and Luis Castillo.

Upvote Share Tweet

miamiherald.com

Dec 20 (yesterday)

Broadcasters walk a delicate line between telling you what is happening within the game they are covering and discussing the news surrounding the teams playing. For the NFL on FOX crew covering the Minnesota Vikings at Miami Dolphins on Sunday, the broa…

Upvote Share Tweet

Sunday Blitz: Dolphins-Vikings Recap

Dec 21

Jim Basquil and Ron Jaworski break down the Dolphins' 37-35 win over the Vikings.

Late Safety Lifts Dolphins

Dec 21

Jeff Locke blocked a punt for a safety in the final minute of the fourth quarter to give Miami a 37-35 win over Minnesota.

Wizards Rally Past Heat

Dec 19

John Wall scored 20 points and had 10 assists in the Wizards' 105-103 win over the Heat.

Yanks Bring Eovaldi To The Bronx

Dec 19

Andrew Marchand discusses how pitcher Nathan Eovaldi will fit into the Yankees' rotation.

Sports Columnists

Dallas Mavericks frontrunners for Jermaine O'Neal after Rajon Rondo acquis…

Dec 19

The acquisition of Rajon Rondo has given the Dallas Mavericks an undeniable edge in the race to lure veteran big man Jermaine O'Neal back to the NBA, according to league sources.

A New NFC West Rivalry

Dec 19

RENTON, Wash. — Remember, oh, about three long months ago, when 49ers-Seahawks was the best rivalry in the NFL? The Niners are 7-7, oddly out of the playoff hunt, and are 1-5 against Seattle since late in 2012. So, is it really such a great rivalry now,…

Source: Seahawks extend Avril four years

Dec 19

The Seahawks have signed pass-rusher Cliff Avril to a four-year extension worth $28.5 million, with $16 million guaranteed, a source confirmed to ESPN...