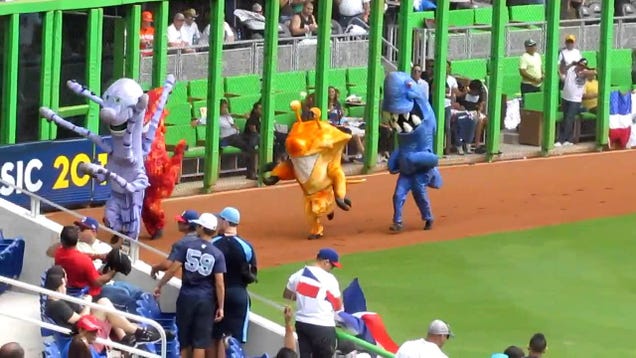 Woman Alleges Permanent Neck Injury Due To Marlins' Shark Attack
deadspin.com
Updated 6 hours ago
A lawsuit filed last month in Miami-Dade County court alleges a woman suffered serious and permanent injuries after being attacked by a fake shark during a 2013 Miami Marlins game. The Marlins, like most shitty (and a few good) teams, hold a mascot race…
Share
Tweet
Report: Dolphins players concerned about guard situation

profootballtalk.com

8 hours ago

As long as left tackle Branden Albert is healthy, the Dolphins are set at three spots on their offensive line. Albert, right tackle Ju'Wuan James and center Mike Pouncey will be starting for the Dolphins in September, but things are a lot less clear at …

Share Tweet

Friday morning one-liners

profootballtalk.com

9 hours ago

A look at how the Bills landed Rex Ryan as their head coach. Damien Williams is looking forward to the running back competition at Dolphins camp. Patriots TE Rob Gronkowski hosted a football camp at Andrews Air Force Base this week. Assessing the impact…

Share Tweet

In case you missed these reports ... • The biggest news of the day found Miami Heat icon Dwyane Wade, a surprise free agent after opting out of his contract Monday, coming back to the club at one year for $20 million. That's a hefty price for a 33-year-…

Share Tweet

Baseball-Fernandez Cuts Giants Down to Size on Marlins Return

nytimes.com

15 hours ago

Jose Fernandez made a triumphant return after more than a year out with injury when he hit a solo home run and pitched a winning game for the Miami Marlins on Thursday.

Share Tweet

Marlins sign first-round pick Naylor

MLB.com

19 hours ago

The Marlins on Thursday signed their first-round pick, first baseman Josh Naylor.

Share Tweet

miamiherald.com yahoo.com nba.com

22 hours ago

A statement from Dwyane Wade's agent, Henry Thomas, via USA Today: "This contract is a win-win for both Dwyane and the Heat," Thomas said in a statement. "Not only does Dwyane get to extend his Hall of Fame-worthy career with the only fra…

Share Tweet

BLOG: Pat Riley has gone full Pat Riley

miamiherald.com

23 hours ago

There were more questions than answers surrounding the Heat's free agency on Thursday. For instance, why the heck was Dwyane Wade in the Bahamas with LeBron James? And, also, why was Pat Riley heading out of town? And, finally, how does Heat owner Micky…

Share Tweet

The afternoon dubbed #JoseDay didn't start out as the Miami Marlins hoped, but by the end of it, Jose Fernandez had his first MLB win in more than a year, six strikeouts and he managed to hit a baseball over the fence. So, #JoseDay, as it turned out, wa…

Share Tweet

Dolphins Teammates Of Ndamukong Suh Already Impressed With His Play

dolphinsgab.com

Jul 2 (yesterday)

It's obvious what defensive tackle Ndamukong Suh brings to the table in terms of on field production. He's four-time first-team All Pro and one of the most dominant defensive tackles in the NFL today. But while all that steals the headlines, what may fl…

Share Tweet

Don Shula learned an early lesson about business with Donald Trump

profootballtalk.com

Jul 2 (yesterday)

Many are distancing themselves from real estate mogul/combover cautionary tale/presidential candidate Donald Trump these days. But former Dolphins coach Don Shula found out first hand how hard it was to do business with him in the early 1980s. During hi…

Share Tweet

profootballtalk.com

Jul 2 (yesterday)

Bills fans can watch "The Rex Ryan Show" beginning Sept. 13 (like they haven't been watching it already). The Dolphins will host a scrimmage at Florida International University during training camp. The Patriots will hold their Hall of Fame induction on…

Share Tweet

Dolphins' Branden Albert battling back from injury

Jun 26

ESPN Dolphins reporter James Walker provides an update on tackle Branden Albert's journey back from a knee injury and his chances of playing in the season opener.

Jennings: Miami exec set me at ease

Jun 22

ESPN NFL analyst Darren Woodson discusses why Dolphins executive Mike Tannenbaum was able to convince wide receiver Greg Jennings he would fit well in Miami's offense.

Jennings: Miami GM set me at ease

Jun 22

Darren Woodson discusses why general manager Mike Tannenbaum was able to convince wide receiver Greg Jennings that he would fit in well with Miami's offensive system.

Dolphins camp will feature tight position battles

Jun 12

ESPN Dolphins reporter James Walker looks ahead to Miami's training camp, where cornerback Jamar Taylor and guard Dallas Thomas will try to lock down starting jobs.