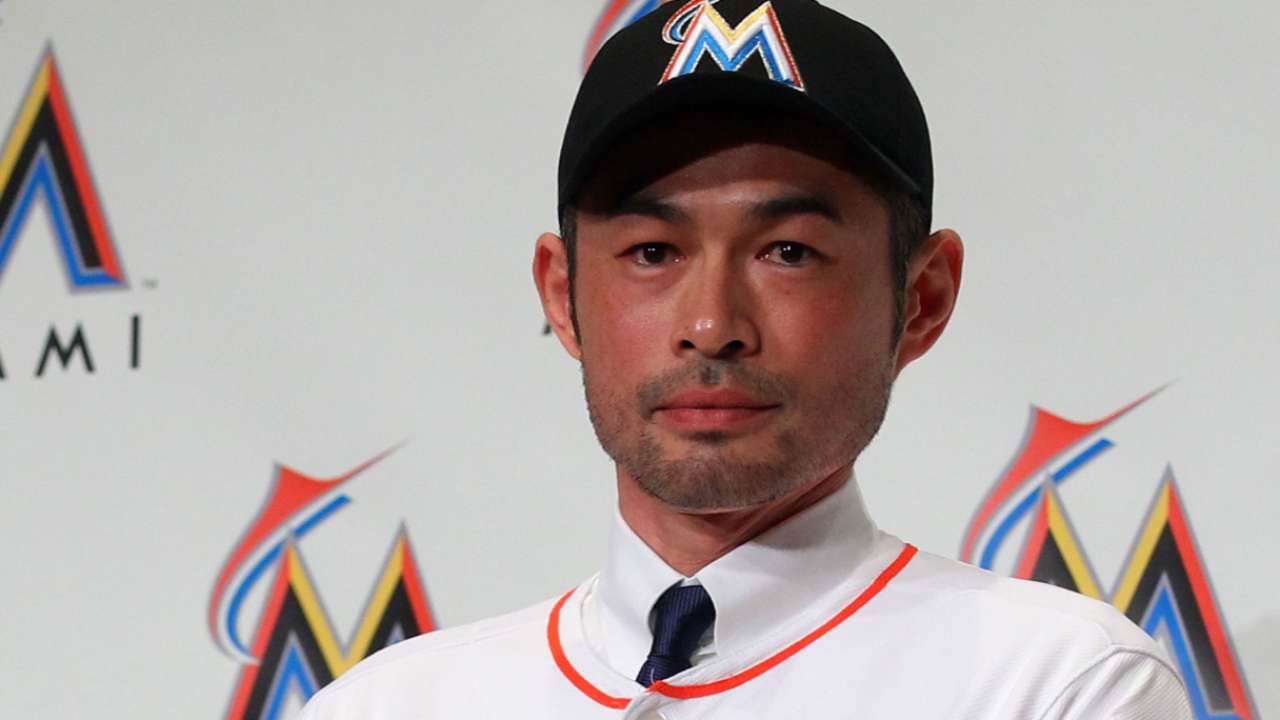 nytimes.com
MLB.com
ESPN.com
Updated 59 minutes ago
Future Hall of Famer Ichiro Suzuki said he wanted to return the faith shown by Miami Marlins executives after they flew to Japan to convince the veteran to sign for the Florida ball club.
Upvote
Share
Tweet
Tony McDaniel: Success in Seattle after four years in Miami

miamiherald.com

1 hour ago

PHOENIX -- The idea that players come to the Dolphins and often perform worse than they did before arriving or go elsewhere and perform better than they did with the Dolphins is not new. We've seen it time and again. Karlos Dansby. Dannell Ellerbe. Vont…

Upvote Share Tweet

yahoo.com

12 hours ago

Sure, longtime theoretical opponents Floyd Mayweather and Manny Pacquiao chatting at Tuesday's Miami Heat-Milwaukee Bucks game is a pretty big deal, I guess. But if you really want to see a fight, you should've been watching the D-League contest between…

Upvote Share Tweet

Mayweather And Pacquaio Meet For The First Time

deadspin.com

18 hours ago

It seems incredible that for all their ducking and dodging and posturing and close calls, Floyd Mayweather and Manny Pacquiao had never met face-to-face before last night. But with both sitting courtside at the Miami Heat game—directly opposite each oth…

Upvote Share Tweet

SUNRISE, Fla. - Stephen Weiss certainly enjoyed this one. Weiss had a goal and two assists against his former team, and Luke Glendening scored twice to lift the Detroit Red Wings over the struggling Florida Panthers 5-4 on Tuesday night for t...

Upvote Share Tweet

MLB.com

Jan 28 (yesterday)

Just a few months away from beginning the first year of his record-breaking $325 million contract, Stanton joined MLB Network for a special feature Tuesday evening -- "The Offseason: Hope in Chicago and Miami" -- to discuss the Marlins' offsea…

Upvote Share Tweet

nba.com

Jan 27 (yesterday)

Dwyane Wade left Miami's game against Milwaukee Tuesday night in the third quarter with another hamstring injury, after Luol Deng and Chris Andersen were held out with injuries.

Upvote Share Tweet

Dwyane Wade Exits Heat's Loss To Bucks With Hamstring Injury

dimemag.com

Jan 27 (yesterday)

Dwyane Wade's knees are holding up just fine in 2014-2015, and his shoulder hasn't been a problem for years. But another nagging issue has been plaguing the Miami Heat superstar this season – hamstring pain. The three-time champion left his team's 109-1…

Upvote Share Tweet

ESPN.com dimemag.com

Jan 27 (yesterday)

Manny Pacquiao and Floyd Mayweather Jr. in the same arena? Can it be?

Upvote Share Tweet

thehockeynews.com

Jan 27 (yesterday)

Veteran right winger Radek Dvorak, who played 1,260 career regular-season NHL games with seven teams over 18 years, retired Tuesday. The 37-year-old Dvorak was drafted by the Florida Panthers 10th overall in 1995, and developed into a solid, if unspecta…

Upvote Share Tweet

profootballtalk.com

Jan 27 (yesterday)

A pair of former NFL players are among four new coaching staff hires announced by the Raiders on Tuesday. Ex-Dolphins and Jets tailback Bernie Parmalee will coach Oakland's running backs, while former Jets and Cardinals wideout Rob Moore will coach the …

Upvote Share Tweet

Is Aaron Ekblad's historic age-18 season an anomaly or a new trend?

thehockeynews.com

Jan 27 (yesterday)

Aaron Ekblad's maiden NHL voyage is equally predictable and shocking. On one hand, everything the mammoth defenseman has accomplished with Florida matches what the world expected of him. Prospects didn't come more can't-miss than Ekblad, who at 15 was t…

Upvote Share Tweet

miamiherald.com

Jan 27 (yesterday)

Win or lose tonight against the Milwaukee Bucks, Heat center Hassan Whiteside already has dinner plans for after the game. Heat vice president and basketball hall of famer Alonzo Mourning invited Whiteside to dinner on Tuesday presumably to congratulate…

Upvote Share Tweet

profootballtalk.com

Jan 27 (yesterday)

A look at Bills DE Jerry Hughes as he approaches free agency. How can the Dolphins create cap space for the offseason? The Patriots believe they can run the ball on the Seahawks. Seahawks coach Pete Carroll called trading Percy Harvin to the Jets a "dif…

Upvote Share Tweet

deadspin.com

Jan 26 (2 days ago)

Dolphins cornerback Brent Grimes just went to the Pro Bowl for the second straight season and made its biggest highlight (if such a thing exists) with this pretty interception. What should've been a good weekend for Brent and his wife Miko was not, as M…

Upvote Share Tweet

profootballtalk.com yahoo.com

Jan 26 (2 days ago)

Dolphins cornerback Brent Grimes played well in the Pro Bowl on Sunday, but he was not named the game's Most Valuable Player. That has Grimes's wife very unhappy. As a result, Miko Grimes went off on an epic Twitter rant against the NFL on Monday aftern…

Upvote Share Tweet

Salary cap: Dolphins underperforming vs. NFL

miamiherald.com

Jan 26 (3 days ago)

Miami Dolphins general manager Dennis Hickey last week made the point that "difficult decisions" loom this offseason when it comes to the salary cap. And I've been thinking about this because while I'm certain the team's cap braintrust (Hickey…

Upvote Share Tweet

Rumor Roundup: What to watch as trade deadline draws near

thehockeynews.com

Jan 26 (3 days ago)

With the 2015 NHL All-Star Game now history and teams returning to action on Tuesday, the focus shifts toward the approaching NHL trade deadline on March 2. It's expected trade activity will increase over the next five weeks as more clubs fall out of pl…

Upvote Share Tweet

Ichiro Suzuki Lands With Marlins

Jan 28

ESPN senior baseball writer Jerry Crasnick discusses Ichiro Suzuki's one-year deal with the Marlins.

Mayweather And Pacquiao Talk At Bucks-Heat Game

Jan 27

Floyd Mayweather Jr. and Manny Pacquiao met in person for the first time during halftime of the Milwaukee Bucks' game against the Miami Heat.

Bucks Take Down Heat

Jan 27

Jerryd Bayless had 15 points and seven assists to lead the Bucks past the Heat 109-102.

Serena: 'I Would Love To Be A Linebacker'

Jan 26

Serena Williams, partial owner of the Miami Dolphins, talks about the top players in the men's and women's tennis circuits and picks which NFL position they would be best suited for.