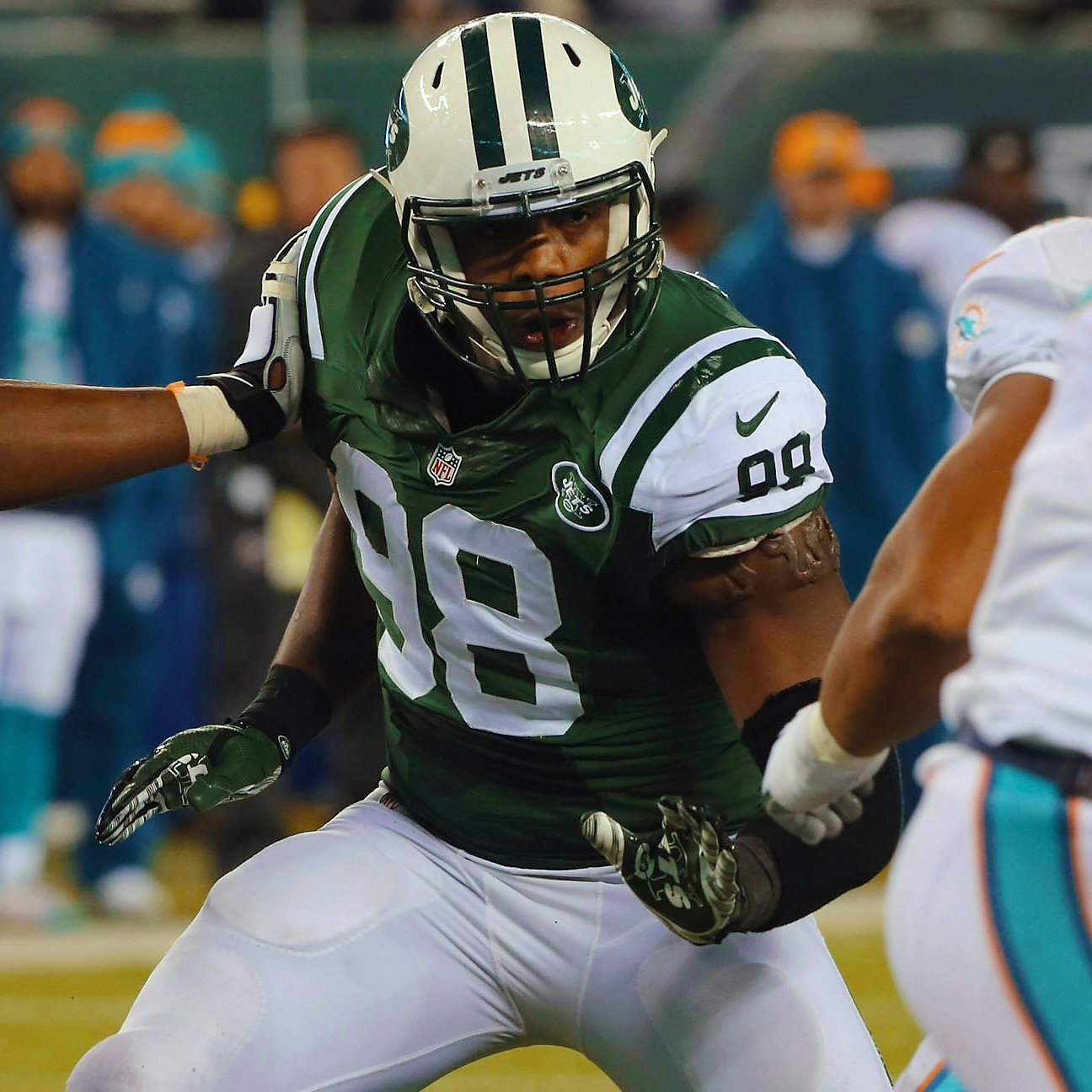 ESPN.com
profootballtalk.com
miamiherald.com
Updated 7 hours ago
New Dolphins DE Quinton Coples on playing Jets: 'It brings chills to me'
Share
Tweet
MLB.com

7 hours ago

Marlins outfielder Marcell Ozuna is garnering plenty of trade interest from a number of teams, but no deal is considered imminent, according to a source.

Share Tweet

Justise Winslow and Stanley Johnson renew friendly rivalry

miamiherald.com

9 hours ago

Justise Winslow was there for the Detroit Pistons at No. 8. Stan Van Gundy went a different direction. The former Heat coach, who now holds that title as well as president for the Pistons, passed on the Duke product to take Stanley Johnson, a swingman f…

Share Tweet

profootballtalk.com

11 hours ago

The Bills blew an opportunity on Monday night. London-born Dolphins RB Jay Ajayi is getting a lot of attention overseas. Said Patriots owner Robert Kraft on the inadvertent whistle on Monday night, "Well, we won the game. I am very happy about that. I t…

Share Tweet

Dolphins getting pummeled by AFC East foes in 2015

ESPN.com

15 hours ago

Dolphins getting pummeled by AFC East foes in 2015

Share Tweet

Jimmy Johnson an HOF semifinalist

miamiherald.com

21 hours ago

Former Dolphins coach Jimmy Johnson and former University of Miami standout running back Edgerrin James are among the 25 modern-era semifinalists that will go on to the whittling process of selecting the 2016 Pro Football Hall of Fame class. Johnson coa…

Share Tweet

Whiteside (illness), Deng (tight left hamstring) make trip to Detroit; Heat reassign Stokes to D-League

miamiherald.com

Nov 24 (yesterday)

The bug that's been going around the Heat locker room finally caught up to Hassan Whiteside. The shot-swatting center missed Tuesday's practice, but still made the flight to Detroit with his teammates. Forward Luol Deng (tight left hamstring) was held o…

Share Tweet

Patriots, Panthers can clinch playoff spots this week

profootballtalk.com

Nov 24 (yesterday)

The NFL playoff picture usually doesn't start to take shape until December, but the 10-0 Patriots and 10-0 Panthers both have the opportunity to clinch playoff berths on Sunday. The Patriots clinch the AFC East if they beat the Broncos on Sunday night a…

Share Tweet

yahoo.com

Nov 24 (yesterday)

Dallas Cowboys' star Dez Bryant has his share of head-shaking moments, but the receiver can also surprise you in a good way. Receivers and cornerbacks are frequently called the divas of the sport (a well-earned reputation), but on Sunday, after the Cowb…

Share Tweet

Dolphins held "take ownership" meeting on Monday

profootballtalk.com

Nov 24 (yesterday)

The Dolphins fell to 4-6 against the Cowboys in Week 11 and they held a meeting on Monday to discuss the mistakes that contributed to the 24-14 loss. Coach Dan Campbell said the idea wasn't to call out players for their errors, but to have them "take ow…

Share Tweet

Miami offensive line not built with division rivals in mind

miamiherald.com

Nov 24 (yesterday)

The Miami Dolphins play in the AFC East and have been there for years and years. This is not news to the organization or anyone else. And so it stands to reason they should know that the teams they have to match up against, first and foremost, are their…

Share Tweet

NHL.com

Nov 24 (yesterday)

SUNRISE, Fla. - The Los Angeles Kings feel they are back on track. Jonathan Quick bounced back from a poor performance and Alec Martinez scored the go-ahead goal late in the second period to lift the Kings over the Florida Panthers 3-1 on Mon...

Share Tweet

MLB.com deadspin.com

Nov 23 (yesterday)

Tommy Hutton, the popular television color analyst for the Marlins, will not be returning to Fox Sports Florida in 2016. After 19 years in the booth, the team and network are moving in another direction.

Share Tweet

NHL.com

Nov 23 (yesterday)

SUNRISE, Fla. -- Florida Panthers goalie Al Montoya did not return Monday against the Los Angeles Kings after leaving midway through the first period because of an apparent head injury. Montoya, making his first start since Nov. 5, was injured ...

Share Tweet

Marlins, Boras discuss Fernandez's workload

MLB.com

Nov 23 (2 days ago)

The Marlins recently reached out to agent Scott Boras to discuss an innings plan for Jose Fernandez, a source told MLB.com. Via a conference call, the two sides talked about how best to use the 2013 National League Rookie of the Year in the upcoming sea…

Share Tweet

Luongo one win from eighth all-time — does he have Hall of Fame credentials?

thehockeynews.com

Nov 23 (2 days ago)

With one more victory, Roberto Luongo will take sole possession of eighth all-time in wins. It will be Luongo's 408th victory, putting him one ahead of Glenn Hall and leaving Luongo only 14 wins shy of passing Tony Esposito for seventh all-time. But eve…

Share Tweet

Deng (tight left hamstring) will be a game-time decision for Heat vs. Knicks

miamiherald.com

Nov 23 (2 days ago)

Luol Deng has played through pain before. If he suits up tonight against the Knicks he'll probably do so again. The 12-year veteran forward has been dealing with a tight left hamstring that's been bothering him since the third quarter of Saturday's win …

Share Tweet

At 4-6, it's time for Dolphins to start thinking about 2016

ESPN.com

Nov 23 (3 days ago)

At 4-6, it's time for Dolphins to start thinking about 2016

Share Tweet

Dolphins must look to next head coach to break free of mediocrity

miamiherald.com

Nov 23 (3 days ago)

"Time to start searching for the next coach." That's a text I got from a source, a former NFL club executive, who witnessed the Miami Dolphins loss to the Dallas Cowboys Sunday afternoon. And it wasn't so much that the Dolphins are a bad team …

Share Tweet

Todd Bowles needs to get Jets ready for must-win game

Nov 25

ESPN Jets reporter Rich Cimini says it's up to first-year coach Todd Bowles to re-establish his team's identity, run the ball and play defense during Sunday's matchup against Miami.

Can the Cowboys win the NFC East?

Nov 22

Cary Chow and Field Yates break down the Cowboys' 24-14 win over the Dolphins.

Romo, Grimes the players of the game

Nov 22

Cowboys QB Tony Romo, who had two key touchdown throws in his return from a broken collarbone, earned a game ball, and Dolphins CB Brent Grimes, who had five tackles and an interception off Romo's, takes the game ball for the Dolphins.

Cowboys happy to get win in Romo's return

Nov 22

Cowboys coach Jason Garrett and QB Tony Romo talk about the win over the Dolphins and what the return of Romo means to the team.

Sports Columnists

Future NBA cornerstone (Insider)

Nov 25

Chad Ford says the LSU freshman has special qualities. "I think what scouts love the most is how Simmons plays the game. He plays with a calm demeanor...

NBA: Opponents can't afford to give Golden State Warriors second looks

Nov 22

For Golden State, offensive boards equal a wide-open -- and dangerous -- Steph Curry. Teams that want a chance against the champs must limit their second looks, writes J.A. Adande.

NBA: Warriors are having a blast making history

Nov 20

Winning is a feat and a mindset built by repetition. The Warriors have grasped the concept and mastered the approach and are leaving the rest of the NBA behind.