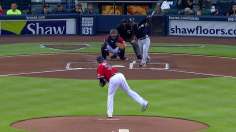 nytimes.com
MLB.com
Updated 8 hours ago
Jarred Cosart pitched seven effective innings, and the Miami Marlins beat the Atlanta Braves 4-0 on Saturday night to stop a three-game losing streak.
Upvote
Share
Tweet
nytimes.com

10 hours ago

Offensive lineman Jonathan Martin, who had a tumultuous departure from the Miami Dolphins last October amid a bullying scandal, made the 49ers when the team trimmed its roster to the NFL's 53-man limit on Saturday.

Upvote Share Tweet

Kimbrel joins short, elite list with 40th save

MLB.com

11 hours ago

Craig Kimbrel joined yet another exclusive club when he notched his Major League-high 40th save to end Friday night's 5-2 win over the Marlins. According to the Elias Sports Bureau, Kimbrel became just the third Major League pitcher to register 40 or mo…

Upvote Share Tweet

profootballtalk.com ESPN.com miamiherald.com

13 hours ago

When Dolphins center Mike Pouncey needed offseason hip surgery, there was talk that he'd have to miss most of the season. But the Dolphins think he'll be back soon. The Dolphins released their roster cuts today, and the big news was that Pouncey wasn't …

Upvote Share Tweet

ESPN.com profootballtalk.com

13 hours ago

Most significant move: The biggest move the Miami Dolphins made Saturday was releasing running back Daniel Thomas, a second-round pick in 2011. Thomas was once expected to be a future building block on offense. But Thomas never showed the skills needed …

Upvote Share Tweet

miamiherald.com

13 hours ago

The Miami Dolphins have set their 53-man roster today. Here are the roster moves: WAIVED: DT Isaako Aaitui G David Arkin C Sam Brenner WR Kevin Cone G Evan Finkenburg CB Kevin Fogg WR Matt Hazel S Jordan Kovacs QB Seth Lobato TE Kyle Miller DE Tevin Mim…

Upvote Share Tweet

Extra Bases: Fire Sale Begins to Pay Off for Marlins, for Now

nytimes.com

16 hours ago

Miami entered Friday at 65-67, after finishing 62-100 last season. A winning record is a possibility few saw coming after the Marlins traded five veterans to Toronto after their expensive flop in 2012.

Upvote Share Tweet

Rumor Roundup: Vinny Lecavalier and Joe Thornton trade buzz

thehockeynews.com

20 hours ago

Earlier this summer there was speculation the Philadelphia Flyers were shopping center Vincent Lecavalier. If Lecavalier is troubled by the trade rumors, Flyers coach Craig Berube told NJ.com's Randy Miller the veteran center should get over it and focu…

Upvote Share Tweet

nytimes.com MLB.com

Aug 29 (yesterday)

Justin Upton homered and had three RBIs, Jason Heyward drove in the go-ahead run in the seventh inning and the Atlanta Braves beat the Miami Marlins 5-2 on Friday night for their third straight win.

Upvote Share Tweet

Dolphins cutting players today

miamiherald.com

Aug 29 (yesterday)

The Dolphins have begun to get down to the 53 man roster limit. The team moments ago told tight end Kyle Miller he is being released. Miller, with the team the past two seasons, was vying for the third tight end job with Gator Hoskins and Evan Wilson. A…

Upvote Share Tweet

Jared Odrick: Big man, small car

ESPN.com

Aug 29 (yesterday)

DAVIE, Fla. -- Jared Odrick is a 6-foot-5, 304-pound defensive lineman for the Miami Dolphins. The five-year veteran punishes offensive linemen, tackles running backs and sacks quarterbacks for a living. The Fiat 500 is one of the tiniest cars on the ma…

Upvote Share Tweet

Dion Jordan's suspension officially begins

ESPN.com

Aug 29 (yesterday)

Miami Dolphins defensive end Dion Jordan pressured St. Louis Rams quarterback Garrett Gilbert on the final drive Thursday to help seal Miami's 14-13 preseason victory. But after the final snap and in the locker room, reality set in for the Dolphins that…

Upvote Share Tweet

deadspin.com nytimes.com

Aug 29 (yesterday)

Some people are fans of the Miami Dolphins. But many, many more people are NOT fans of the Miami Dolphins. This 2014 Deadspin NFL team preview is for those in the latter group.Read more...

Upvote Share Tweet

profootballtalk.com

Aug 29 (yesterday)

The Bills offense couldn't find the end zone in the preseason finale. DT Garrison Smith made a strong final impression on the Dolphins. Patriots WR Aaron Dobson caught a touchdown in his first preseason action of the year. If WR Stephen Hill needed a st…

Upvote Share Tweet

Updates on McCain, Jordan, 2013 draftees, RG...

miamiherald.com

Aug 29 (2 days ago)

Dolphins linebacker Chris McCain is going to make the team. He is the most pleasant surprise of this Dolphins preseason, given that he had not played football since last September when he was kicked off the Cal football team for "conduct detrimenta…

Upvote Share Tweet

miamiherald.com

Aug 28 (3 days ago)

Ryan Tannehill is not playing. Matt Moore is expected to be the starting quarterback for the Dolphins tonight and he will get the bulk of the work in the first half at least. Eventually, Seth Lobato will relieve Moore at quarterback and get to make his …

Upvote Share Tweet

D-Wade & Gabrielle Union Make Wedding Guests Sign Non-Disclosure Agreement

dimemag.com

Aug 28 (3 days ago)

The upcoming nuptials on Saturday between Heat guard Dwyane Wade and his actress/model girlfriend Gabrielle Union, is sure to include a bevy of stars in attendance, but good luck finding any delicious gossip about what goes on during their "I do's." The…

Upvote Share Tweet

Does Tannehill get to 24 TDs again?

miamiherald.com

Aug 28 (3 days ago)

I do not gamble. I don't even play the lottery. I suggest you don't do it, either. But I study, with interest, the annual Las Vegas and Bovada over under numbers for team victories because those people are in business to make money and they often "…

Upvote Share Tweet

ESPN.com nytimes.com

Aug 28 (3 days ago)

Mike Trout tied a career high with his 30th home run, Gordon Beckham homered for the first time with his new club, and the Los Angeles Angels beat the Miami Marlins 6-1 Wednesday night.

Upvote Share Tweet

Marlins Shut Out Braves

Aug 30

Donovan Solano drove in two runs in the Marlins' 4-0 win over the Braves.

Sam Makes Six Tackles In Preseason Finale

Aug 28

Michael Sam had six tackles in the Rams' 14-13 loss to the Dolphins.

Jared Odrick: Big Man, Small car

Aug 28

Defensive lineman Jared Odrick has turned heads in the Miami Dolphins' parking lot when he unfolds his 6-foot-5, 304-pound frame from his tiny Fiat rental.

Dolphins Who Impressed

Aug 28

ESPN's Britt McHenry and James Walker break down the Dolphins who impressed in the final preseason game.