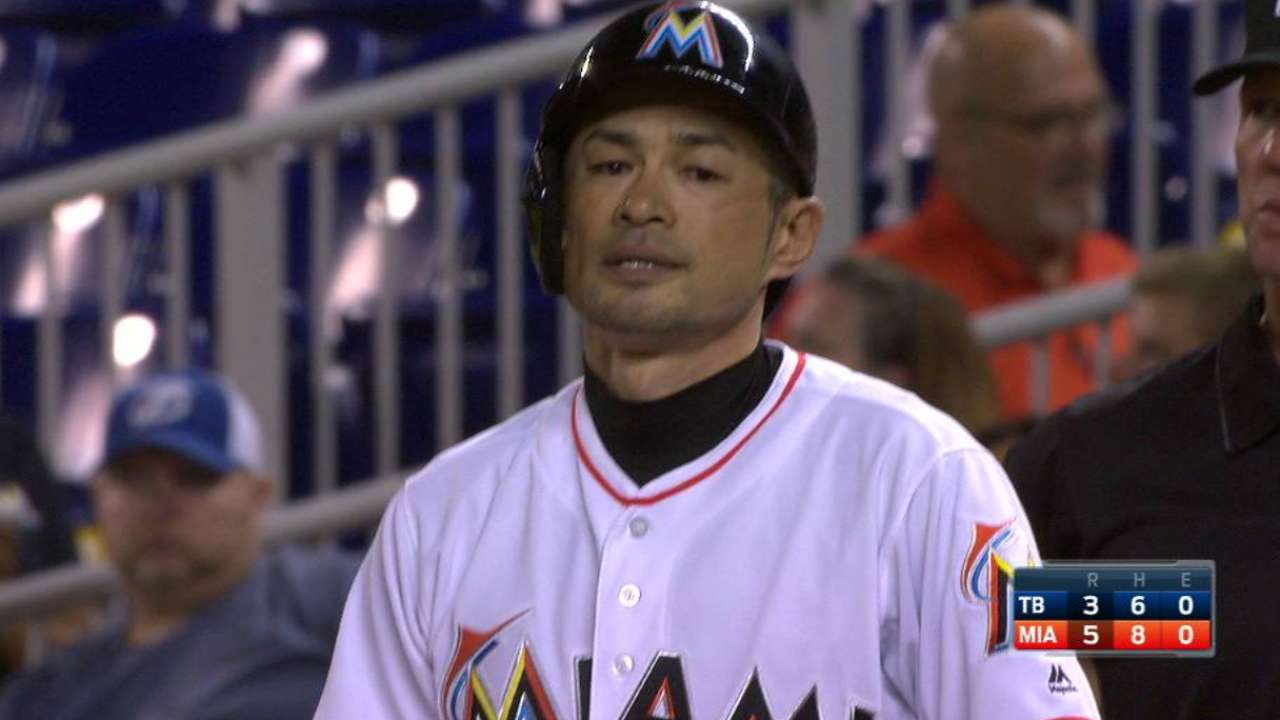 MLB.com
Updated 6 hours ago
Each plate appearance is reason to celebrate, and the Marlins are certainly rejoicing the resurgence of Ichiro Suzuki, the ageless 42-year-old bringing youthful enthusiasm to Miami.
Share
Tweet
Suzuki's 4 Hits Help Marlins Rally Past Rays 7-6

nytimes.com

7 hours ago

Ichiro Suzuki is rapidly pulling away from Wee Willie Keeler on the all-time hit list with the same approach made famous by the late Hall of Famer.

Share Tweet

Panthers' off-season shakeup continues with firing of director of scouting Scott Luce

thehockeynews.com

16 hours ago

Coming off of arguably the most successful season in franchise history, the Florida Panthers surprised some by shuffling the deck in their front office and the changes keep coming. Last week, the Panthers officially announced they had moved GM Dale Tall…

Share Tweet

Jay Ajayi: I've been excited since Lamar Miller moved on

profootballtalk.com

21 hours ago

The Dolphins pursued a few veteran running backs during free agency, but none of them wound up joining the team's roster which makes third-round pick Kenyan Drake the only significant addition to the backfield this offseason. It also opened the door wid…

Share Tweet

profootballtalk.com

23 hours ago

The Bills hope their defensive line is more effective this season. Dolphins DE Mario Williams is selling his house in Buffalo. A few things to keep an eye on at Patriots OTAs. Willie McGinest is a big fan of Jets DE Muhammad Wilkerson. Getting to know a…

Share Tweet

MLB.com nytimes.com

May 22 (yesterday)

When Max Scherzer is on his game, the Nationals are in capable hands. The ace once again was sharp, striking out eight over eight innings in an 8-2 win over Miami on Sunday afternoon at Marlins Park.

Share Tweet

Hit No. 2,955 moves Ichiro up all-time list

MLB.com

May 22 (yesterday)

Marlins outfielder Ichiro Suzuki in his first at-bat on Sunday followed Willie Keeler's famous motto: He hit it "where they ain't." Ichiro's single to center off Washington's Max Scherzer was career No. 2,955, which matched Keeler for 32nd all…

Share Tweet

Devontae Booker: I'm in Denver to take someone's job

profootballtalk.com

May 22 (yesterday)

The Broncos opened up the offseason with their top two rushers from last year headed for free agency, but neither one wound up leaving town. C.J. Anderson signed an offer sheet with the Dolphins as a restricted free agent, but the Broncos matched the fo…

Share Tweet

MLB.com nytimes.com

May 21 (2 days ago)

Facing the the first-place Nationals has brought out the best in Marlins ace Jose Fernandez. The 23-year-old right-hander struck out nine in six innings, and backed by Justin Bour's two-run home run and Ichiro Suzuki's four-hits, Miami held on for a 3-2…

Share Tweet

yahoo.com

May 21 (3 days ago)

When you think Miami Marlins baseball, the first images that come to mind are of Jose Fernandez pitching a gem, Giancarlo Stanton hitting moonshot home runs and Marlins Man showing up at every sporting event known to man. Two of those things remain true…

Share Tweet

The Heat's No. 1 Offseason Priority Is Reportedly To 'Get In A Room' With Kevin Durant

dimemag.com

May 21 (3 days ago)

Getty Image The Miami Heat made a huge splash a few years ago when they signed LeBron James and Chris Bosh. It worked out well for them, but now James is gone, and Chris Bosh has health questions. The Heat have a lot of options this offseason with a num…

Share Tweet

MLB.com nytimes.com

May 20 (3 days ago)

Six days after facing Justin Nicolino in Washington, the Nationals had a pretty good idea of what to expect on Friday night. So they came out swinging, and behind second-inning home runs from Ryan Zimmerman and Michael Taylor, the Nationals broke out to…

Share Tweet

Dwyane Wade And LeBron James Are Secure Enough To Say They Love Each Other

dimemag.com

May 20 (4 days ago)

Getty Image Even though they now play on different teams, LeBron James and Dwyane Wade are bros for life after winning two titles together with the Miami Heat. Recently, we've seen D-Wade and The King reunite for a workout and even talk about trying to …

Share Tweet

The Dolphins have said both privately and publicly that there were no concerns prior to the draft about tackle Laremy Tunsil's ankle. There also were no private or public concerns about Tunsil's ankle among league insiders before the draft. Per a source…

Share Tweet

The Miami Heat Are Apparently Counting On Chris Bosh To Return Next Season

dimemag.com

May 20 (4 days ago)

Getty Image Chris Bosh is a future Hall of Famer, and, at 32, should have a few more good years left in him for the Miami Heat. However, the last couple of seasons have been cut short for Bosh because of issues with blood clots, which is something parti…

Share Tweet

yahoo.com

May 20 (4 days ago)

We've been here before. Sixteen days ago, to be exact. Toronto Raptors point guard Kyle Lowry was mired in a historically awful shooting slump following a Game 1 loss to the Miami Heat in the Eastern Conference semifinals, so he spent all night searchin…

Share Tweet

Cameron Wake has "exceeded expectations" in Achilles recovery

The Dolphins signed defensive end Cameron Wake to a two-year contract extension earlier this offseason, which was a signal that the team felt good about his chances of making a full recovery from last year's torn Achilles tendon. On Friday, executive vi…

Share Tweet

The Bills may not have done enough at wide receiver this offseason. Winning games and winning trust from the fanbase go hand in hand for the Dolphins. Patriots DE Rob Ninkovich feels younger than the calendar says he is. How does this year's quarterback…

Share Tweet

Will change in Dolphins' defensive scheme impact Suh?

May 16

Josina Anderson and Darren Woodson break down how new defensive coordinator Vance Joseph will change the Dolphins' defense and how it will impact Ndamukong Suh

Dolphins' plan for Tunsil

May 11

ESPN Dolphins reporter James Walker explains how Miami will plan on using Laremy Tunsil as OTAs near.

Tunsil has great time at news conference

May 7

Laremy Tunsil speaks to reporters on Saturday and is clearly already very comfortable with this part of the job.

Did Tunsil put draft night fiasco to bed?

May 7

Mark Schlereth and Jeremy Fowler say there are still unanswered questions about what happened with Laremy Tunsil's past, but all will be forgiven if he performs on the football field.