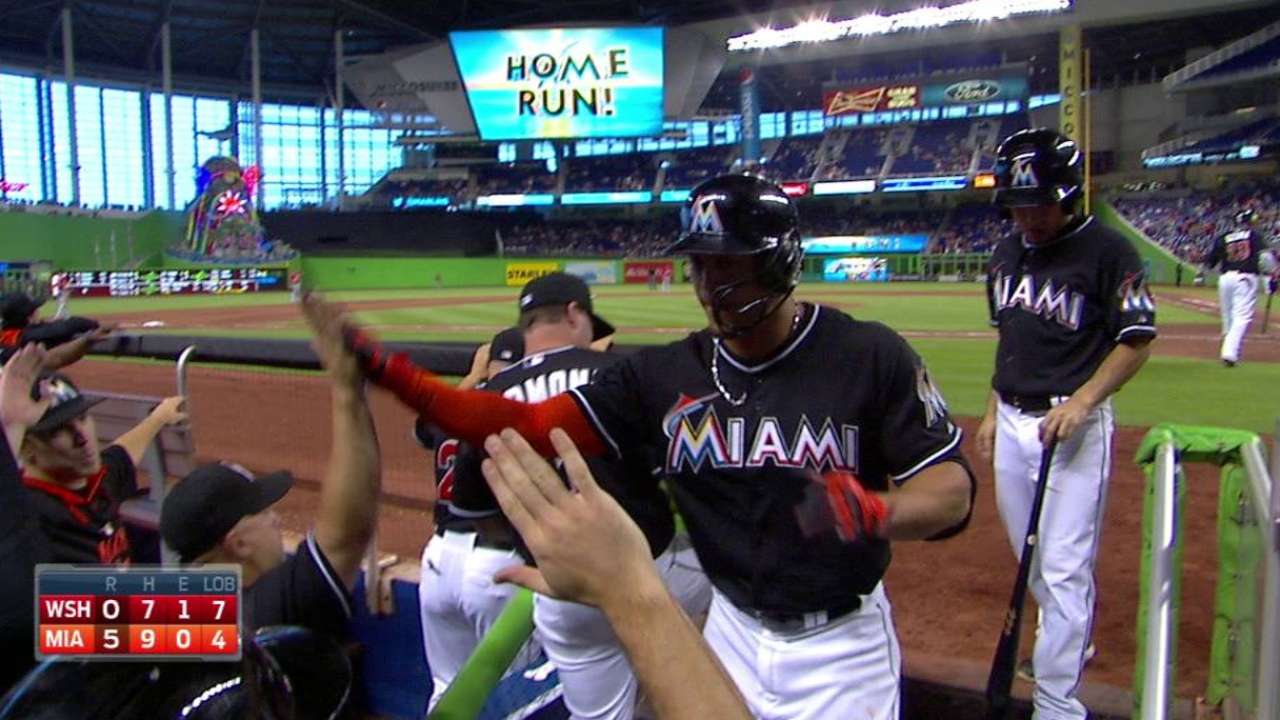 Stanton, Marlins send Nats to fourth straight loss
MLB.com
Updated 9 hours ago
Tom Koehler threw 7 1/3 scoreless innings on Saturday, and he kept the momentum rolling for the Marlins. Behind the right-hander's gem, Giancarlo Stanton and Adeiny Hechavarria both went yard as Miami blanked the Nationals, 8-0, at Marlins Park.
Share
Tweet
nytimes.com

15 hours ago

Tom Koehler outpitched Stephen Strasburg, Giancarlo Stanton homered, and the revitalized Miami Marlins earned their fourth win in a row.

Share Tweet

Koehler, Marlins Win 4th in a Row, Beat Nationals 8-0

nytimes.com

9 hours ago

Tom Koehler outpitched Stephen Strasburg, Giancarlo Stanton homered and the revitalized Miami Marlins earned their fourth win in a row Saturday by beating the slumping Washington Nationals 8-0.

Share Tweet

NHL.com

17 hours ago

Florida Panthers forward Jaromir Jagr is part of the Czech Republic roster for the 2015 IIHF World Championship set to take place in Prague and Ostrava beginning May 1, according to a release on the IIHF website. Jagr, who earlier this month si...

Share Tweet

nytimes.com

Apr 24 (yesterday)

James Loney, Rene Rivera and Tim Beckham each hit a two-run homer as Tampa Bay beat Toronto by 12-3.

Share Tweet

MLB.com nytimes.com

Apr 24 (yesterday)

For the third straight game, Martin Prado delivered the biggest hit of the game with a tie-breaking RBI single in the bottom of the eighth to lift the Marlins to a 3-2 win over the Nationals on Friday night.

Share Tweet

Marlins put Yelich on DL with lower back strain

MLB.com

Apr 24 (yesterday)

Marlins left fielder Christian Yelich, who sat out all three games of the series at Philadelphia with back tightness, was placed on the 15-day disabled list on Friday with a lower back strain.

Share Tweet

Dolphins sidestep questions about Dion Jordan

Dolphins pass-rusher Dion Jordan is skipping the team's offseason conditioning workouts. Which is certainly his right, they're voluntary. But the tone Dolphins officials took today regarding the 2013 No. 3-overall pick was certainly interesting. Via Arm…

Share Tweet

Giancarlo Stanton And His Big Haunches Smack A Laser Into Left Field

deadspin.com

Apr 24 (yesterday)

Every Giancarlo Stanton home run is a gift. This can't be stressed enough. Jeffrey Loria sucks, but whatever. Let's be thankful that last September, Mike Fiers didn't give the Marlins slugger a similar fate as Tony Conigliaro.Read more...

Share Tweet

Miami Pitcher Jose Fernandez, From Cuba, Becomes US Citizen

nytimes.com

Apr 24 (yesterday)

Miami Marlins pitcher Jose Fernandez, a native of Santa Clara, Cuba, become a U.S. citizen Friday and was the keynote speaker during the ceremony for 140 other South Florida residents.

Share Tweet

PFT Live: Greg Jennings, Chance Warmack, Thomas Dimitroff

Wide receiver Greg Jennings landed a new job with the Dolphins this week and we'll talk to him about it on Friday's edition of PFT Live. Jennings signed a two-year deal with Miami after visiting a few teams following his release from the Vikings and he'…

Share Tweet

Should the Bills draft a quarterback? Assessing the pros and cons of the Dolphins making a trade in the first round. Said Patriots DE Chandler Jones of seeing former teammates at the White House, "Seeing those guys again, seeing Darrelle Revis, seeing S…

Share Tweet

thehockeynews.com yahoo.com NHL.com

Apr 23 (2 days ago)

Thursday evening the NHL continued its week of rolling out the finalists for the major awards, as Calgary Flames winger Johnny Gaudreau, Florida Panthers blueliner Aaron Ekblad and Ottawa Senators winger Mark Stone were named finalists for the Calder Tr…

Share Tweet

Stanton's two-run laser lands in a few seconds

MLB.com

Apr 23 (3 days ago)

Two days after hitting a 449-foot blast over the Phillies' bullpen and into the Marlins' 'pen in right-center field, Marlins slugger Giancarlo Stanton was at it again at Citizens Bank Park on Thursday in Miami's 9-1 win, delivering a laser home run to l…

Share Tweet

Phelps, Hechavarria and Prado Lead Marlins Over Phillies 9-1

nytimes.com

Apr 23 (3 days ago)

David Phelps tossed three-hit ball over seven innings, Martin Prado drove in four runs and Adeiny Hechavarria had four hits to help the Miami Marlins beat the Philadelphia Phillies 9-1 Thursday.

Share Tweet

miamiherald.com

Apr 23 (3 days ago)

Greg Jennings had choices and ultimately signed with the Miami Dolphins despite knowing the team might still add another wide receiver this offseason -- perhaps as early as the first round of next week's NFL draft. What would be Jennings' reaction to th…

Share Tweet

yahoo.com profootballtalk.com

Apr 23 (3 days ago)

If you're in South Florida, you request an Uber driver and you're getting picked up by A.J. in a Dodge Charger, you might be in for one heck of an interesting ride. That's because it could be the automobile of Miami Dolphins defensive lineman A.J. Franc…

Share Tweet

Greg Jennings signs with Dolphins

Apr 22

ESPN Dolphins reporter James Walker discusses the Dolphins signing Greg Jennings to a two-year deal and what he will bring to the team.

Dolphins shouldn't trade into top 10

Apr 17

ESPN Dolphins reporter James Walker says it would be a mistake for Miami to trade up in the draft, because it could leave the team with just one pick in the first three rounds.

Miami Dolphins working on extension for quarterback Ryan Tannehill

Apr 13

NFL Media Insider Ian Rapoport reports that the Miami Dolphins are hoping to sign quarterback Ryan Tannehill to a contract extension before the beginning of the season.

Pouncey, Dolphins agree to extension

Apr 10

David Lang, executive producer of Local 10 Sports in Miami, breaks down center Mike Pouncey agreeing to a five-year, $52.15 million extension with the Dolphins.