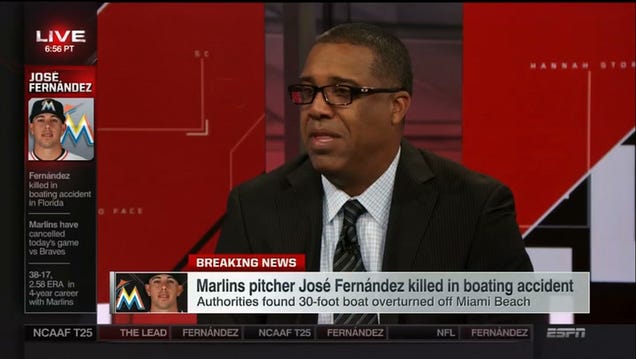 Eduardo Pérez's José Fernández Remembrance Was Incredible
deadspin.com
Updated 1 hour ago
If you're waking up today to the news that José Fernández is dead , and perhaps don't quite understand how influential the Marlins pitcher and Cuban refugee was to people in Miami and to baseball fans around the world, you need to watch ESPN analyst Edu…
Share
Tweet
Four RBs for Dolphins today; Drake starting for Foster today

miamiherald.com

16 minutes ago

Welcome to the Kenyan Drake era. Ok, so the Dolphins rookie is starting for injured Arian Foster today and that is likely to change when Foster returns from his groin injury. The Dolphins indeed are bringing four running backs to the game today: Drake, …

Share Tweet

nytimes.com deadspin.com yahoo.com MLB.com

1 hour ago

Miami Marlins pitcher Jose Fernandez has died age 24, the team confirmed in a statement on Sunday with media reports saying he was killed in a boating accident on Miami Beach.

Share Tweet

Sports world reacts to the news of Jose Fernandez's shocking death

yahoo.com

1 hour ago

Miami Marlins star pitcher Jose Fernandez was one of three people who died in a boating accident in Miami Beach on Sunday morning. He was 24. As word of his death spread, the sports world took to Twitter to react to the shocking news. Statement from the…

Share Tweet

Report: Kenyan Drake to be top back for Dolphins Sunday

profootballtalk.com

2 hours ago

Before the Dolphins signed Arian Foster this summer, it looked like Jay Ajayi would be the top running back in Miami this season. Foster won't be in the lineup Sunday because of a groin injury, but the Dolphins are reportedly going with a running back o…

Share Tweet

profootballtalk.com

3 hours ago

Changing offensive coordinators takes an excuse off the table for the Bills. The Dolphins defense didn't have much tape on Browns QB Cody Kessler as a professional to watch heading into Sunday. The Patriots don't mind the extended break after playing on…

Share Tweet

Dietrich homers as Marlins snap Braves' streak, stay alive in WC

MLB.com

13 hours ago

There's still a heartbeat, albeit a faint one. The Marlins are still alive and kicking in the National League Wild Card race after snapping the Braves' seven-game win streak with a 6-4 victory on Saturday night at Marlins Park.

Share Tweet

Freeman extends hit streak to 28 on RBI single

MLB.com

13 hours ago

Braves first baseman Freddie Freeman extended the longest active hitting streak in the Majors to 28 games when he produced an RBI single off Wei-Yen Chen during the first inning of Saturday's game against the Marlins.

Share Tweet

Twitter's NFL stream won't build momentum in Week Four

profootballtalk.com

19 hours ago

Twitter scored an impressive 34-percent increase in average viewership for its live stream of Thursday Night Football from Week Two to Week Three. For Week Four, count on a 100-percent drop. The game between the Dolphins and Bengals will be televised on…

Share Tweet

miamiherald.com yahoo.com

21 hours ago

Late Friday night, in light of the news of his failed physical with the Miami Heat, Chris Bosh released a statement to his fans on social media. In it, he hinted that despite the setback and recurrence of clotting in his body, that he was in no way cons…

Share Tweet

yahoo.com

Sep 24 (yesterday)

Yahoo Last Season: 47-26-9 (103 points), 1st in the Atlantic, 3rd in the East It was the most successful season in franchise history with records set in wins (47) and points (103), and a second division title banner earned. There was also a bit of Holly…

Share Tweet

miamiherald.com

Sep 24 (yesterday)

My column in Saturday's Miami Herald explains why the Miami Dolphins are not worried about their so-far anemic running game even though the statistics and other issues suggest they have problems. Coach Adam Gase has been quite confident the running game…

Share Tweet

Jennings announces retirement after 10 seasons

Jul 25

Wide receiver Greg Jennings tells Trey Wingo about his decision to retire and says that he is excited to see what the future holds beyond playing football.

How will Foster help the Dolphins?

Jul 18

Jim Trotter doesn't believe that Arian Foster is going to be a difference-maker for the Dolphins after Foster agreed to a 1-year deal with the team.

Dolphins, Lions best fit for Foster

Jul 18

The NFL Insiders crew breaks down where free agent RB Arian Foster should sign this season.

Dolphins the best fit for Arian Foster

Jul 18

Jim Trotter and Jeff Saturday agree that Miami is the best fit for free agent running back Arian Foster.