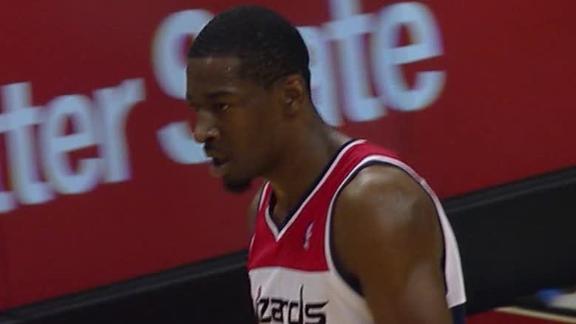 ESPN.com
Updated Dec 4, 2012
The Wizards doubled their victory total this season with a 105-101 win over the Heat on Tuesday night, despite LeBron James' triple-double of 26 points, 13 rebounds and 11 assists.
Share
Tweet
ESPN.com profootballtalk.com miamiherald.com

Dec 4, 2012

The Miami Dolphins put four-time Pro Bowl left tackle Jake Long on injured reserve Tuesday evening. Long tore his tricep muscle in the first half of Sunday's 23-16 loss to the New England Patriots. But here is the multi-million dollar question: Did Long

Share Tweet

CNNSI.com

Dec 4, 2012

FOXBOROUGH, Mass. (AP) -- The New England Patriots are dealing with another injury.

Share Tweet

Karlos Dansby disagrees with Philbin and Coyle

miamiherald.com

Dec 4, 2012

You already know that Dolphins defensive coordinator Kevin Coyle had both Cameron Wake and Jared Odrick, both starters, out of the game in the fourth quarter on Sunday against New England when the Patriots got the ball with seven minutes left to play. A…

Share Tweet

CNNSI.com

Dec 4, 2012

Tom Brady is in the midst of one of the great seasons any quarterback has ever produced -- yet again.

Share Tweet

Patriots' streak of winning seasons best since Montana/Young 49ers

profootballtalk.com

Dec 4, 2012

When the Patriots improved their record to 9-3 with a win over the Dolphins on Sunday, they clinched their 12th consecutive winning season. In the NFL, that's a rare thing. With 12 straight winning records, the Patriots have by far the longest active st

Share Tweet

Outside the Game: A healthier Jorvorskie Lane is doing the most with his second chance

yahoo.com

Dec 4, 2012

Miami Dolphins rookie fullback Jorvorskie Lane was a standout for the Texas A&M Aggies from 2005 through 2008, gaining over 2,000 yards on the ground, and scoring 49 rushing touchdowns. He was expected to make some sort of splash in the NFL right aw…

Share Tweet

deadspin.com

Dec 4, 2012

When Jeffrey Loria decided to once again blow up his Marlins, it sparked a brief outrage over the $500 million in public money that had been spent on the team's brand new stadium. These outrages happen every couple years or so and are forgotten in time …

Share Tweet

profootballtalk.com

Dec 4, 2012

A plea for the Bills to use the remaining weeks to look at young players. The Dolphins tried to explain why defensive linemen Jared Odrick and Cameron Wake weren't on the field for much of a key Patriots fourth quarter drive. WR Brandon Lloyd's role i

Share Tweet

A couple of things went right against New England

miamiherald.com

Dec 4, 2012

I admit it. Sometimes after a loss it's hard for me to focus on what went right. I'm a results oriented person. The NFL is a results oriented league. If the Miami Dolphins lose, I want to know why and I want to expose those reasons. But sometimes guys p

Share Tweet

Wizards Shock Heat For Second Win

Dec 4

Heat fall to Wizards despite triple-double from LeBron James.

Winter Meetings Afternoon Report

Dec 4

Jerry Crasnick and Keith Law discuss the teams interested in OF Shane Victorino and what the Marlins should do with disgruntled OF Giancarlo Stanton.

Highlight Of The Night

Dec 4

Despite triple-double from LeBron James, Wizards shock Heat for just their second win.