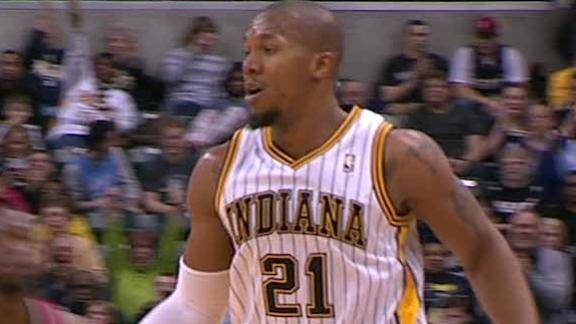 ESPN.com
Updated Feb 1, 2013
David West scored 30 points and Paul George added 15 on Friday night, leading Indiana to a 102-89 victory over Miami.
Share
Tweet
No Fluke: A 102-89 rout gave Indiana its second win over Mi…

CNNSI.com

Feb 1, 2013

A 102-89 rout gave Indiana its second win over Miami this year. Even without Danny Granger, the Pacers are contenders who continue to gain confidence, says Chris Mannix.

Share Tweet

yahoo.com

Feb 1, 2013

LeBron James is making $17,545,000 to play for the Miami Heat this year. That's quite a lot of money, but it's not the most money in the league; Kobe Bryant ($27,849,149) is the league's highest-paid player this season. Actually, nine players are being …

Share Tweet

Heat's James, Spurs' Parker named Kia Players of Month

nba.com

Feb 1, 2013

The Miami Heat's LeBron James and the San Antonio Spurs' Tony Parker today were named the Kia NBA Eastern and Western Conference Players of the Month, respectively, for games played in January.

Share Tweet

profootballtalk.com

Feb 1, 2013

Dave Wannstedt has landed a new job in a surprising place: Tampa Bay, as special teams coach. Wannstedt, the former head coach of the Bears and Dolphins, was added to Greg Schiano's staff today, ESPN's Adam Schefter reports. It's surprising that Wan

Share Tweet

ESPN.com

Feb 1, 2013

In his new role of captain of the Eastern Conference for All-Star Saturday, Dwyane Wade is applying some peer pressure to Miami Heat teammate LeBron James to take part.

Share Tweet

After clearing waivers, Mattison sent to Triple-A

MLB.com

Feb 1, 2013

Kevin Mattison will be with the Marlins in Spring Training after all. After clearing waivers, the Marlins on Friday outrighted Mattison to Triple-A New Orleans. The 27-year-old also will be at Spring Training as a non-roster invite.

Share Tweet

ESPN.com

Feb 1, 2013

We are getting to the very best players in "Walker's Fab 40." For the second year in a row, we rank the top 40 players in the AFC East. Throughout Friday we will complete our rankings. Here are Nos. 5-8: No. 8: Mike Pouncey, C, Miami Dolphins 2012 stats

Share Tweet

Friday morning one-liners

profootballtalk.com

Feb 1, 2013

Former Bills CB Mickey Washington serves on the NFLPA's Former Players board of directors with former Bills teammate Cornelius Bennett. Ted Ginn has moved on to San Francisco and says he has no regrets about his time with the Dolphins. Patriots RB Danny

Share Tweet

Pacers Win Big Over Heat, 102-89

Feb 1

Highlight of the night: Pacers win 13th straight at home.

In LeBron's Face

Feb 1

The Pacers' Paul George hits a fadeaway baseline jumper over LeBron James as Indiana extends its 3rd-quarter lead.

LeBron James Two-handed slam

Feb 1

LeBron James in transition finishes with the two-handed slam.

A New Frontier

Feb 1

Tom Haberstroh breaks down a bunch of cool new data on the Miami Heat provided by SportVU.