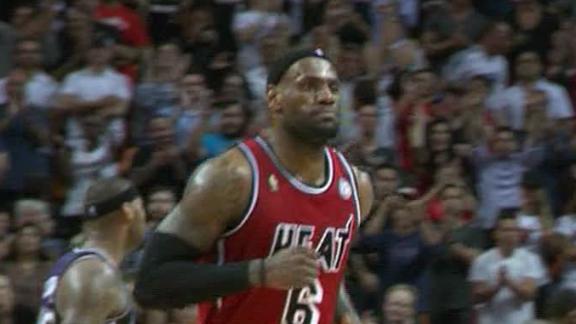 Heat's Battier out with hamstring problem

Updated Feb 26

Share Tweet

Heat forward Shane Battier was held out of Miami's game against the Sacramento Kings on Tuesday night because of tightness in his right hamstring.

Source:

nba.com

Updated Feb 26

Share Tweet

PORT CHARLOTTE, Fla. (AP) -- AL Cy Young winner David Price pitched one scoreless inning and Evan Longoria tested his surgically-repaired hamstring on the basepaths and had an RBI single Tuesday during Tampa Bay's rain-shortened 7-2 victory over a Houst…

Source:

CNNSI.com

Mark Zuckerberg, Bill Gates and Chris Bosh talk about coding

Updated Feb 26

Share Tweet

A very cool short film about the importance of computer coding featuring Bill Gates, Mark Zuckerberg and, of course, Chris Bosh.

Updated Feb 26

Share Tweet

Giancarlo Stanton homered Tuesday on an 0-2 fastball over the plate, a pitch he's likely to seldom see this season.

Updated Feb 26

Share Tweet

CHICAGO (AP) - Cavaliers All-Star guard Kyrie Irving has a hyperextended right knee and will miss tonight's game against the Bulls.

Source:

CNNSI.com

Updated Feb 26

Share Tweet

A cluster of media stood outside the Miami Marlins clubhouse, awaiting the arrival of owner Jeffrey Loria, when outfielder Bryan Petersen walked past.

Updated Feb 26

Share Tweet

You saw what the unofficial times were for the defensive backs in the last post. Now for the official combine 40-yard dash times for the defensive backs: Cornerbacks: Johnthan Banks, Miss. St. 4.61 Dee Milliner, Alabama      4.37 Brandon McGee, UM 

Updated Feb 26

Share Tweet

The Miami Dolphins are expected to lose backup quarterback Matt Moore to free agency in March. The unrestricted free agent is entering the quarterback market at a good time, considering the position is thin in both the draft and free agency. Moore, who …

Updated Feb 26

Share Tweet

Well, you can forget about Dee Milliner falling to the No. 12 pick in the first round. The Alabama cornerback, the best defensive back prospect in the draft, had a fine season and today put an exclamation point on his season with an excellent combine pe…

Updated Feb 26

Share Tweet

The Bills' draft outlook hasn't come into focus yet. The late rounds might provide a tight end for the Dolphins. A position-by-position breakdown of the Patriots. Crunching the combine numbers for a few potential Jets targets. The Ravens met with West

Source:

profootballtalk.com

Patterson talked to media and Dolphins at Indy

Updated Feb 26

Share Tweet

And while we're on the topic of wide receivers, both coming out of college and in free agency, let me address Cordarrelle Patterson here. While at the Indianapolis combine he met with the Dolphins. He's living in South Florida now. The Dolphins need a b…

Heat Survive In 2OT To Win 12th Straight

Feb 26

LeBron James and Dwyane Wade combine for 79 points as Heat hold off Kings in double overtime for the 141-129 win.

Steve Kerr Talks NBA Hoops

Feb 26

Steve Kerr joins "First Take" to talk about the Lakers' playoff chances, the biggest threat to the Heat, who would win a one-on-one battle between Michael Jordan and LeBron James, and why the Knicks are struggling.