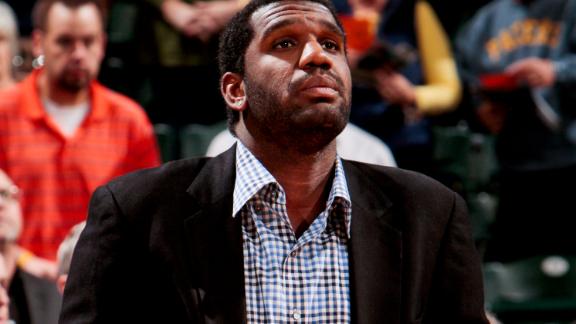 ESPN.com
CNNSI.com
miamiherald.com
Updated Jan 29, 2013
The Miami Heat and Cleveland Cavaliers have emerged as the top teams to sign 2007 No. 1 overall pick Greg Oden, according to a CBSSports.com report.
Share
Tweet
nba.com

Jan 29, 2013

P.J. Carlesimo is convinced after a month on the job: The Brooklyn Nets are a winning team.

Share Tweet

Barclays Center? LeBron is excited after all

miamiherald.com

Jan 29, 2013

***POST EDITED*** So, it appears LeBron is, after all, excited to be playing at Barclays Center on Wednesday night. While LeBron didn't seem overly enthusiatic about breaking in Brooklyn's new arena on Tuesday morning, he clarified his feelings on Twitt…

Share Tweet

Chris Bosh Continues To Be An Excellent Photobomber (White House Edition)

deadspin.com

Jan 29, 2013

On Monday, the Miami Heat visited the White House in order to be congratulated by Barack Obama for winning the 2012 NBA championship. The visit was a worthy endeavor if only because it led to the creation of the photograph above. More »

Share Tweet

Watch Hakeem Olajuwon's one-on-one workout with LeBron James from 2011 (VIDEO)

yahoo.com

Jan 29, 2013

When the Miami Heat won the NBA championship in June of 2012, they did so mainly on the strength of LeBron James' emerging interior game. LeBron wasn't endlessly tossing down jump hook after jump hook in that championship round, and to his credit his

Share Tweet

Walker's Fab 40: Nos. 25-28

ESPN.com

Jan 29, 2013

The AFC East blog continues its second annual "Walker's Fab 40," where we rank the top players in the division. Here are Nos. 25-28: No. 28: Reggie Bush, RB, Miami Dolphins 2012 stats: 968 yards, six touchdowns Analysis: Bush proved in Miami that he can

Share Tweet

Mario Chalmers still thinks he's a top-10 NBA point guard, which is both crazy and fine

yahoo.com

Jan 29, 2013

Back in August, fresh off his team's five-game NBA title win over the Oklahoma City Thunder, Miami Heat triggerman Mario Chalmers said he belongs "in the front end of the top 10" among NBA point guards. Clearly, the past five months have seen …

Share Tweet

Fine TEs important 20 years ago and today

miamiherald.com

Jan 29, 2013

At the dawn of NFL free agency, the Dolphins saw Keith Jackson dangling there, available and talented, and decided to be aggressive and chase him as their first unrestricted free agent addition. Why, people wondered, would the Dolphins want to add a tig…

Share Tweet

ESPN.com

Jan 29, 2013

With Super Bowl media day underway, it's probably a bad time to provide a tough reminder for Miami Dolphins fans. However, it is hard to ignore during Super Bowl week that Miami was once very close to landing San Francisco 49ers head coach Jim Harbaugh.…

Share Tweet

You Better Believe It

CNNSI.com

Jan 29, 2013

Is Chris Bosh headed to the Hall? Count on it. Carmelo Anthony? Not yet. Ian Thomsen examines the 18 active players most likely to make the Hall -- and the five still on the bubble.

Share Tweet

CNNSI.com

Jan 29, 2013

I saw that Chris Bosh believes he's a no-doubt Hall of Famer. Wow. Can we give him a reality check and actually outline the sure-thing HOFers in the league right now? -- Lou, New York City

Share Tweet

profootballtalk.com

Jan 29, 2013

Bills offensive line coach Pat Morris is looking forward to working with new coach Doug Marrone. DT Tony McDaniel was the Dolphins recipient of the Ed Block Courage Award. Breaking down the work done by the Patriots defensive ends this year. Jets coach …

Share Tweet

Brooklyn Nets beat up on Orlando Magic but the going gets tougher with the Miami Heat heading to town

nydailynews.com

Jan 29, 2013

The Nets really didn't learn anything new about themselves when they swatted away yet another Eastern Conference patsy in the form of the Magic.

Share Tweet

Grading LeBron's White House Performance

Jan 29

Skip Bayless and Stephen A. Smith give LeBron James high marks for his speech at the White House.