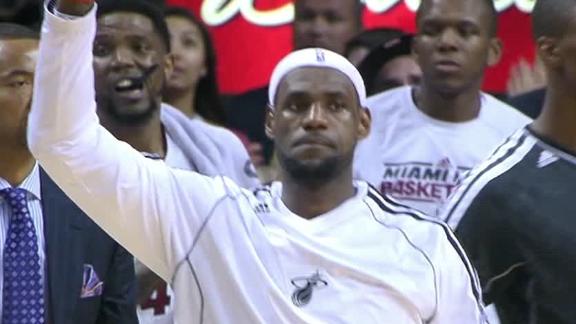 Updated Mar 12
Share
Tweet
Dwyane Wade scored 23 points and the Miami Heat extended their winning streak to 19 games, leading wire-to-wire in beating the Atlanta Hawks 98-81 on Tuesday night.
Broncos keep Vickerson

Updated Mar 12

Share Tweet

The Broncos are keeping one of their own. Defensive tackle Kevin Vickerson has agreed to terms to remain with the team.  The Broncos announced the move earlier tonight. Vickerson has spent the last three seasons in Denver.  He previously played for the

Ireland happy, cap in good shape, more moves coming

Updated Mar 12

Share Tweet

Jeff Ireland landed the one that could not get away. He landed Mike Wallace. So how does the Dolphins general manager feel about that? He's pleased. "We are pleased to reach an agreement with Mike Wallace," Ireland said in a statement. "H…

Updated Mar 12

Share Tweet

It's like Christmas in Miami. When the kids get a bunch of shiny new toys, the old stuff goes to the garage. Or to the curb. After a flurry of activity which saw them sign linebackers Dannell Ellerbe and Phillip Wheeler, and releasing Karlos Dansby, the

Sources:

profootballtalk.com ESPN.com miamiherald.com

Updated Mar 12

Share Tweet

Baltimore Ravens free-agent inside linebacker Dannell Ellerbe reached an agreement in principle with the Miami Dolphins, ESPN NFL Insider Adam Schefter confirmed.

Updated Mar 12

Share Tweet

The Eagles might not catch the Dolphins today in terms of dollars spent, but they are signing in bulk. The team announced the signing of former Patriots safety Patrick Chung, reuniting him with his college coach from Oregon, new Eagles boss Chip Kelly. …

Updated Mar 12

Share Tweet

Well, that didn't take long. Following the Miami Dolphins' acquisition of former Baltimore Ravens linebacker Dannell Ellerbe, we immediately listed aging linebackers Karlos Dansby and Kevin Burnett as potential targets to be released. The Dolphins qui

Sources:

ESPN.com profootballtalk.com miamiherald.com

Updated Mar 12

Share Tweet

The Miami Dolphins have signed free-agent wide receiver Mike Wallace, ESPN has confirmed.

Updated Mar 12

Share Tweet

MIAMI (AP) -- Robinson Cano pumped his fist. Jose Reyes and Hanley Ramirez danced together near home plate. Fernando Rodney pointed to the sky after the final out.

Updated Mar 12

Share Tweet

The Titans signed Delanie Walker to play tight end for them on Tuesday and the guy that Walker will be replacing has also found a new home. Multiple reports agree that Cook will sign with the Rams. Reports just after the start of free agency indicated t…

Updated Mar 12

Share Tweet

The Chiefs continue to work quickly to check off their needs, making a deal minutes after the start of the league year for tight end Anthony Fasano. According to Adam Teicher of the Kansas City Star, the Chiefs agreed with the Dolphins tight end today. …

Updated Mar 12

Share Tweet

ESPN.com is having a free-agency chat extravaganza Tuesday! Join me at 1:30 p.m. ET to discuss all the latest happenings in the AFC East. This should be one of the most exciting weekends of the offseason. The New England Patriots, Miami Dolphins, Buffal…

Source:

ESPN.com

Updated Mar 12

Share Tweet

Dwight Howard will return to Orlando Tuesday for the first time since he was traded to L.A. It is the perfect opportunity for the Lakers to get behind their big man, says Lee Jenkins.

Updated Mar 12

Share Tweet

LOS ANGELES -- LeBron James returned to Cleveland on Dec. 2, 2010, and the Heat were 11-8. Practices were stilted. Meetings were tense. Fourth-quarters were awkward. It's hard to imagine now, as the Heat puree the rest of the NBA, but they didn't like e…

Juwan Howard signs second 10-day

Updated Mar 12

Share Tweet

What can I say, Riles thinks Juwan looks good in a suit. It's really that simple. Free money! Hooray!

Updated Mar 12

Share Tweet

Dwyane Wade was named Eastern Conference Player of the Week on Monday. Here's a link to my story in the paper. With less than two months remaining in the regular season, Wade is in top form and playing like a younger version of himself. Remember all the…

Updated Mar 12

Share Tweet

The changing of the guard at tailback in Miami was nearly a year in the making. Following Day 3 of the 2012 NFL draft, Miami Dolphins general manager Jeff Ireland gushed about fourth-round pick Lamar Miller. Ireland traded up six spots to draft Miller, …

Source:

ESPN.com

LeBron On Heat's 19th Straight Win

Mar 12

LeBron James scores just 15 points in the Heat's 98-81 win over the Hawks.

Heat Win 19th Straight

Mar 12

The Heat able to roll past the Hawks despite LeBron James hitting on just 3 of 11 shots.

Dolphins' Logo Leaks

Mar 12

Paul Lukas of Uniwatch on whether the Miami Dolphins accidentally revealed a glimpse of their new logo last week.

Can Miami Dolphins win AFC East?

Mar 12

After several big moves in free agency, are the Miami Dolphins a threat to the New England Patriots as the top team in the AFC East?