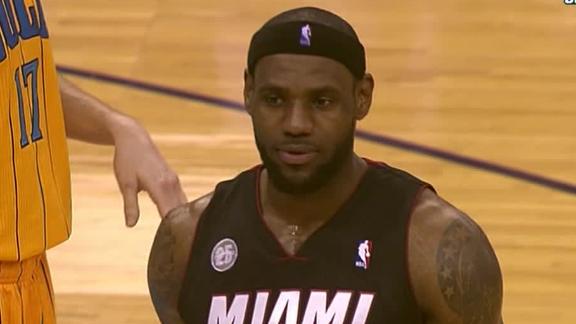 ESPN.com
Updated Mar 29, 2013
LeBron James scored 36 points, hitting six consecutive 3-pointers in less than six minutes during the first half, and the Miami Heat rebounded from their first loss in nearly two months to beat the New Orleans Hornets 108-89 on Friday night.
Share
Tweet
nba.com ESPN.com CNNSI.com miamiherald.com dimemag.com

Mar 29, 2013

Miami Heat President Pat Riley has added another chapter to his rivalry with the Boston Celtics.

Share Tweet

yahoo.com

Mar 29, 2013

The Miami Heat's just-completed 27-game winning streak inspired many discussions of their placement among the greatest teams ever, not just in comparison to the 1971-72 Los Angeles Lakers but other legends like the 1995-96 Chicago Bulls and the iconic B…

Share Tweet

LeBron: 'Don't care' about complainer talk

ESPN.com

Mar 29, 2013

Miami Heat forward LeBron James said on Friday that criticism of his comments about the hard intentional fouls he encountered on Wednesday night didn't faze him.

Share Tweet

The Bears didn't wait long to fill a void created by a free agent departure, adding to their offensive line. After losing Lance Louis to the Dolphins this week, they moved quickly to reach a one-year deal with former Jets guard Matt Slauson, according t

Share Tweet

Dolphins put John Jerry on notice about his weight

Dolphins guard John Jerry is getting a simple message: If you want to stay on this team, you'd better keep your wait under control. That's the word from Dolphins coach Joe Philbin, who says that when offseason work begins, he wants to see Jerry in goo

Share Tweet

AFC East 2013 breakout players

ESPN.com

Mar 29, 2013

The AFC East saw several breakout players make their marks last season. Buffalo Bills tailback C.J. Spiller, New England Patriots left tackle Nate Solder, and Miami Dolphins receiver Brian Hartline are among the players who had career years in 2012. So …

Share Tweet

Dolphins Remaining Options in Free Agency

dolphinsgab.com

Mar 29, 2013

As free agency winds down and the calendar turns to the month of April, Dolphins GM Jeff Ireland will now begin to focus his attention on the 2013 NFL Draft to address the team's remaining needs and to further shore up the roster. However, the Dolphins

Share Tweet

The 6 Best Winning Streaks In American Sports

dimemag.com

Mar 29, 2013

Over the course of the past two months, we were spoiled by one of the greatest runs of dominance by any team in NBA history. As I'm sure all of you know, the Miami Heat's streak of 27 consecutive wins ended on Wednesday night, as they fell to a shorth

Share Tweet

Carmelo Anthony knows his first title will be a team effort

CNNSI.com

Mar 29, 2013

Carmelo Anthony entered the NBA 10 seasons ago determined to do things his way. But a more mature 'Melo now understands that winning is a team effort, writes Chris Mannix.

Share Tweet

miamiherald.com

Mar 29, 2013

After the Dolphins 2012 season, on the day the team's players left the lockerroom (some for the last time), coaches had a chance to speak with everyone individually. Think of it as an exit interview. Think of it as a counseling session. And in his one-o…

Share Tweet

Friday morning one-liners

The Dolphins signed Vaughn Martin before he could visit the Seahawks. Fifty years ago Thursday marked an important date in Jets history. Patriots right tackle Sebastian Vollmer, per the Boston Herald, feels "really good now" as he recovers from knee s

Share Tweet

grantland.com

Mar 29, 2013

With Miami's streak in our rearview mirror, who were the winners and losers in this whole spectacle?

Share Tweet

LeBron James' Hot Hand Lifts Heat

Mar 29

Behind 36 points from LeBron James, the Heat beat the Hornets 108-89 to clinch the top seed in the East.

Ainge Critical Of LeBron's Complaints

Mar 29

Skip Bayless and Stephen A. Smith discuss Boston exec Danny Ainge's comments about LeBron James' foul complaints.