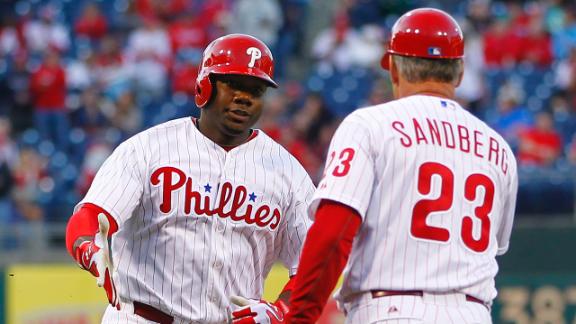 Earlier this week, the Dolphins declined to comment on whether the franchise has interest in quarterback Tim Tebow. Armando Salguero of the Miami Herald made the team's position clear during a Friday appearance on PFT Live. They don't want him. Salgue

Upvote Share Tweet

ESPN.com profootballtalk.com

May 3, 2013

Florida's oldest professional sports franchise -- the Miami Dolphins -- has been dealt a crushing blow by the Florida Legislature, which ended its session without passing any funding plan that would assist the team's quest to refurbish its stadium.

Upvote Share Tweet

Dolphins stadium bill fails, which would kill Super Bowl bid

The Dolphins went for the Hail Mary, dragging Dan Marino to the state Capitol yesterday to support a longshot bill that would allow a referendum for public funding for stadium upgrades. And like Marino so often, it fell short of a Super Bowl. According …

Upvote Share Tweet

ESPN.com

May 3, 2013

DAVIE, Fla. -- When you're the No. 3 overall pick in the NFL draft, major expectations are thrust upon you to immediately make an impact. That is one of the challenges facing Miami Dolphins rookie defensive end Dion Jordan. But another hurdle is to not …

Upvote Share Tweet

dimemag.com ESPN.com

May 3, 2013

According to an ESPN report, LeBron James will be named the NBA's Most Valuable Player this Sunday. In one of the worst-kept secrets of the past few years, LeBron will be winning the award for the fourth time in his career. Kareem Abdul-Jabbar, Bill Rus

Upvote Share Tweet

Wade tests sore right knee in return to practice

nba.com

May 3, 2013

Dwyane Wade returned to practice Friday, rested and restless.

Upvote Share Tweet

dolphinsgab.com

May 3, 2013

Miss St. WR Chad Bumphis headlines Miami's UDFA signings The list of undrafted rookie free agents Miami signed was officially released this afternoon at Dolphins' rookie minicamp. We've known some of these players would be Dolphins since hours after

Upvote Share Tweet

Dolphins sign 19 undrafted rookies, including Highsmith

The Dolphins announced the signings of 19 undrafted rookies, including one name which should be familiar to local fans. Arkansas linebacker Alonzo Highsmith, the son of former NFL running back and current Packers personnel man of the same name, was amon…

Upvote Share Tweet

miamiherald.com

May 3, 2013

The Dolphins start three days of rookie camp in the next few minutes. Amid the team's draft picks will be tryout players and undrafted free agents the team signed. This is the list of undrafted free agents: Barker, Chris G 6-2 305 08/03/90 Nevada Fontan…

Upvote Share Tweet

Impact of taking 'power in numbers' approach at NFL draft

CNNSI.com

May 3, 2013

At the draft, many teams stacked up on players from the same school or at the same position. But why the repetition? Just look at Tyrann Mathieu's situation, writes Don Banks.

Upvote Share Tweet

Don Banks: Cardinals' Tyrann Mathieu pick epitomizes effect of relationships on draft decisions

CNNSI.com

May 3, 2013

One of the more subtle trends emerging from last week's NFL Draft could loosely be described as the 'Power in Numbers' theory. Some teams took a more-the-merrier approach in targeting particular schools and positions in the process of building their roo…

Upvote Share Tweet

Bryant McKinnie said he never wanted to leave the Ravens. But he obviously had to flirt with the Dolphins and Chargers to get their attention. "I'm excited to be back," McKinnie told Aaron Wilson of the Baltimore Sun. "I didn't really want to le

Upvote Share Tweet

Dolphins defensive end/linebacker Dion Jordan isn't the only AFC East rookie who will be spending some time this offseason finding out just how his team plans to deploy him once the regular season gets underway. Patriots second-round pick Jamie Collins

Upvote Share Tweet

Rookie camp today ... production starts NOW

miamiherald.com

May 3, 2013

Sometimes patience is necessary. Me, I waited a long time before I got my life right. It took me a while to come to Truth. But I wasn't drafted by the Miami Dolphins. And so I had the benefit of time. Dion Jordan doesn't. Jamar Taylor probably doesn't. …

Upvote Share Tweet

Dolphins start figuring out Dion Jordan's role this weekend

We know that the Dolphins are toying with the idea of Dion Jordan playing on their special teams units, but that's not the only place where they are still putting together their plans for the third overall pick in the 2013 draft. His role on defense is

Upvote Share Tweet

Friday morning one-liners

Former Bills WR Andre Reed is pursuing a coaching career. The Dolphins have landed productive undrafted free agents in the past. Football isn't the only sport Patriots LB Jamie Collins excelled at while growing up. Someone started a Twitter feed for the

Upvote Share Tweet

Game 6 Madness: The Keys to a Killer Night of Playoff Basketball

grantland.com

May 3, 2013

Do you guys remember the Miami Heat and San Antonio Spurs? They're still in the playoffs, I swear! That Heat-Bucks series was actually this season. I ...

Upvote Share Tweet

Clouds brewing over Miami Dolphins' Sun Life Stadium

May 3

Ian Rapoport has the latest on the stadium improvements desired by the Miami Dolphins for Sun Life Stadium and how that affects their chances at landing Super Bowls L and LI.

Dion Jordan goes 1-on-1

May 3

Dion Jordan, the Miami Dolphins' top pick in the 2013 NFL Draft, talks to Andrew Siciliano about being the third overall pick, chasing AFC East foe Tom Brady this season and his thoughts on fellow Pac-12 product Matt Barkley.

The next step for Miami Dolphins quarterback Ryan Tannehill

May 3

Donovan McNabb breaks down Dolphins QB Ryan Tannehill and how the second-year pro needs to improve to elevate Miami to the next level.

Miami Dolphins face big questions entering rookie minicamp

May 3

With No. 3 overall pick Dion Jordan battling an injury and no clear starter at left tackle, should the Miami Dolphins be concerned entering the 2013 season? Jeff Darlington and the "Path to the Draft" crew go inside the Dolphins' depth chart.