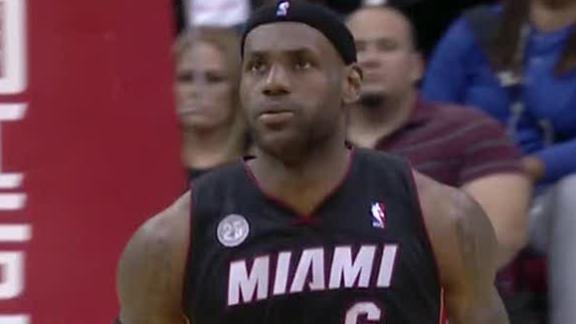 ESPN.com
Updated Nov 12, 2012
LeBron James scored a season-high 38 points, Chris Bosh had 24 points and 10 rebounds, and the Miami Heat rallied to beat the Houston Rockets 113-110 on Monday night.
Share
Tweet
Thursday games not kind to visiting teams

On the bright side, the Dolphins get to put the stinker they just played to rest quite early this week. They travel to Buffalo on Thursday and get a chance to forget and make you forget the 37-3 loss to Tennessee. So a Thursday night game is good news. …

Share Tweet

buffalobills.com

Nov 12, 2012

Bills DE Chris Kelsay missed Sunday's game after sustaining a neck injury in practice last Thursday. Now with another game four days later, head coach Chan Gailey has left Kelsay's availability for the prime time game against the Dolphins up in the ai

Share Tweet

CNNSI.com ESPN.com buffalobills.com

Nov 12, 2012

ORCHARD PARK, N.Y. (AP) -- Buffalo Bills running back Fred Jackson is out with a concussion, and there's at least one teammate who's unhappy with how Patriots linebacker Brandon Spikes celebrated after delivering the blow.

Share Tweet

Three quarterback charts to chew on

Three quarterbacks. All making the first nine NFL starts. That's what you'll find below. It is the first nine NFL career starts for Dan Marino, Chad Henne and Ryan Tannehill. In other words, you have the start of a Hall of Fame career, the start of a fr…

Share Tweet

miamiherald.com nba.com

Nov 12, 2012

The NBA announced on Monday that LeBron James was the Eastern Conference Player of the Week for games played Nov.5-11. The Heat went 3-1 last week and James averaged 21.0 points, 11.0 rebounds and 6.0 assists per game. James shot .569 during the four-ga…

Share Tweet

Bills-Dolphins a sell out

buffalobills.com

Nov 12, 2012

The Bills announced that tickets for the Thursday, Nov. 15th home prime time game vs. the Miami Dolphins are sold out. The game will be shown locally on WBBZ-TV, nationally on NFL Network and internationally in Toronto on Sportsnet. The Nov. 15th prime …

Share Tweet

Sanchez-Fitzpatrick-Tannehill Watch

ESPN.com

Nov 12, 2012

It was not a banner weekend for the New York Jets, Buffalo Bills or Miami Dolphins. All three teams suffered losses. How will that impact the AFC East blog's latest installment of the "Sanchez-Fitzpatrick-Tannehill Watch?" Let's examine. Mark Sanchez,

Share Tweet

CNNSI.com dimemag.com

Nov 12, 2012

The Lakers' hiring of Mike D'Antoni shows that he and his up-tempo methods are no longer ahead of their time.

Share Tweet

Philbin confidence in short-yardage runs shaken

After early success with Jorvorskie Lane hulking into the line and picking up a couple of short-yardage first downs and even a TD, the Dolphins are officially struggling on short yardage runs of late. They blew an opportunity to convert a third-and-1 Su…

Share Tweet

miamiherald.com yahoo.com CNNSI.com

Nov 12, 2012

GAME STORY LINK: "Memphis Blues" BEST OF THE NIGHT: Tip of the hat to Wayne Ellington, who knocked down seven three-pointers and scored 25 points, a career high. The Heat was focused on stopping Memphis inside the paint and Ellington flipped t…

Share Tweet

profootballtalk.com

Nov 12, 2012

Last week, Dolphins guard Richie Incognito was voted the second-dirtiest player in the NFL by his peers, which he called a "badge of honor." But after a dirty play got him penalized and benched on Sunday, Incognito admitted he had done something dumb.

Share Tweet

dolphinsgab.com profootballtalk.com miamiherald.com

Nov 12, 2012

Reggie Bush has been struggling, and yesterday in the awful loss to the Titans, he said that he was basically "sorry" for fumbling in the first quarter and was pulled by coach Joe Philbin. He sent out this Tweet after the game: I have to apologize to

Share Tweet

Roundup: What You Missed The Weekend We Unforgot The '72 Dolphins

deadspin.com

Nov 12, 2012

Go Home, Everybody: We Found The Most Ridiculous Fan In The World | He was at the Dolphins game. They lost by 34. To the Titans. Unforgotten isn't a word. Is that a bowling tattoo on the right side of his torso? Read » More »

Share Tweet

Heat Rally To Top Rockets

Nov 12

LeBron drops 38 points on Rockets.

PTI Big Finish November 12th

Nov 12

PTI runs down Monday's big stories.

LeBron Soars Past Harden

Nov 12

Mario Chalmers Alley-oop to LeBron James who goes over James Harden for the dunk.