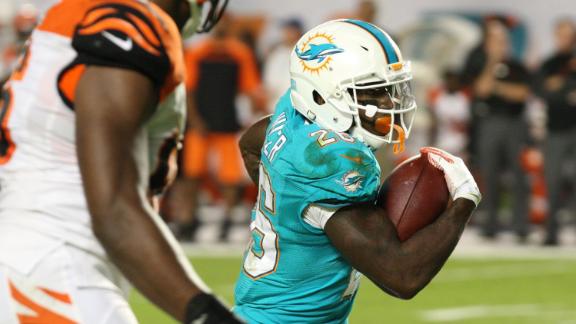 profootballtalk.com
ESPN.com
Updated Nov 13, 2013
A bad situation along the offensive line for the Miami Dolphins just got even worse. According to Aaron Wilson of the Baltimore Sun, Dolphins' backup tackle Will Yeatman suffered a torn ACL and will miss the rest of the season. Yeatman is listed on the …
Share
Tweet
nydailynews.com

Nov 13, 2013

Curtis Martin was always the most respected man in the locker room and made sure it was a healthy environment built on respect and responsibility, not a toxic atmosphere with hazing and bullying.

Share Tweet

On Saturday, Jay Glazer of FOX Sports interviewed suspended Dolphins guard Richie Incognito. On Sunday, FOX televised only a small portion of the interview. Arguably the most telling exchange — on the topic of whether coaches ordered Incognito to "tough…

Share Tweet

McKinnie: Martin-Incognito saga overblown

ESPN.com

Nov 13, 2013

The Miami Dolphins have been the biggest NFL story for the past week following the controversy involving teammates Richie Incognito and Jonathan Martin.

Share Tweet

ESPN.com

Nov 13, 2013

With his team struggling and toiling in controversy, Miami Dolphins coach Joe Philbin held an in-house meeting with his leadership council Wednesday.

Share Tweet

With a bit of his mother's native language thrown in at the end, Miami Heat coach Erik Spoelstra released a public service announcement on Wednesday asking people to give to UNICEF and help with typhoon relief efforts in the Philippines.

Share Tweet

The 10-man rotation, starring Michael Beasley showing some signs of life in Miami

yahoo.com

Nov 13, 2013

A look around the league and the Web that covers it. It's also important to note that the rotation order and starting nods aren't always listed in order of importance. That's for you, dear reader, to figure out. C: Heat.com. Michael Beasley turned some …

Share Tweet

yahoo.com

Nov 13, 2013

With the PlayStation 4 set for retail release this Friday and the next-gen version of "NBA 2K14" among the new console's launch titles, 2K Sports is again ramping up its promotional efforts. And while Miami Heat star LeBron James is this year'…

Share Tweet

Can Broncos Withstand Chiefs' Pressure?; Week 11 Storylines

CNNSI.com

Nov 13, 2013

Can Broncos Withstand Chiefs' Pressure?; Week 11 Storylines

Share Tweet

CNNSI.com

Nov 13, 2013

The Locker Room Culture

Share Tweet

Look back at Tampa Bay courtesy PFF

miamiherald.com

Nov 13, 2013

There was a time the worst news the Dolphins could possibly fathom was dealing with a loss. Then the scandal and suddenly losing was a secondary part of a larger depressing state of affairs. Today, with the help of my partners at ProFootballFocus.com, w…

Share Tweet

Why You Shouldn't Worry About The Miami Heat's Slow Start

dimemag.com

Nov 13, 2013

It didn't take long for the Miami Heat to be humbled to the point of their four-time MVP dropping an expletive when asked about his team's defensive effort. "It's simple. These first seven games, we're playing like shit defensively. It's that simple. We…

Share Tweet

While one segment of basketball fandom was settling in for its first glimpse of Julius Randle against top-flight competition and a reminder that, while talent matters most, experience and Tom Izzo matter too, some of us were hunkering down to watch the …

Share Tweet

Last week, when the NFL named Ted Wells the independent investigator for the Dolphins investigation, the league pointed out that the final report will be made public. It made sense on the surface, given that it was inevitable that the report would be le…

Share Tweet

The Bills signed DL Ikponmwosa Igbinosun to the practice squad and released DE Adewale Ojomo from the practice squad. (And yes, I had to double-check the spelling of those names.) Dolphins coach Joe Philbin knows Miami fans aren't happy with what they'r…

Share Tweet

miamiherald.com

Nov 13, 2013

In January of 2012 the Dolphins were searching for a head coach to replace Tony Sparano. And they interviewed Joe Philbin, among other men. And Mike McCoy was one of those other men. And while the people that did the hiring, including owner Stephen Ross…

Share Tweet

On And Off The Field; Dolphins Have Fans Fuming

dolphinsgab.com

Nov 13, 2013

An ugly off the field scandal, a slumping team, and now a loss to a team in-state that had not won a game all season. It's been a tough few weeks for the Dolphins. The Fins are under .500 at 4-5, and while the off the field stuff with Richie Incognito a…

Share Tweet

NBA Assists Of The Week

Nov 13

Check out the top assists from this week in the NBA.