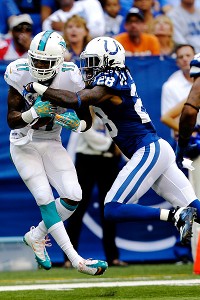 ESPN.com
miamiherald.com
Updated Sep 15, 2013
INDIANAPOLIS – Indianapolis Colts cornerback Greg Toler sat in the chair at his locker, still not showered long after their 24-20 loss to the Miami Dolphins on Sunday. "Man, I should have played better," Toler said. Toler was talking in general terms at…
Share
Tweet
ESPN.com yahoo.com profootballtalk.com

Sep 15, 2013

INDIANAPOLIS – It's been an interesting week for Miami Dolphins top receiver Mike Wallace. Just seven days ago, Wallace was not happy after getting just one reception for 15 yards in a win over Cleveland. He created national headlines, but Wallace later…

Share Tweet

ESPN.com profootballtalk.com

Sep 15, 2013

INDIANAPOLIS -- There are only a few undefeated teams remaining in the NFL after two weeks. Surprisingly, the Miami Dolphins (2-0) are one of those teams. The Dolphins began the season as an under-the-radar team, rarely mentioned as a legit threat in th…

Share Tweet

d'Arnaud delivers on Sunday, walk-off style

MLB.com

Sep 15, 2013

Dillon Gee threw 7 1/3 scoreless innings and Travis d'Arnaud snapped a scoreless tie in the 12th inning with a walk-off single up the middle to give the Mets a series win over the Marlins, 1-0, on Sunday.

Share Tweet

The Colts lost 24-20 to the Dolphins on Sunday and they may also lose one of their wide receivers for a while. Philip B. Wilson of the Indianapolis Star reports that Colts coach Chuck Pagano said after the game that wide receiver Darrius Heyward-Bey nee…

Share Tweet

The news on Colts guard Donald Thomas is not good. A league source tells PFT that Thomas, who was carted off the field today against the Dolphins, has a torn quadricep. There's no word yet on how much time Thomas will miss, but that would seem to be a s…

Share Tweet

The Colts fell down 14-3 in the first quarter against the Dolphins, but Andrew Luck and T.Y. Hilton have put together a big first half to bring the Colts back into the lead. It's tied 17-17 at halftime, however, after rookie Caleb Sturgis nailed a 54-ya…

Share Tweet

ESPN.com

Sep 15, 2013

INDIANAPOLIS -- Here are the Miami Dolphins players you won't see in Sunday's game against the Indianapolis Colts: Dolphins (1-0) LB Josh Kaddu QB Pat Devlin CB Jamar Taylor CB Will Davis OL Dallas Thomas RB Mike Gillislee OL Danny Watkins The biggest c…

Share Tweet

ESPN.com

Sep 15, 2013

Join our ESPN.com NFL experts as they break down the Miami Dolphins' visit to the Indianapolis Colts. Contribute your thoughts and questions beginning at 1:00 p.m. ET. See you there.

Share Tweet

QB E.J. Manuel is more concerned with the future of the Bills than the organization's past. Armando Salguero of the Miami Herald thinks the Dolphins will get a better test of their abilities against the Colts this weekend than they got in Week One. The …

Share Tweet

Sunday Blitz: Dolphins-Colts Recap

Sep 15

Michele Steele and Tom Waddle break down the Dolphins' Week 2 victory over the Colts.

Dolphins Rally Past Colts

Sep 15

Mike Wallace had nine catches for 115 yards and a touchdown to lead the Dolphins past the Colts 24-20.

Week 2: Miami Dolphins vs. Indianapolis Colts highlights

Sep 15

Ryan Tannehill and the Miami Dolphins hold off Andrew Luck's comeback attempt as they defeat the Indianapolis Colts 24-20 in Week 2 of NFL action.

Dolphins postgame press conference

Sep 15

Dolphins react following game with Colts

Sports Columnists

Don Banks: Broncos again show it's not how you start, it's how you finish

Sep 15

EAST RUTHERFORD, N.J. -- It's a mere two weeks into the NFL's regular season, but this much we've already learned about these Denver Broncos: If you don't get to them early, you don't get to them, period.

Don Banks: Surprising 2012 playoff teams underachieving in 2013; more Snap…

Sep 15

EAST RUTHERFORD, N. J. -- Musings, observations and the occasional insight as we take a look at a Week 2 in the NFL that was chock-full of close games and comebacks. ...